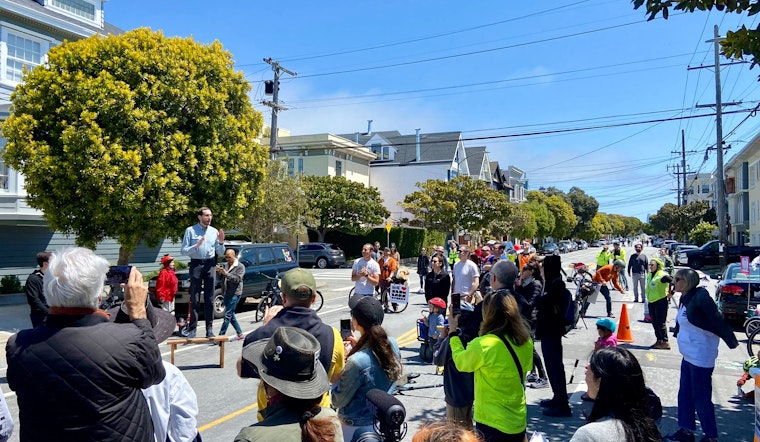 Published on December 05, 2022
Update (12/7): Lake Street will indeed remain a Slow Street, after Tuesday night's SFMTA vote. The Chronicle reports that "The board on Tuesday night also decided to add Lake Street to the Slow Street program — from 28th Avenue to Arguello Boulevard."
San Francisco's Slow Streets program has created a beloved pandemic pastime, with SFMTA director Jeffrey Tumlin calling Slow Streets the agency's "most popular COVID experiment." But they were never all going to remain Slow Streets forever, and the SFMTA will decide at their Tuesday, December 6 meeting which Slow Streets will be made permanent, and which ones will be phased out.

Image: SF Bicycle Coalition
And despite there being no shortage of strong feelings about Slow Streets, there is not much suspense about how this vote is going to go. As seen in the graphic above, the SFMTA has already decided which streets are "recommended for inclusion in the Slow Streets program," and which streets are "not recommended." It is frankly highly likely that SFMTA will just vote along the lines of what is presented above (which is a handy graphic from the SF Bicycle Coalition, but you can confirm its details on the SFMTA website.)
Except for one very controversial Slow Street at the bottom of that graphic. The Slow Street on Lake Street in the Richmond District has no recommendation, because it's been so controversial, and remains the big question mark for what gets determined Tuesday.
SFMTA admits that the Lake Slow Street was too controversial for them to even make a recommendation. "Throughout an 8-month public outreach process, community feedback on this Slow Street was so divided that MTA staff were unable to determine a path forward for this corridor," the SFMTA says. "During the December 6, 2022 meeting, the SFMTA Board will consider the inclusion of Lake Street in the Program."
But is the fix already in? Multiple social media accounts have chimed in on Monday, the day before the meeting, saying the Lake Slow Street barriers are already being removed.
There are active grassroots and social media presences on both sides, those wanting to keep Lake Street as Slow Street, and those who want the street fully open to cars.
The SFMTA meeting is Tuesday, December 6, at 1 p.m. PT, and will be broadcast on SFGOV TV 2 (though organizers on both sides have told their supporters they expect that Slow Streets agenda item to come up around 3 p.m.) And yes, you too can chime in with public comment, but be warned that public comment session is likely to last for hours.