Uber-popular chicken tenders specialists Dave's Hot Chicken keep multiplying, and as of this week there will be a Dave's Hot Chicken in Oakland just a hop and a few skips from a BART stop.
As KRON4 reports, the newest location, the chain's sixth in the Bay Area, will be opening Friday morning, January 20, at 2228 Broadway in Oakland — right next to Jack London Square in the former Old Brooklyn Cafe and Bakery space. The new Dave's Hot Chicken is just a short walk from BART's 12th Street/City Center Station.
Hoodline reported on Dave's Hot Chicken's arrival in Sunnyvale last summer, and another location has opened since then in San Leandro, in November. There are also Dave's Hot Chicken locations in San Jose, Santa Rosa, and Union City.
The hot-chicken chain got its start in Los Angeles, and it's the brainchild of Thomas Keller Group/French Laundry alum Dave Kopushyan. Founded just five years ago, in 2017, the chain now boasts 104 locations, and Hypebeast calls it America's fastest-growing restaurant business, with a plan for a total of 700 locations.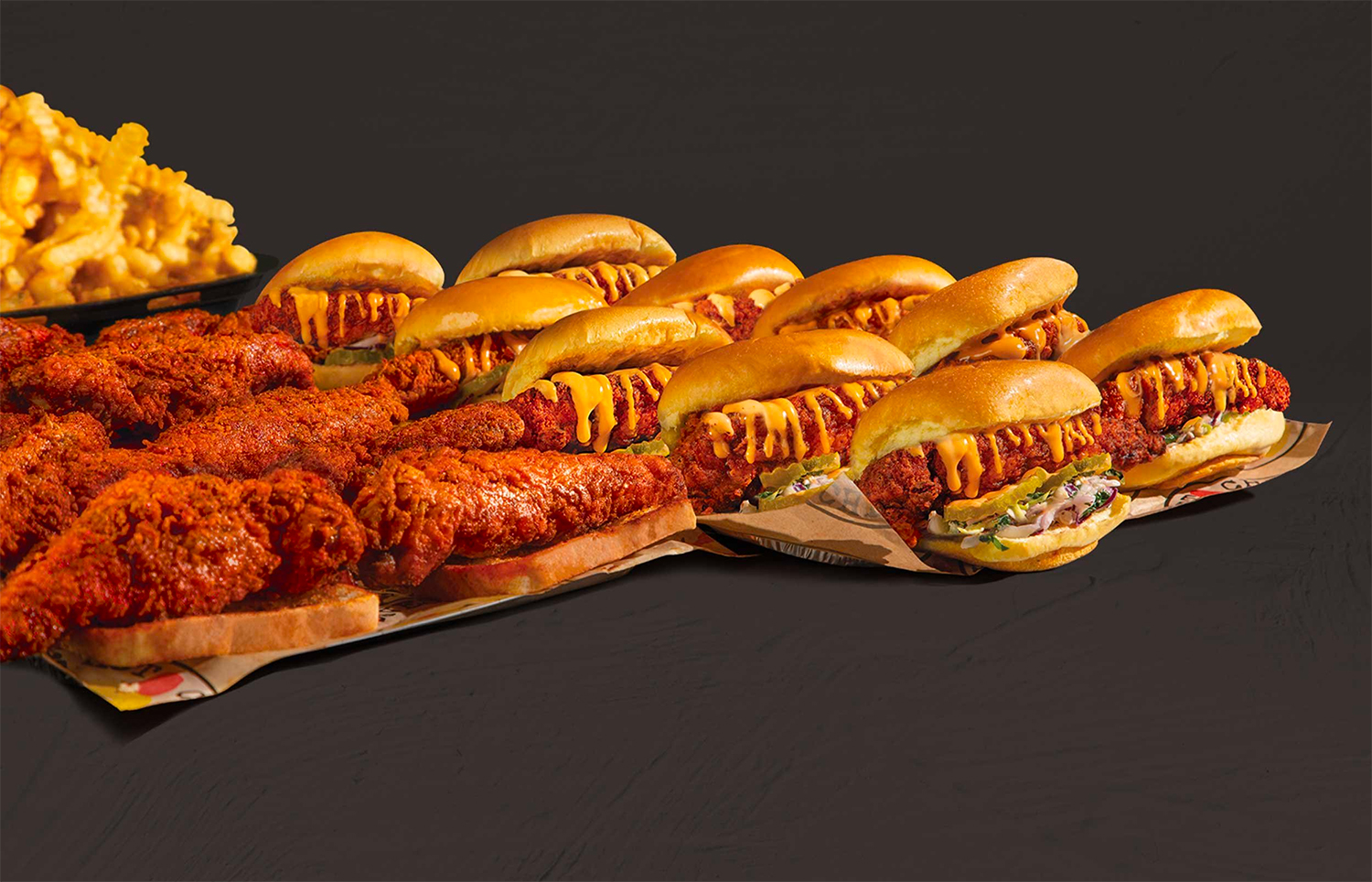 Photo courtey of Dave's Hot Chicken
"Dave's Hot Chicken has one the greatest origin stories in the restaurant business, with the founders starting Dave's as a parking lot pop-up restaurant in Hollywood with a portable fryer and picnic tables from their backyards just five short years ago," says Bill Phelps, the CEO of Dave's Hot Chicken's.
The place's popularity comes from those delicious, spicy tenders, and the menu keeps things simple. The #1 combo comes with tenders and fries, along with sliced bread, pickles, and Dave's sauce. The #2 features tenders in slider form with kale slaw, pickles, Dave sauce, and fries. And the #3 features one tender and one slider with the same fixings. There are also milkshakes and mac and cheese on the a la carte menu. The chicken also comes in seven spice levels from "No Spice" and "Lite Mild" to the spiciest, "The Reaper."
Flaming-red-colored, Nashville-style "hot chicken" has been trending across the country for about a decade now, though it's usually found in full, bone-in, fried chicken form. Kopushyan started the business with best friends Arman Oganesyan, and Tommy and Gary Rubenyan. As the story goes, they had a big leg up from Eater LA.
"Arman created Instagram buzz and the lines began to grow. Two nights later, Eater/LA showed up to see what the fuss was about. The next morning's headline read 'East Hollywood's Late Night Chicken Stand Might Blow Your Mind.'"
Hours at the Oakland location will be 11 a.m. to 11 p.m. to start, and you can expect some lines, especially on opening weekend.