Shake off the post-holiday blues with some high-energy fun courtesy of Club Fugazi's latest production, "Ennio: The Living Paper Cartoon." The one-man show stars Italian mime, comedian and cabaret artist Ennio Marchetto. At last week's opening night performance, Marchetto's whirlwind series of parodies of some 60 different celebrities and historical figures slayed the audience and earned him a thunderous standing ovation.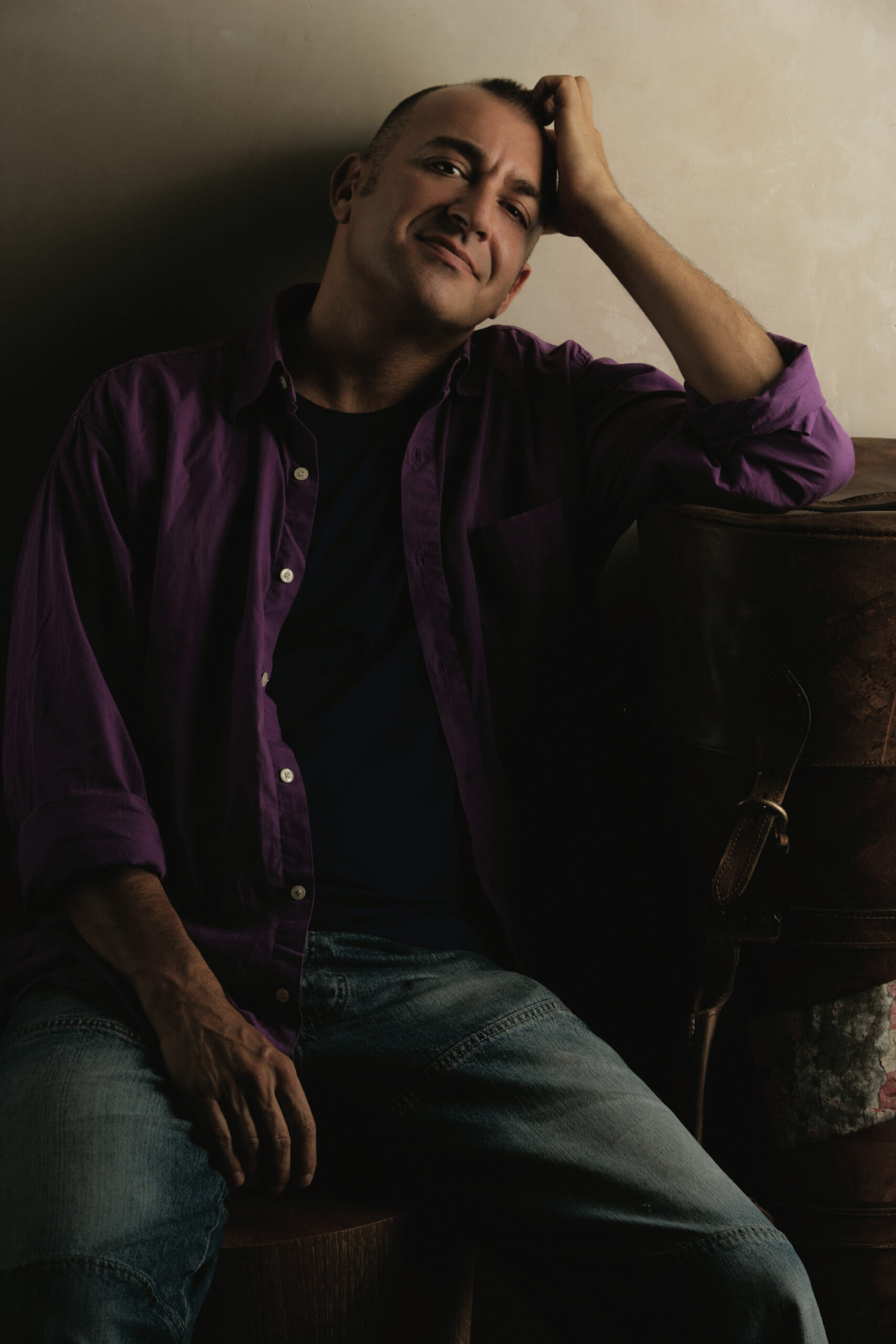 Multi-talented artist Ennio Marchetto, now appearing at Club Fugazi. | Photo courtesy of Ennio Marchetto
The award-winning entertainer's limited run at the North Beach venue marks his first engagement in San Francisco in more than a decade. You can catch the fast-paced show — it's just over an hour — through February 5. Club Fugazi partnered with Glynis Henderson Productions and Jonathan Reinis Productions to bring Marchetto back to the Bay Area. ("Dear San Francisco" returns to the stage February 10.)

"People refer to Ennio as the one-man "Beach Blanket Babylon," so what could be better than having him here?" said David Dower, Club Fugazi's executive director, to the audience before introducing Marchetto. "'Beach Blanket Babylon' played in this room for 45 years and was the longest-running musical parody in the history of the United States."

Marchetto conceived "Ennio:The Living Paper Cartoon" with his collaborative partner, Dutch fashion and costume designer Sosthen Hennekam, around 1990. Since then, the show has had audiences in stitches at venues in more than 70 countries.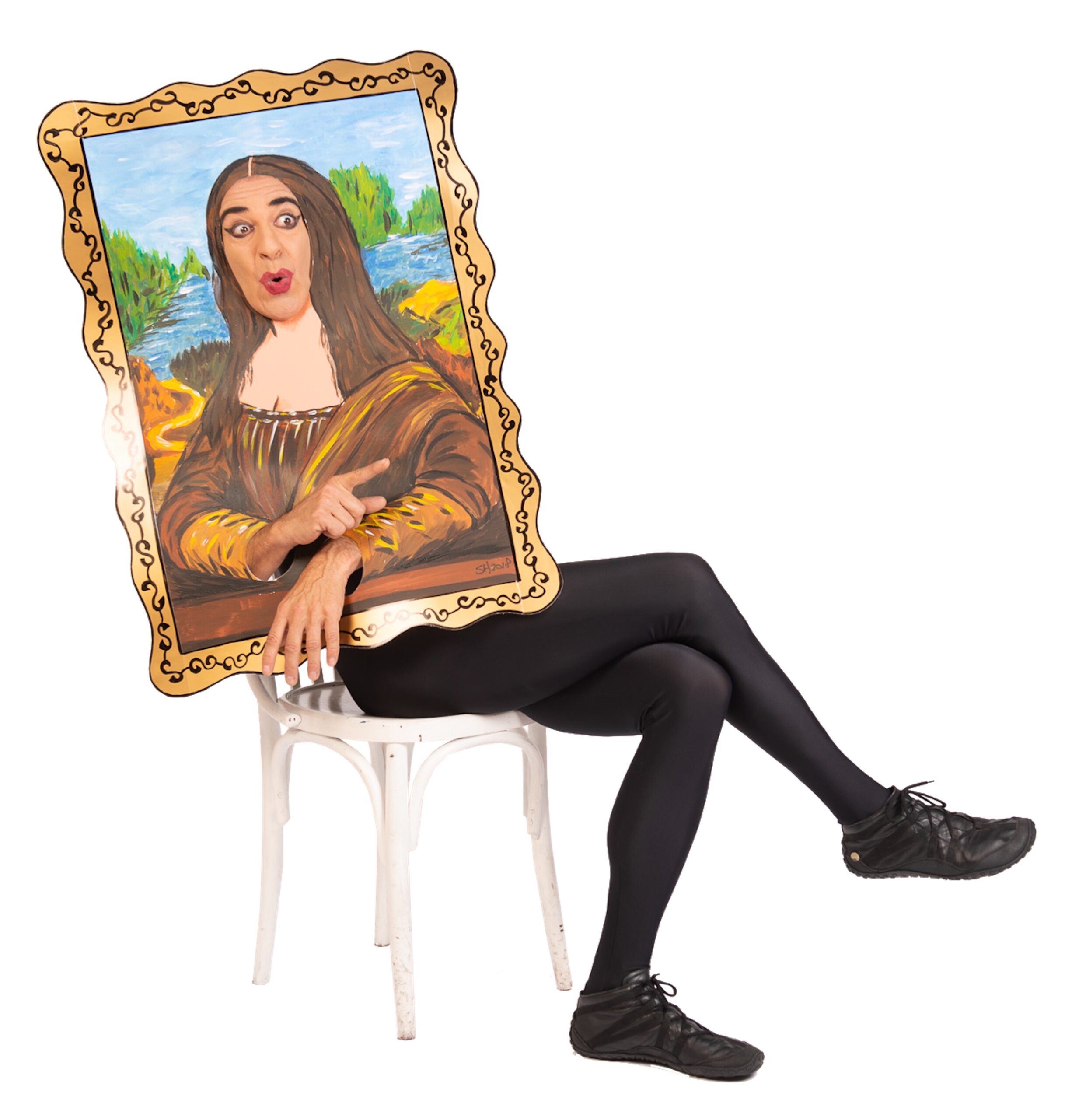 Marchetto as the Mona Lisa. | Photo courtesy of Ennio Marchetto
During his Club Fugazi debut, Marchetto cracked up the crowd from the moment he stepped on stage to channel his first character, an exceptionally buxom Marilyn Monroe. Clad in a fluttery paper version of the sexy white dress the star made infamous in the movie "The Seven Year Itch," he shimmied and lip-synched to "I Wanna Be Loved By You." Then, faster than a swift-moving bomb cyclone, he seamlessly shape-shifted into a singing Mona Lisa painting.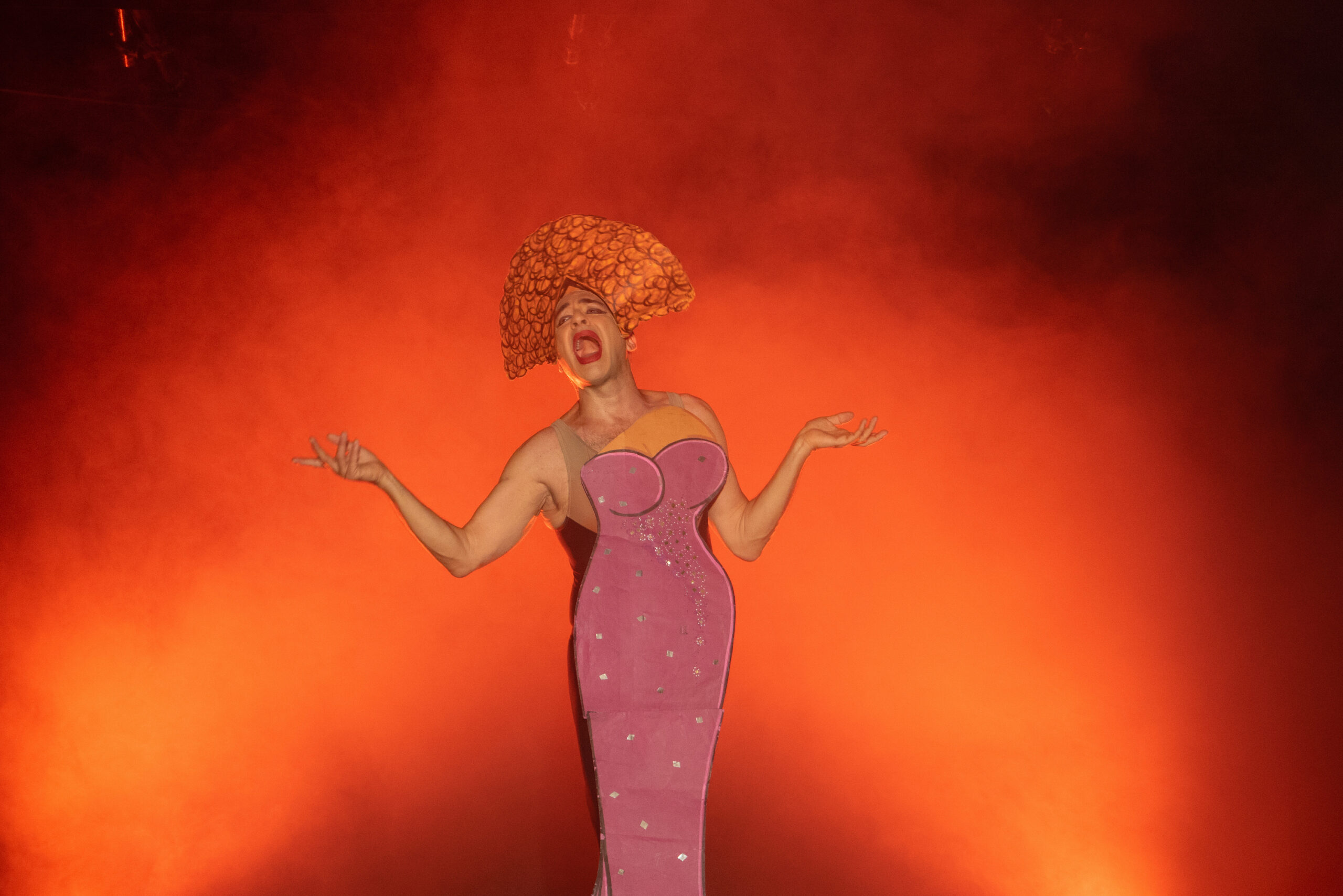 Marchetto channels Whitney Houston. | Photo courtesy of Ennio Marchetto
And so it went for the rest of the evening. A glamourous Whitney Houston belted out a hilarious version of her mega-hit "I Will Always Love You." Like a scratched record that keeps skipping, she botched the same lines over and over, eliciting peals of laughter from the audience. Without missing a beat, Marchetto morphed from Houston into another diva, leggy Tina Turner, who strutted back and forth across the stage in her inimitable style.

His tipsy, martini-guzzling Dean Martin drew big laughs when he hit the stage crooning "Come Fly with Me." British royalty and rockers also made appearances. With a few deft costume adjustments, a very proper Queen Elizabeth transformed into a raunchy Freddie Mercury, complete with oversized choppers. Sporting red devil's horns, Mick Jagger gyrated and snarled to "Sympathy for the Devil."
Other well-known stars who stopped by included Adele, Beyonce, Maria Callas, Celine Dion, Eminem, Lady Gaga, Ed Sheeran, Sonny and Cher, Diana Ross, and Frank Sinatra.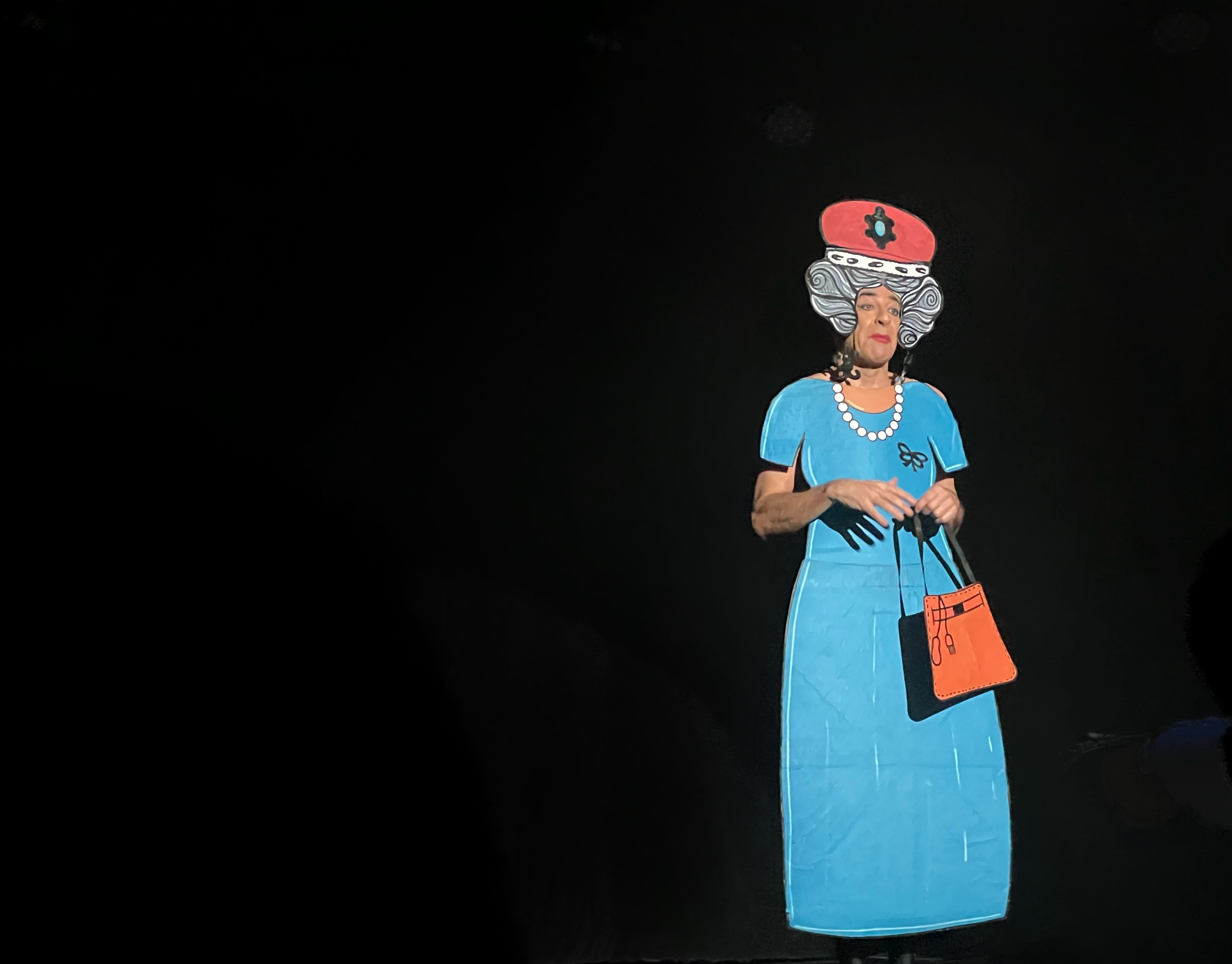 Queen Elizabeth graces the Club Fugazi stage during Marchetto's whirlwind series of parodies. | Photo courtesy of Dorothy O'Donnell
Many of Marchetto's clever costume pieces are designed to do double duty. In his turn as Bob Marley, for example, he sported the reggae singer's signature rainbow beanie and crown of dreadlocks. As he grooved to "Jammin'," he casually yanked out a lock of his wild hair. Then he flipped it over and held it up for the audience who chortled with delight when they saw what was on the other side — a massive doobie. Naturally, he took a few hits off the fake joint.
Even if you don't imbibe in anything harder than soda or water while enjoying Marchetto's antics, you're bound to leave the theater on an endorphin high from all that laughing.
Tickets for "Ennio: The Living Paper Cartoon" start at $35. The show runs Tuesday through Saturday evenings at Club Fugazi (678 Green Street) through Feb. 5, and it starts at 7:30 p.m. There are matinee performances on Saturday and Sunday. Get tickets online at ClubFugaziSF. Or call 415- 273-0600.