Fans of Richmond's Point San Pablo Harbor (or just of unique Bay Area dining spaces) will be eager to hear that a new restaurant is opening up in the waterfront building at the little harbor that had been home to the popular Black Star Pirate BBQ.
Point San Pablo Harbor, a scenic, artsy little marina tucked away along the bay on the quiet side of Richmond, came to modest local prominence over the last few years thanks to the opening of Black Star Pirate BBQ. That restaurant shut down suddenly in November, after the marina decided not to renew the owners' lease, but the harbor's owners now say another eatery will open there next month.
As Berkeleyside first reported last week, the harbor owners have announced that the longtime chef-owner behind Richmond's Anaviv catering business, and pandemic-era restaurant Open Market by Anaviv, will operate the new restaurant. Anaviv owner Arnon Oren plans to serve a menu of wood-fired pizzas, seafood stew, and brisket at the as-yet-unnamed new eatery, harbor owners Rob Fyfe and Yaella Frankel shared on Instagram.
Oren, who grew up in Israel and trained in France, is a veteran of the Bay Area food scene, with his official bio listing stints at Chez Panisse, Oliveto Cafe & Restaurant, and (as executive chef) at Café Cacao for Scharffen Berger Chocolate Maker.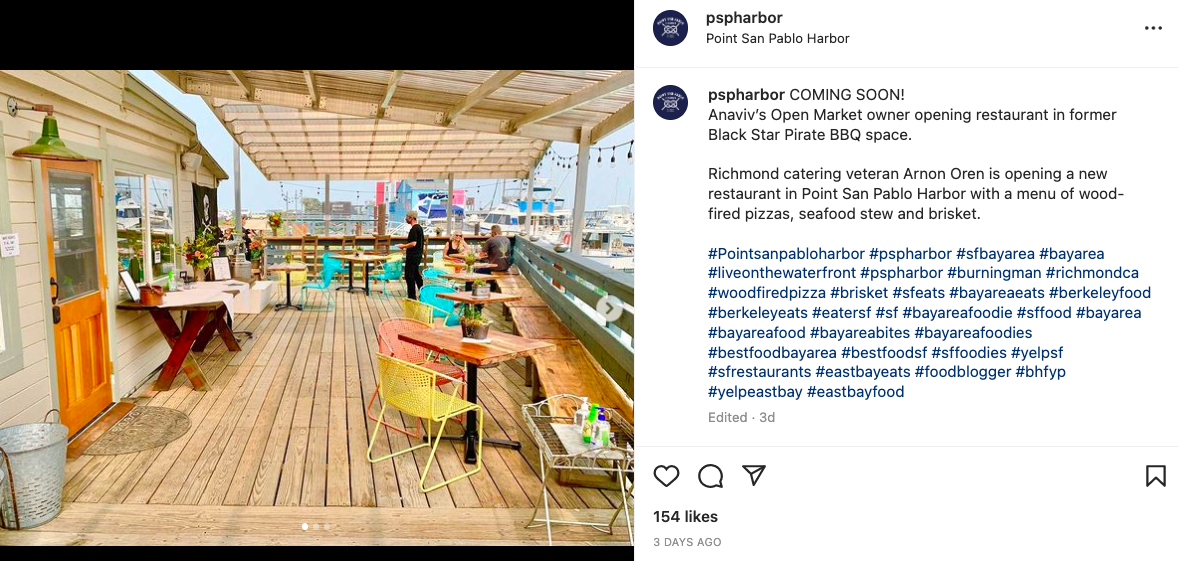 Source: Point San Pablo Harbor/Instagram
Oren also co-founded an internship program in organic gardening and culinary arts for kids in Richmond called Plant to Plate, and serves as a commissioner on the Richmond Economic Development Committee, as well as sitting on the Contra Costa College Culinary Academy's Advisory Board, according to his bio.
"With each experience, I have gained wisdom about cooking and the honor of bringing food to someone's table," he writes on the Anaviv site.
The new space will not be Oren's or Anaviv's first foray into operating a sit-down restaurant. In addition to hosting private dining experiences in the Anaviv facilities (located between Marina Bay and Point Richmond), the longtime caterer operated a temporary open-air eatery during pandemic-related lockdown, called Open Market by Anaviv, which has since closed down.
Anaviv says the business builds its menus based on local food products and is Deep Green Certified and part of California's Green Business Network.
The small, picturesque Point San Pablo Harbor, located out a winding road to the north of the Richmond-San Rafael Bridge, is also home to eye-catching Burning Man sculptures, a tiny farm with goats and chickens, a short stretch of public beach, and a small marina.
Besides the restaurant, the harbor boasts a simple outdoor event space consisting primarily of a waterfront meadow and outdoor bar, along with a clubhouse, where the harbor owners host public concerts and other events. The space is also available to book for private events.
The owners of Black Star Pirate BBQ, meanwhile, have opened another restaurant in Point Richmond, called the Baltic Kiss.
Point San Pablo Harbor is located at 1900 Stenmark Drive, Richmond. Watch for upcoming details about the new restaurant at www.pspharbor.com.