It was a pandemic restaurant success story that brought food, music, and crowds to the sleepy Point San Pablo Harbor, tucked around on the quiet north side of the Richmond peninsula. And now it's going away as suddenly as it burst on the Bay Area scene.
The Black Star Pirate BBQ restaurant and music venue (1900 Stenmark Dr., Richmond) is shutting down, and Sunday, Nov. 27 will be its last day in business at the harbor, according to the owners.
"We're sad to let you know that we've lost our lease," co-owner and chef Tony Carracci said in a video on Instagram with his partner, known as "Miss Suzie." But Carracci pledged that the closure won't be the end of the beloved eatery, saying the pair will look for a new location: "We're not going away. We're going to find another place to be."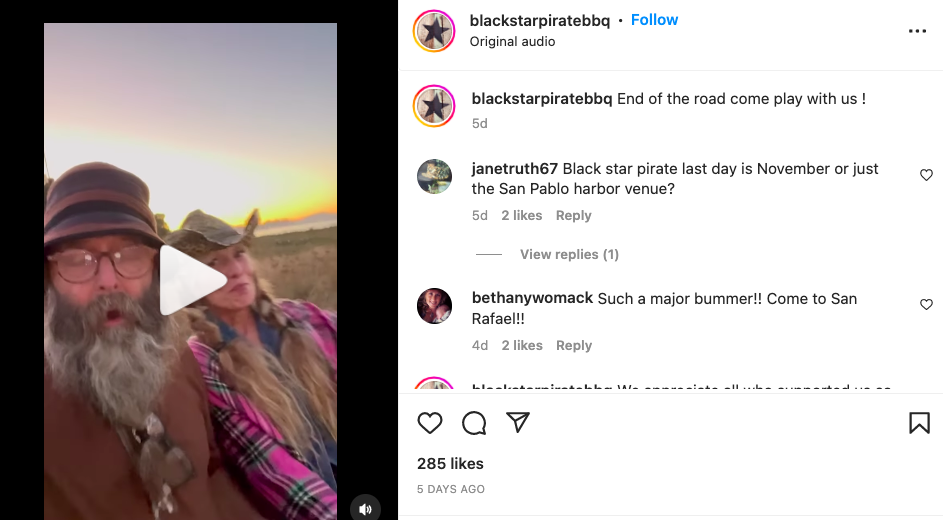 The open-air waterfront venue offered gourmet barbecue around picnic tables in a funky setting decorated with a Burning Man-style artistic touch. The aesthetic seemed to fit with the Point San Pablo Harbor, which brings to mind an artist's colony, with huge art sculptures dotted around its shores, painted houseboats, and a canopied event space-cum-dance floor set along defunct railroad tracks.
The restaurant opened in 2020 and word spread rapidly about Black Star Pirate BBQ when people started venturing out again during 2021. It often drew long lines (and lines of cars) to the previously little-known harbor during its open hours Friday, Saturday, and Sunday. Guests came for the setting, live music, and the food, as Carracci served up locally sourced and organic Southern-style barbecue alongside a tempting array of sides and cold drinks from the bar.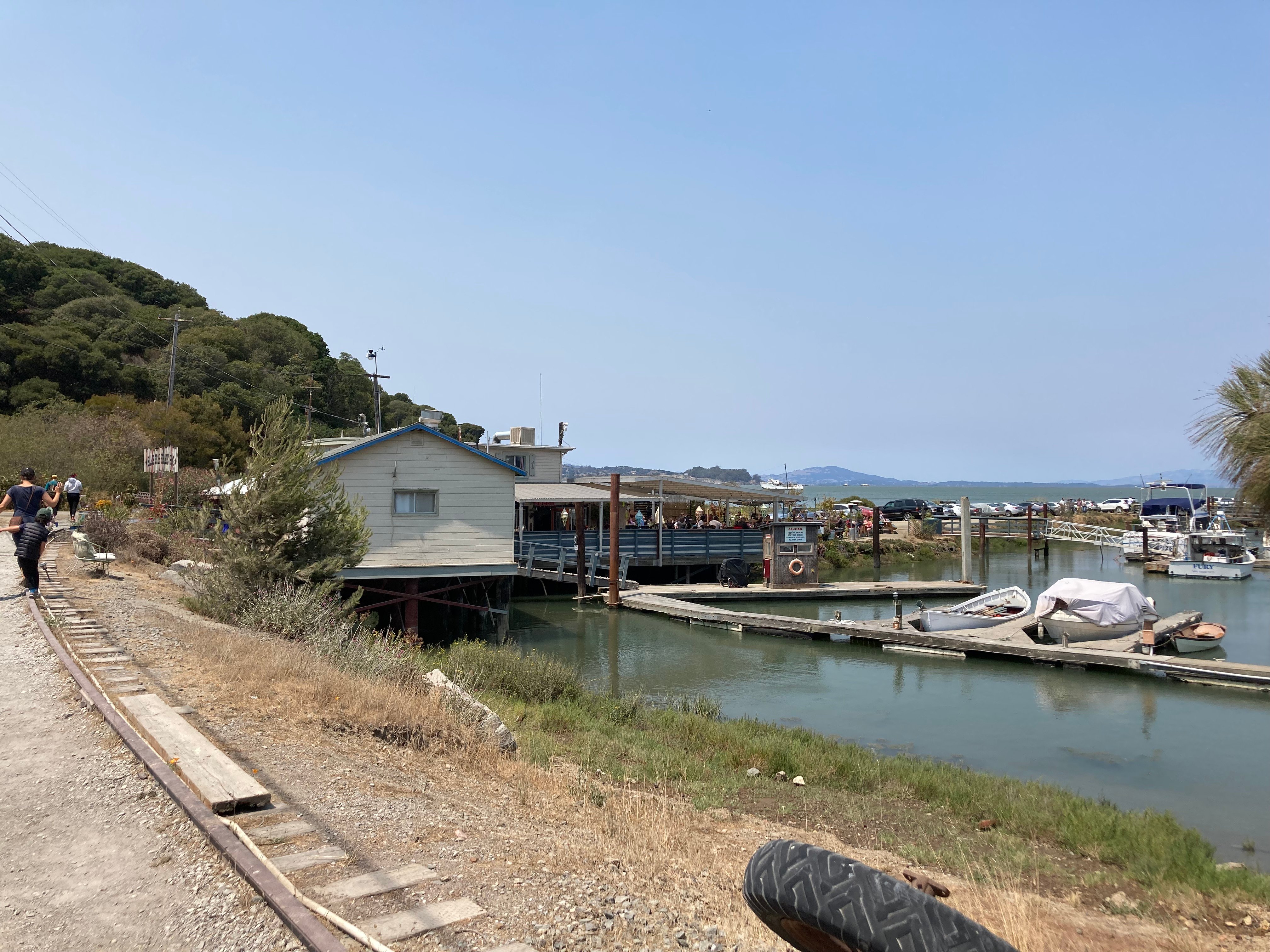 Black Star Pirate BBQ seen against the backdrop of the North Bay. | Photo: Laila Weir/Hoodline
Carracci and Miss Suzie thanked Point San Pablo for hosting the venue over the past two years, calling it "the best two years of our lives," and said they loved the harbor.
"It's sad, we all want to cry, but you know what? It's ok," said Carracci, promising to find the eatery a new home. "We're not going away."
In the meantime, the pair has opened another restaurant in town in Point Richmond, the Baltic Kiss. And Black Star Pirate BBQ will be open for several weeks of last hurrahs along the bay's edge before shutting its doors.
"For October and November, come play with us," urged Carracci. "It's going to be fun."
Point San Pablo Harbor and the Black Star Pirate BBQ are located at 1900 Stenmark Drive, Richmond. The restaurant is open Friday, Saturday, and Sunday, 11 a.m. to 7 p.m. For more information: www.blackstarpig.com, (510) 680-1221