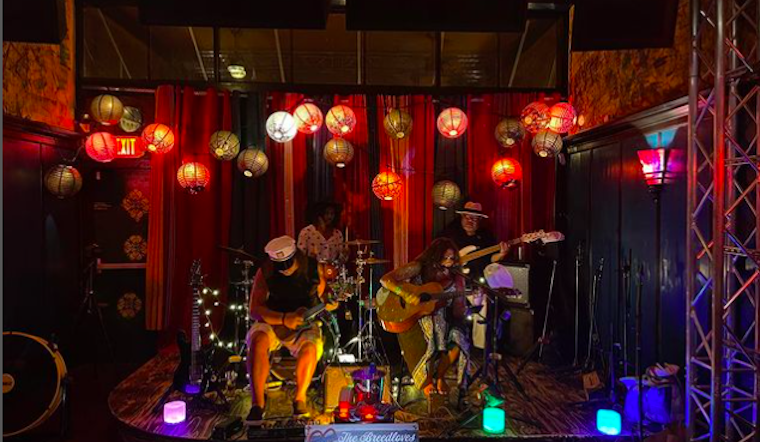 Published on September 16, 2022
The team behind Richmond's artsy waterfront eatery-and-music-joint, Black Star Pirate BBQ, have opened another restaurant and live performance venue, this time in Point Richmond. It's called the Baltic Kiss, and it recently opened in the space belonging to Richmond's oldest bar, at 135 Park Place.
Chef Tony Carracci, whose high-end barbecue has been drawing people out to Richmond's otherwise sleepy Point San Pablo Harbor since the Black Star Pirate BBQ opened, is offering a menu of New Orleans-inspired southern comfort food at the Baltic Kiss. His partner, Miss Suzie, decorated the early 1900s bar with a funky, eclectic vibe. The venue is also hosting live music and open mic nights, and a cover may apply some nights when the bands start up.
Carracci's menu includes Louisiana-style dishes like shrimp and grits ($26), blackened red fish ($28), chicken and waffles ($24) and jerk chicken ($26). There are also pasta options (like Caribbean-style pasta with Cajun shrimp, andouille sausage and chicken; $26), small plates (e.g., crunchy mac and cheese; $9, or loaded red potatoes with pulled pork; $12.50), and pie for dessert.
On the entertainment side, the Baltic Kiss has a whole bunch of live shows and events coming up. This Saturday, September 17, 8-11 p.m., will feature El Radio Fantastique, whose description promises: "If Anton Lavey, Frank Sinatra and David Bowie dropped acid in New Orleans and had an orgy with The Beatles, their unholy offspring would be El Radio Fantastique."
Then the spot will be raving on Saturday, September 24, from 8 p.m. to midnight for an evening of electronic dance music plus live art and vendors. Tickets to that event will set you back $20 at the door, or $12-15 if you buy them before the day of the party.


Image: Baltic Kiss/Instagram
Before taking Richmond by storm, Carracci served as chef at San Francisco's Cha Cha Cha in the Haight in the 1980s and owned the Cat Club in the 1990s, before most recently operating a barbecue food truck, Eater SF reports.
The Baltic Kiss site promises appetizers and late-night food coming soon. They're not accepting reservations at this time, so just show up and try your luck. Just take note that it's closed on Tuesdays.
The Baltic Kiss is located at 135 Park Place, Richmond. The restaurant is open six days a week, Wednesday through Monday, from 4 p.m. until midnight, with the kitchen open from 5 p.m. until about 10 p.m. Information: www.baltickiss.com