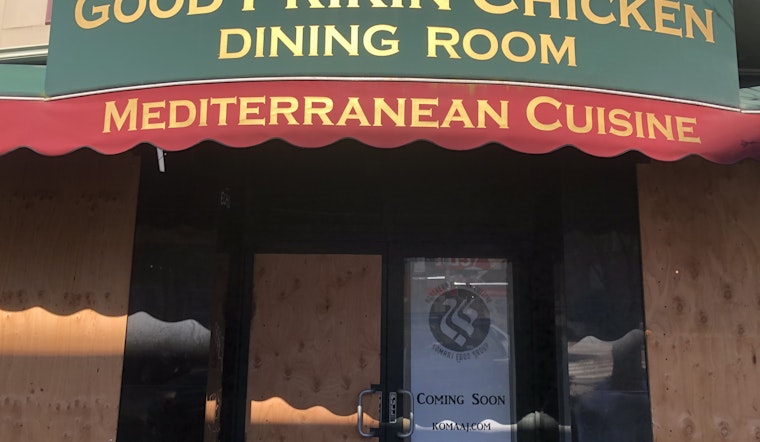 Published on January 20, 2023
The Mission-Bernal rotisserie chicken spot Good Frikin' Chicken closed this past June. Its doors and windows have been boarded up for the last eight months.
But the Chronicle's J.K. Dineen noticed something new on one of those doors this week. A new sign has been placed on the storefront saying that northern Iranian restaurant Koomaj is "Coming Soon."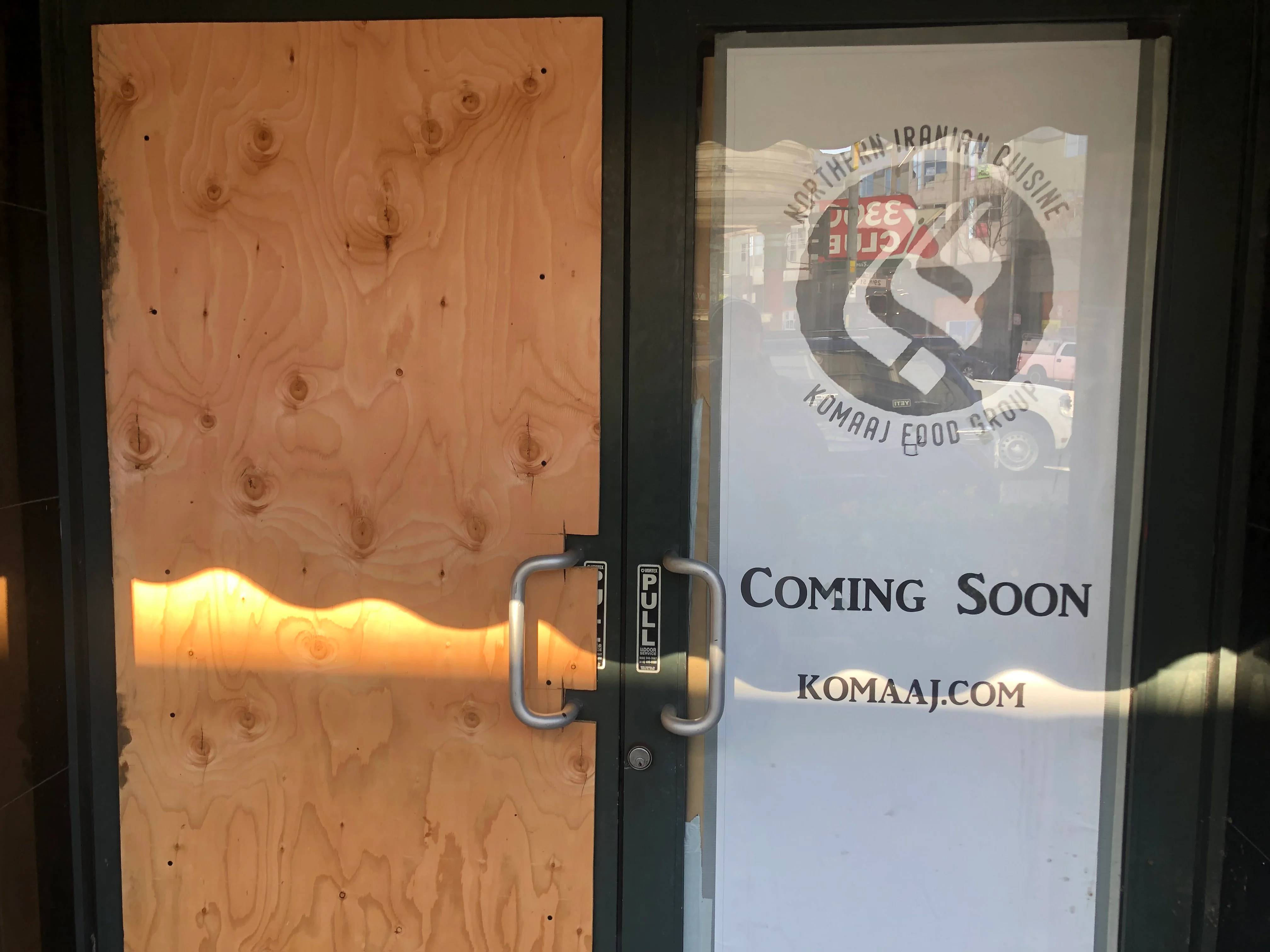 Image: Joe Kukura, Hoodline
According to its website, Komaaj is "a cultural Iranian cuisine brand focusing on food, drinks, and flavors from all regions of Northern Iran." The Komaaj menu shows a unique array of smoked fish, stews, rice, and dips, garnished with ingredients like walnuts and pomegranates.
"Iranian cuisine has its own kind of character, because Iran is the 18th largest country in the world," Komaaj chef and majority owner Hanif Sadr tells Hoodline, adding the country has eight distinct different climates. "The Northern Iranian region is the narrow region between the Caspian Sea, the largest lake in the world, and the Elburz Mountain chain, the longest mountain chain in the Middle East, with the tallest peak of the Middle East."
View this post on Instagram
"The region has subtropical tropical weather, which is totally abnormal in that part of the world," he adds. "Subtropical weather allows northern Iranians to plant rice that was imported from India and China, and plant tea that was imported from India and China. The reason that Iranians eat rice and drink tea is because of northern Iran."
Sadr also points out that Komaaj uses "herb processors that we brought from Iran, because there is no equipment here in the U.S. available that can process all of the herbs that we process every week to make stews, dips, salads and cheese."
View this post on Instagram
Komaaj was originally a Berkeley catering company that opened eight years back, and occasionally operated as a pop-up. But in September 2020, Kommaj started a three-day-a-week residency inside the Mission District art gallery The Laundry, which is just six blocks away from the former Good Frikin' Chicken space. For now, Komaaj continues to operate at The Laundry on Thursdays, Fridays, and Saturdays from 5:00 p.m. - 9:00 p.m.
That two-year residency at The Laundry has put Sadr on the foodie map. He got a glowing write-up in the New York Times, and last month, Bon Appetit named Oakland's Calabash (where Sadr is also a co-owner) to its Most Exciting New Restaurants That Opened in December list.
Sadr does note that "At some point we will have this transition and will be closing the residency at The Laundry, when we are comfortable that half of this new location is in operation."
View this post on Instagram
The new permanent, brick-and-mortar restaurant at Mission and 29th Streets will initially open for lunch and to-go service, "hopefully before March" Sadr says. He anticipates just outdoor seating and parkets at first, but with lots more in the works.
"The location has two levels," he points out, with prep kitchens and offices downstairs, in addition to the upstairs kitchen and dining room you may be familiar with from Good Frikin Chicken. And as for that dining room, Sadr says "We are working with a couple of architects back in Iran and Europe to design the dining room in a way to have some northern Iranian touches to it. That might take a bit longer."
View this post on Instagram
And ultimately, Sadr plans to make the 29th and Mission Street storefront "a market mostly focused on Iranian or Iran-related ingredients," like spices, pickles, teas, and jams, "mostly from Iranian producers in California who are doing artisanal production, quality stuff."
"We're going to turn the spot in front of the location into a lively kitchen and market," he says. And that's good frickin' news for the Mission-Bernal neighborhood.
Note: This post has been updated with comment from Komaaj chef and majority owner Hanif Sadr.