There used to be an outdoor shooting range in San Francisco. At Lake Merced, the Pacific Rod and Gun Club operated at 520 John Muir Drive from 1934 until 2015. Its closure had something to do with an $8.25 million lawsuit from the city over the skeet-shooting range's discarded shells, shattered clay pigeons, and lead and arsenic in the soil that had built up over 80 years. The area has been closed off since, and the lake shore is not even visible, concealed by drab, green fences.
There was much rejoicing in 2016 when Rec and Parks unveiled plans to build a public outdoor park and recreation area there, anchored by an outdoor Momo's restaurant. But the restaurant backed out over the steep renovation costs, and the whole project ended up getting shelved.
Following years of delays, San Francisco officials are finally moving forward with a plan to turn the abandoned Pacific Rod and Gun Club at Lake Merced into 11 acres of park spacehttps://t.co/wrhweCy1GO

— San Francisco Chronicle (@sfchronicle) February 8, 2023
Now it's back. The Chronicle reports the 11-acre Lake Merced West park is back on track, now that the landowner SF Public Utilities Commission has agreed to pay for the cleanup and demolition costs. Rec and Park would pay the estimated $3.8 million to build the new park, using funds from bond money that voters have already approved.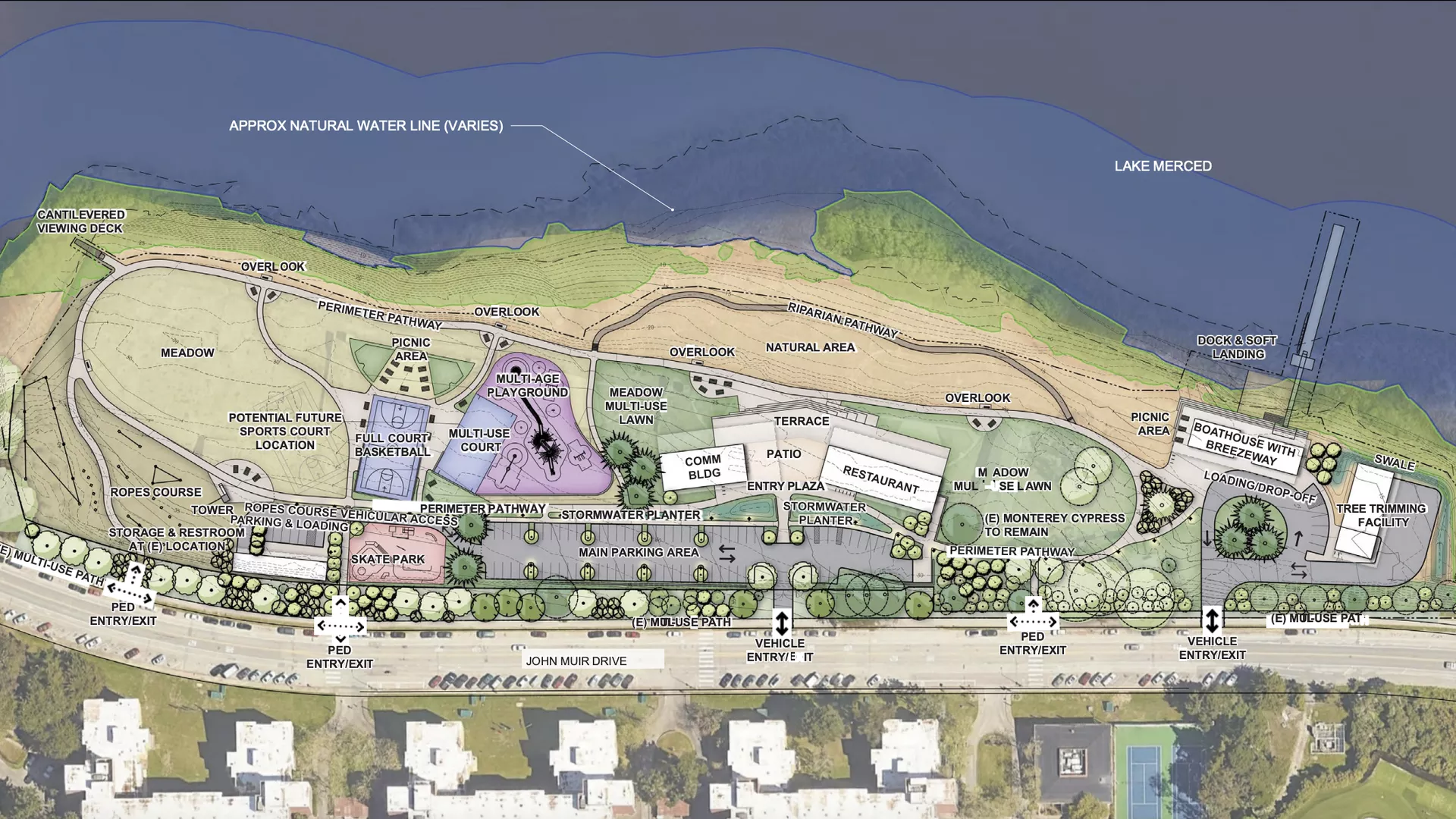 Image: SF Rec and Parks
A proposed map of the new Lake Merced West park can be seen above. The unique attraction here is a boathouse and dock, but other attractions include a new restaurant (yet to be determined), a skate park, basketball courts, and a playground. Perhaps most importantly, the southwest shores of Lake Merced would be visible and open again.
On the other side of the lake, about a half-mile away, Rec and Parks is also planning to add a new dog park to the current Merced Heights Playground. And in a true reflection of San Francisco priorities, the Chronicle reports that when that is completed, "The dogs get 4,000 square feet and the people 3,000."