When online retail giant Amazon launched its brick-and-mortar Amazon Go stores in 2018, the stores fulfilled the core parts of Amazon's vision: getting you to buy things from Amazon, requiring special, dedicated Amazon apps for routine activities, and minimizing the amount of human labor involved with anything. The stores promised "no lines" to wait in (though here in SF, tech-loving shoppers waited in long lines to get in), and as seen in their promo video below, the idea was a creepy-sounding amalgam of "computer vision, deep learning algorithm, and sensor fusion, much like you'd find in self-driving cars."
But even with no cashiers and minimal staffing, these stores apparently aren't performing up to what Amazon had hoped. CNBC reports that Amazon is closing several Amazon Go stores in SF, Seattle, and New York City. And the San Francisco business Times adds that "Amazon plans to shutter all four cashier-less Amazon Go stores in San Francisco "
The four SF stores are all stated to close on April 1.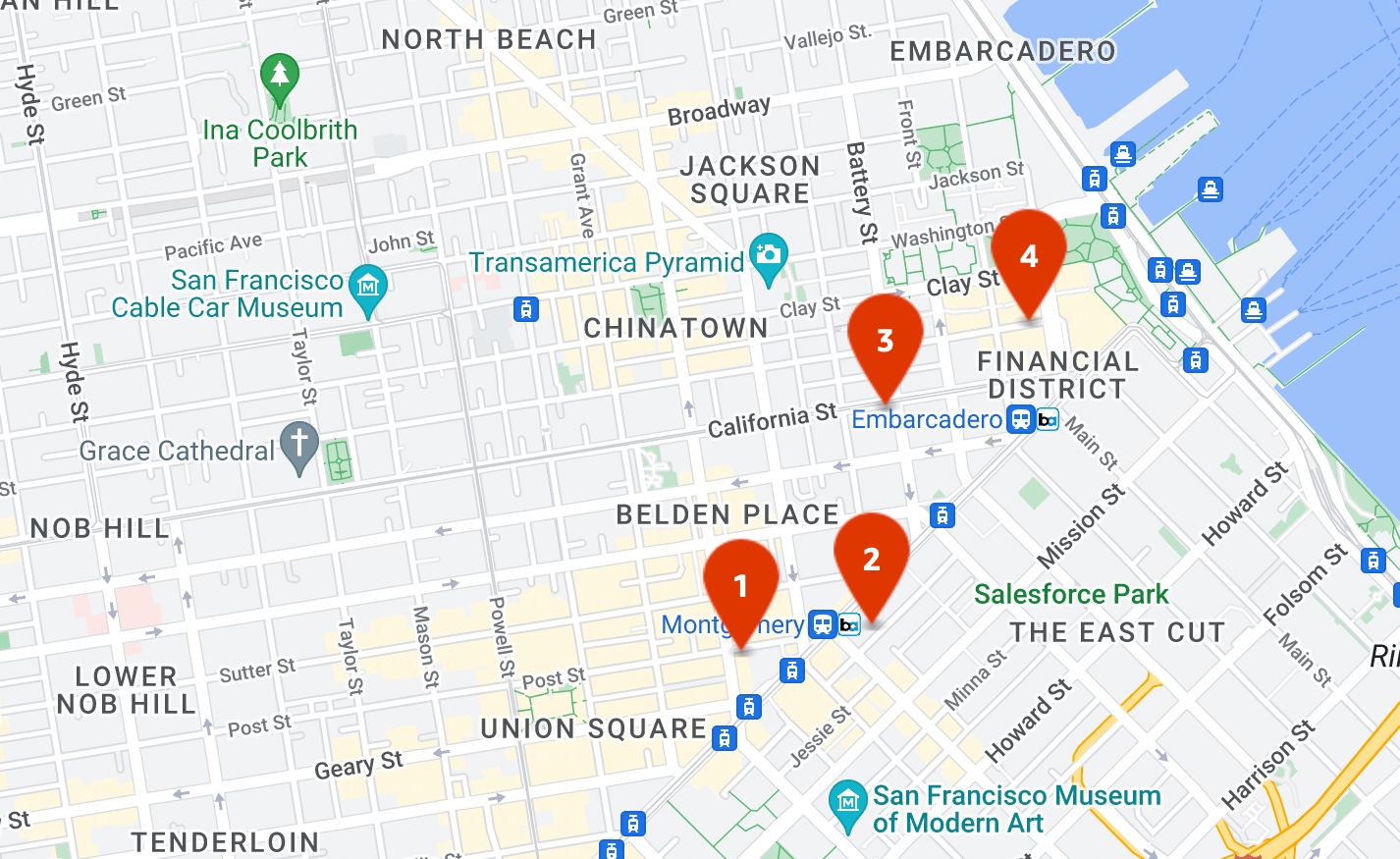 Image: Amazon.com
All four locations are shown in the map above, and all of the store locations are pretty much within the same seven-block radius of the Financial District and the Embarcadero. And that may be part of the problem, considering that downtown SF is not exactly bustling these days.
"Like any physical retailer, we periodically assess our portfolio of stores and make optimization decisions along the way," Amazon spokesperson Jessica Martin said in a statement to CNBC. "In this case, we've decided to close a small number of Amazon Go stores in Seattle, New York City, and San Francisco. We remain committed to the Amazon Go format, operate more than 20 Amazon Go stores across the U.S., and will continue to learn which locations and features resonate most with customers as we keep evolving our Amazon Go stores."
These Amazon Go stores were controversial from the get-go in San Francisco, with the Board of Supervisors targeting these stores specifically with a 2019 resolution that banned cashless stores. In response, Amazon did add one cashier to each store.
And it's another sign that Amazon is now cutting back the ambitious spending it initiated while making gargantuan profits during the pandemic. Earlier this week, the SF Business Times reported that Amazon closed its Dogpatch delivery hub and is trying to sell off the property.
But Amazon isn't entirely giving up the goods on retail, as their subsidiary Whole Foods trying to move into the former Geary and Masonic Best Buy is still very much a go.