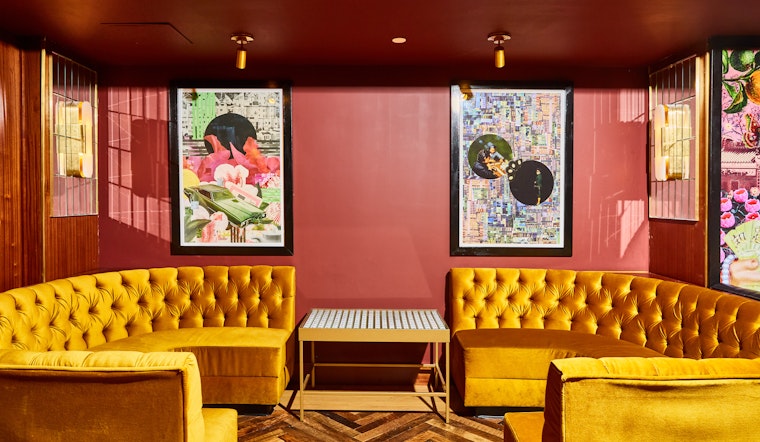 Published on April 12, 2023
A new downstairs flair is coming to the Tenderloin Vietnamese restaurant Bodega SF, which has been around for 20 years, though not always at the 138 Mason Street where it had reopened last June. Bodega SF was originally popularized at its Ellis and Eddy location from 2003 to 2017, then operated for a while as a pop-up inside the Castro location of Rooster & Rice, before returning to the Tenderloin in a new location last summer.
But the cat's out of the bag that Bodega SF is opening a downstairs speakeasy called the Felix this Saturday, April 15, as first reported by the Chronicle. A press announcement for the opening says, "​​Just as Bodega SF paid homage to owner Matt Ho's family's restaurant, Bodega Bistro, The Felix is named after a memorable server who worked there during its longstanding run in the Tenderloin from 2003-2017."
The Felix will be open Thursday, Friday, and Saturday nights. Per a release, "The Felix's menu will offer classic cocktails with Chinese and Vietnamese influences, featuring ingredients like chrysanthemum, lychee and yuzu."
The Chronicle reports that The Felix's food menu will be "limited to start," which The Felix adds will include "housemade Tom Yum Chex Mix and shrimp chips, inspired by Ho's upbringing."


Image: thefelixsf via Instagram
The Felix has not really posted much on social media yet, except the Instagram triptych photoset seen above, to announce what the neon Felix the Cat sign in Bodega looks like to let you know where to find The Felix.
The Felix opens Saturday, April 15 at 6 p.m., with hours Thursday-Saturday 6 p.m.-midnight 138 Mason Street (between Ellis and Eddy Streets)