On Thursday, the Castro Theatre Conservancy (CTC) announced its alternate operating plan for the historic Castro Theatre (429 Castro Street), showing what their intentions would be if the nonprofit were given the opportunity to purchase or operate the theater themselves.
CTC's plan is meant to counter Another Planet Entertainment's (APE) proposals for the historic 100-year-old Castro Theatre. It's been over a year since APE has taken over the programming of the 100-year-old Castro Theatre, while ownership remains with the Nasser family and Bay Properties Inc.
According to the 15-page plan, the CTC would fully operate the Castro Theatre within 60 days of either purchasing the theatre outright or signing a long-term lease. Theater owners Elaine Nasser Padian and Steve Nasser and APE did not immediately respond to Hoodline's request for comment.
"Our plan is a responsible, logical, immediately available, and superior alternative to the APE intention," said the CTC in a release.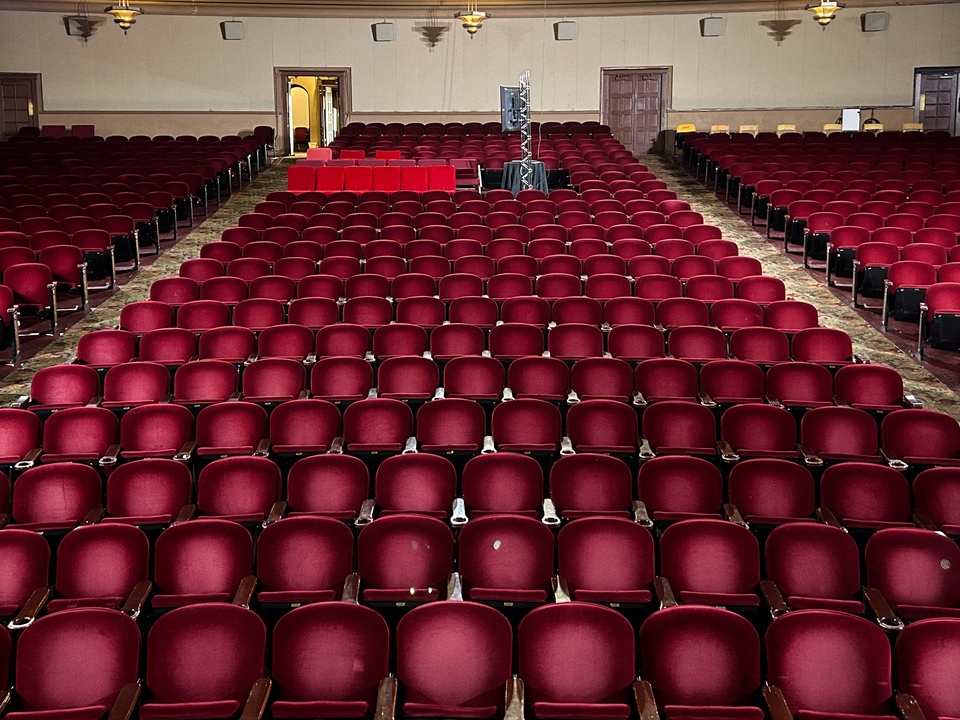 Photo: Steven Bracco/Hoodline
"The CTC has worked alongside many community organizations and individuals, including the Castro LGBTQ Cultural District and the Friends of the Castro Theatre Coalition, and its plan demonstrates a commitment to the LGBTQ+ community, as well as a determination to maintain San Francisco's last movie palace as a home to cinema," added the CTC.
"The Conservancy's plan shows that we can preserve the intrinsic values and crucial features of the historic building, while restoring it as an active business operating 365 days a year," said CTC executive director Peter Pastreich. "The Castro Theatre is a beloved and integral part of the Castro neighborhood, and it must maintain LGBTQ+ and community programming."
"The Conservancy's plan is to operate the Castro as a financially sustainable community resource without desecrating a national landmark," added Pastreich.
Much of the controversy has surrounded APE''s plans to remove the orchestra-level seating and replace them with four-tiered sections of platforms with removable seats. In January, APE released new renderings of its proposed changes to the seating, which includes a motorized floor with additional terraces for seats. Last month, Hoodline took a 'Behind the Seats' tour of the Castro Theatre.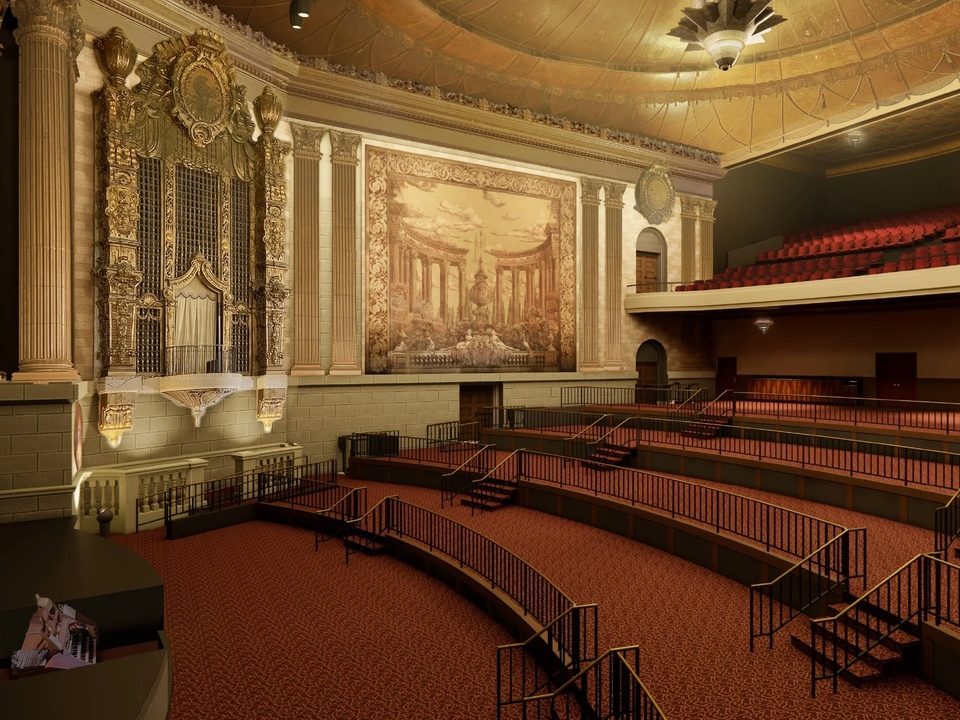 APE's latest rendering of the proposed standing-room-only floor plan. | Image: Castro Theatre
Last May, District 8 Supervisor Rafael Mandelman proposed the update to the landmark designation to include "the full historical, architectural, aesthetic, and cultural interest and value of the Castro Theatre."
In February, the SF Historic Preservation Commission (HPC) recommended the expansion of the Castro Theatre's landmark designation. The Castro Theatre was officially designated as San Francisco Landmark #100 on September 3, 1977.
Earlier this month, in a move supported by theatre preservationists including CTC, Castro LGBTQ Cultural District, and the Castro Theatre Coalition, the SF Board of Supervisors Land Use and Transportation Committee approved protecting the Castro Theatre's fixed seating, however the committee has yet to take its final vote on the matter. [Full disclosure: Steven Bracco, Hoodline's Castro reporter, is a board member of the CQCD and member of the Castro Theatre Coalition.]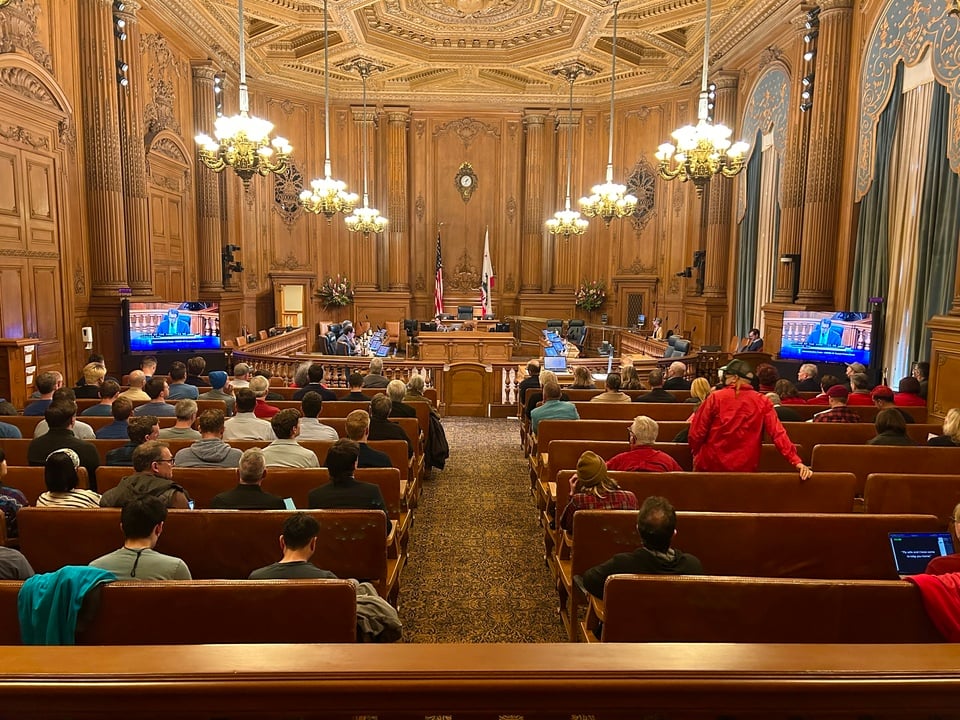 Land Use Committee meeting on April 17. | Photo: Steven Bracco/Hoodline
On Monday, the committee delayed the vote by the full Board of Supervisors an additional two weeks until May 16. A joint between the Historic Preservation Commission (HPC) and Planning Commission to consider a Certificate of Appropriateness is set for May 18.
"While Another Planet Entertainment insists that they must remove the orchestra floor seating of the Castro, we know the theatre can accommodate diverse and varied programming — and real community benefits — without demolishing its interior," said Pastreich.
"There is only one Castro Theatre, and it is the backbone of San Francisco's film industry," said CTC board president Robert Byrne. "It is just as significant to the fabric of our City's cultural heritage as Davies Symphony Hall or the War Memorial Opera House."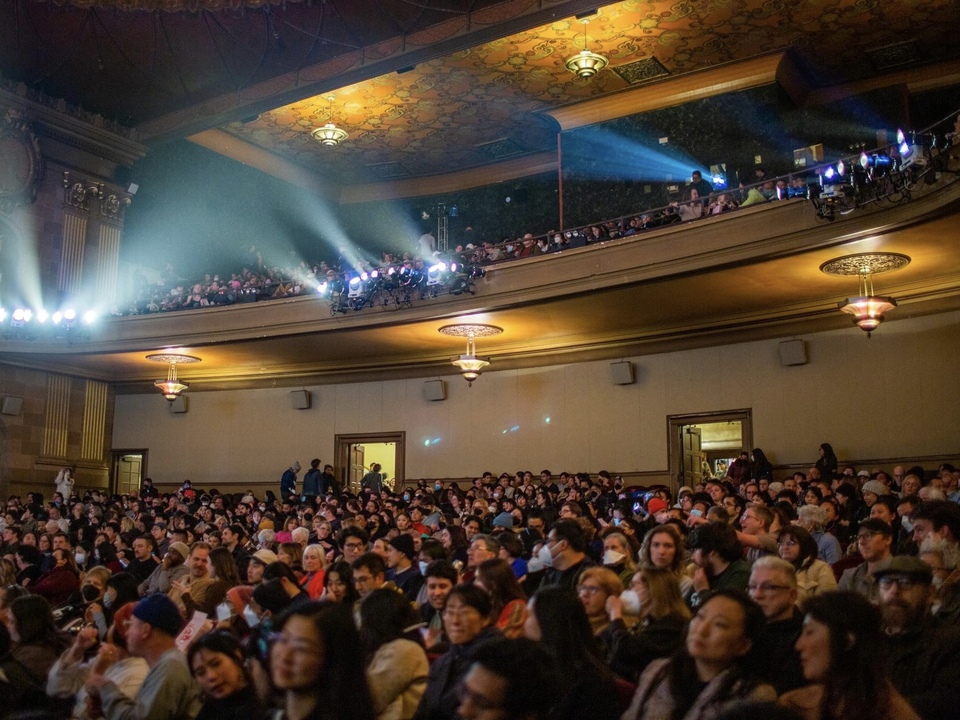 Packed house at the Castro Theatre for the 2023 SF International Film Festival. | Photo: SFFILM
"Our plan is responsible, logical, and immediately available," added Byrne. "By operating the theater active 365 days a year, we will create a vibrant community asset, which is a far better alternative to the mostly unused theatre that APE has proposed."
In January, APE told the San Francisco Chronicle that it intends to host 175 events per year — leaving the theater dark for approximately 190 days.
In March, APE spokesperson David Perry told the Bay Area Reporter, "Daily film screenings are not going to happen again. That's a fact. Will there be a robust film schedule? Yes."
The Castro Theatre is scheduled to be open three days in the month of May for two SF International Film Festival screenings, The Bay Area Moth Grandslam, and The Live Nude Girls Tour.
CTC's proposed variety of films and events at the Castro Theatre. | Image: CTC
Outlined in CTC's plan, should it be able to purchase the theatre from the Nasser family or sign a 60-year or longer lease, is a commitment to activate the theatre daily "including 200 days of repertory, first run, and other films that CTC itself presents, 52 days of Film Festival presentations, at least 24 days of LGBTQ+ focused programming, and 24 live performance events.
According to the CTC, it developed an initial three-year plan that would lead to a capital campaign of approximately $20-40 million for improvements to the neglected theatre. During the first year, CTC would hire five full-time staff members, complete the most urgent repairs, and establish a nonprofit membership and contribution program.
Staff to be hired include an executive director, artistic and programming director, director of theatre operations and finance, development and communications director, and marketing and public relations director.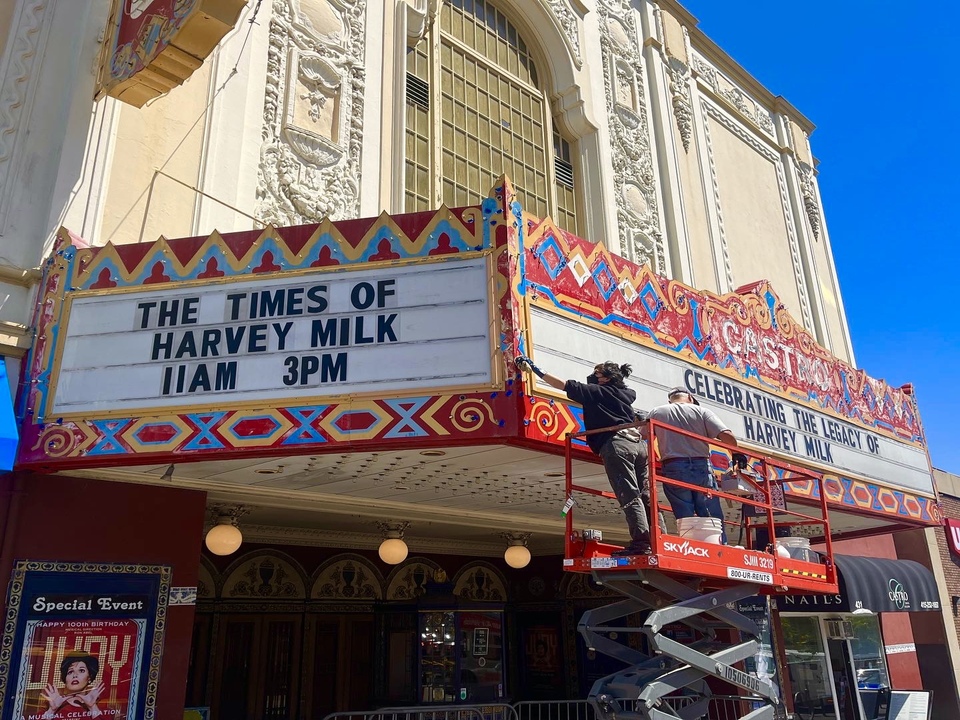 The Castro Theatre's marquee was restored in May while the blade remains in need of refurbishment. | Photo: Steven Bracco/Hoodline
Improvements to be made include assistive listening and closed captioning devices, ADA seating, installing a Dolby Sound System, repairing the HVAC system, fixing basement flooding, fire safety upgrades, concession stand upgrades, and repairing the Castro blade (sign).
Under the plan, various membership levels would be offered between $50-1,500 with benefits including discounted and complimentary film tickets, discounts on concessions, invitations to events, and member previews.
The CTC is also seeking a strong partnership with local Castro merchants and plans to sell their products at concession stands, creating dinner partnerships, and free pre-show screen advertisements.
Rental fees will also be kept low and affordable for community groups and non-profits hosting events at the theatre. A three-tiered fee structure will range between $4,500-7,500 in the first two years for small nonprofit/low-income/emerging artists, mid-size nonprofit/community partners, and commercial/corporate.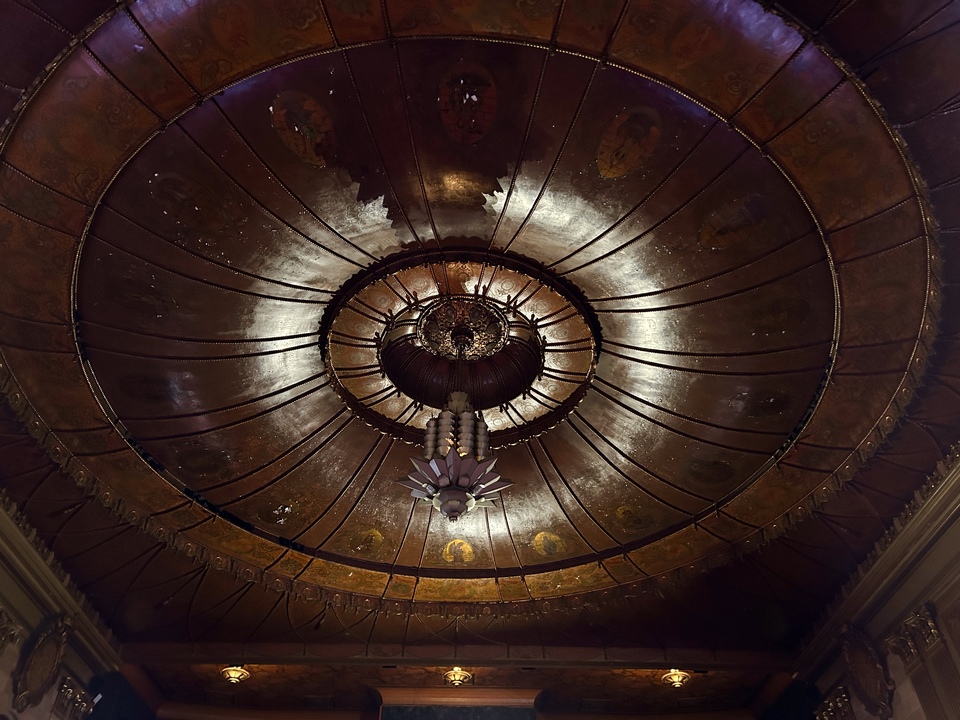 The Castro Theatre's ceiling will need to be completely restored. | Photo: Steven Bracco/Hoodline
In the second year, the CTC will consult with architects and engineers to complete the approval of plans and begin the quiet phase of a capital fundraising campaign.
According to the CTC, the fundraising campaign would be completed in year three along with any capital improvements that require the theatre to temporarily close. Improvements include restoring the ceiling and side murals, expanding the stage and organ lift to accommodate the larger organ console, and ADA upgrades.
Contingent on the CTC plan, of course, would be the cooperation of the Nasser family, and the securing of enough funding to reach all of these goals — as well as buy-in from the community in the form of memberships.
"The Conservancy's plan has been in development for the better part of a year but is only being released publicly now following a breakdown in conversations with Another Planet Entertainment," said the CTC. "The operation will proceed with a clear understanding that service to the community, particularly the LGBTQ+ community and to the art of cinema, comes first."
"[T]he Conservancy is a nonprofit organization that, like arts organizations across the City and entire nation, will function with a blend of earned income through ticket sales, concessions revenue, and rentals along with a reliable, structured infusion of contributions from members and patrons," added the CTC. "This is a model that tens of thousands of successful nonprofit community arts organizations have championed for generations.'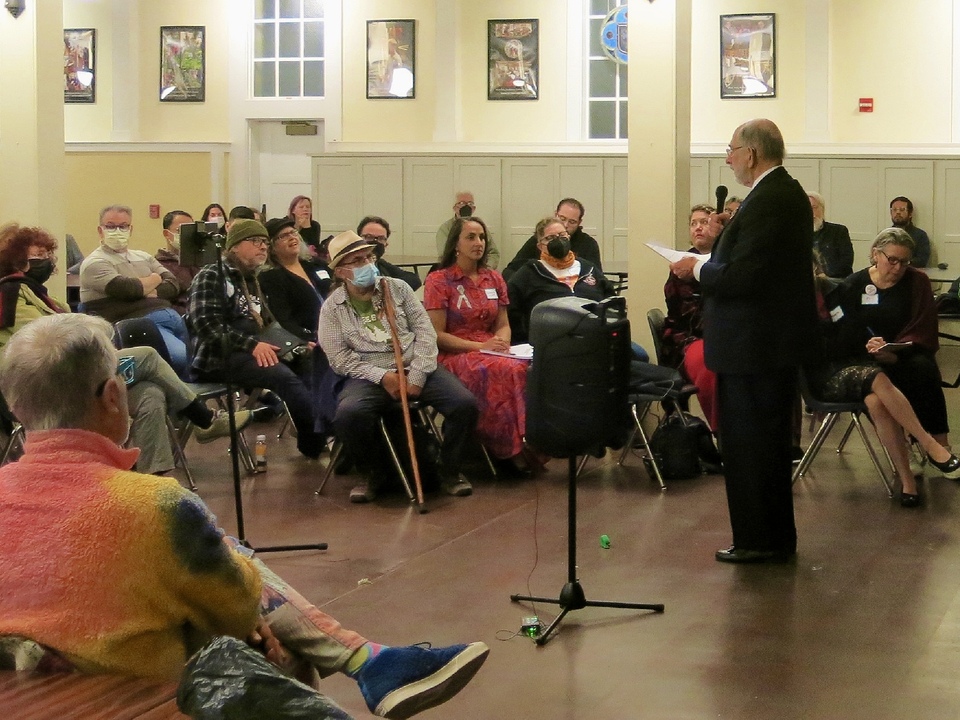 Peter Pastreich addresses the crowd at a town hall in January. | Photo: Julie Richter/Castro Theatre Conservancy
Earlier this month, District 3 Supervisor Aaron Peskin revealed that APE had previously not followed through on pledges to the city when it entered into an agreement two decades ago to renovate Bill Graham Civic Auditorium. According to emails obtained by Hoodline, $4 million in renovations remain outstanding.
According to Perry, APE applied for the permit for renovations at the Bill Graham Civic last June, and it was approved earlier this month. Perry says construction work has begun.
Public records indicate a permit was issued on April 12 and applied for November 1, 2022, to modify bathrooms and dressing rooms and conduct electrical work. The permit was a reissue of 2017 permits for work that was not completed. Construction costs are estimated at $900,000.
Update, 2 p.m.
APE spokesperson David Perry shared the following statement with Hoodline in response to the CTC's plans:
"After a year of announcing plans for a plan, the Castro Conservancy has issued a plan to plan to plan on how to raise money to purchase a theatre that is not for sale. The Castro Theatre and the Castro neighborhood cannot wait for two years for an unfunded and impractical idea. To this day the Conservancy has yet to show that it has the financial ability, and an architectural plan or commitment on how it would renovate the Castro Theatre. In January of this year, the Conservancy in a letter to Another Planet said it would take them at least two years to raise a hypothetical $20 million dollars.
While we appreciate everyone's passion for saving the Castro, the Conservancy's ideas are neither feasible nor funded. Another Planet has presented a well researched and well funded plan that has been available for the public to peruse for over a year, and updated five months ago to include valuable input from the film and LGBT communities, including the Conservancy, individual Castro businesses, and residents that have made it even better and more adaptable.
We stand behind our plan and are grateful to our many and growing supporters. We are saddened that the Conservancy has rejected our repeated and multiple good faith efforts to work with them in a realistic and forward looking manner."
Update, 4/28
In response to APE, CTC board president Rob Byrne stated:
"Since its inception, the Castro Theatre Conservancy, a California 501(c)(3) nonprofit, has not wavered in its commitment to maintaining the landmark Castro Theatre as San Francisco's preeminent movie palace and iconic LGBTQ+ resource.
We seek to preserve this irreplaceable landmark – not to destroy it. We want to operate the theatre for the benefit of the community – not to maximize profits for a single, private corporation. We want the Castro Theatre to be open every day, not a handful of days per month. The Conservancy wants to materially invest in the theatre – not just make empty promises and then fail to deliver, like APE at the Bill Graham Civic Auditorium. Our goals include operating a vibrant and diversified arts center and supporting local merchants by always having something happening at the Castro, while actively participating as a good neighbor in the community.
We share our plan now after APE has failed to negotiate in good faith, and after they have failed to work with the countless community organizations and individuals who share our same vision. We want the public to know that there can be a future for the Castro Theatre where the needs of the community come first."