Published on March 17, 2022
When Another Planet Entertainment (APE) announced earlier this year that they would be overhauling the historic Castro Theatre (429 Castro St.) and taking over the programming, little was known about what that specifically entailed. But we now have some hints via plans that have been filed with the city.
Gregg Perloff, APE CEO and co-founder, declined to provide details in an interview with Hoodline after public outcry from community members concerned about the future of repertory film.
At the time Perloff indicated the nearly 100-year-old theatre needed a lot of work including improvements to the lighting, ventilation, and electrical systems.
Now public records indicate that the Castro Theatre's orchestra-level seats will all be removed and replaced with four tiered sections of removable seats. The plans do not indicate if these changes will alter the total number of orchestra seats.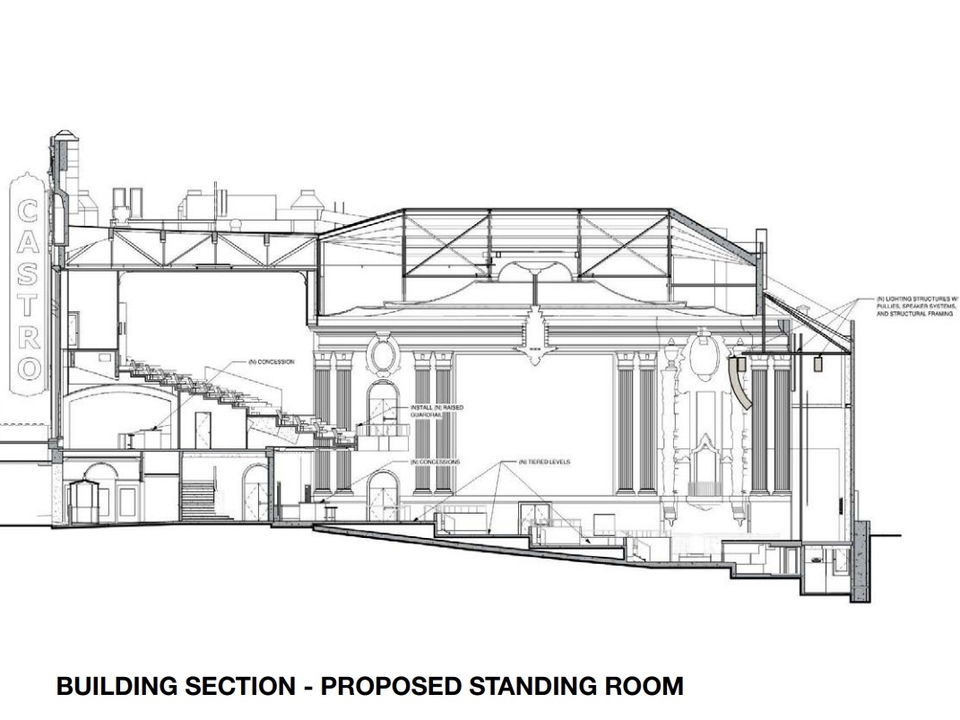 Proposed standing room floor plan. | Image: Page-Turnbull/SF Planning
Hoodline reached out to APE for comment but did not immediately receive a response. The Castro Theatre remodel is being designed by CAW Architects and San Francisco-based historic architecture firm Page & Turnbull is acting as the preservation architect.
The removable seating will allow for standing-room-only for events like live music and concerts — similar to the way Oakland's Fox Theater is set up, with permanent seating only in the mezzanine. Plans indicate that no changes will be made to the balcony-level seating at the Castro.
"It gives you more flexibility, it allows you to do dances," said Perloff earlier this year about the removable seat. Additionally, Perloff indicated that the moveable seats will make room for the new organ.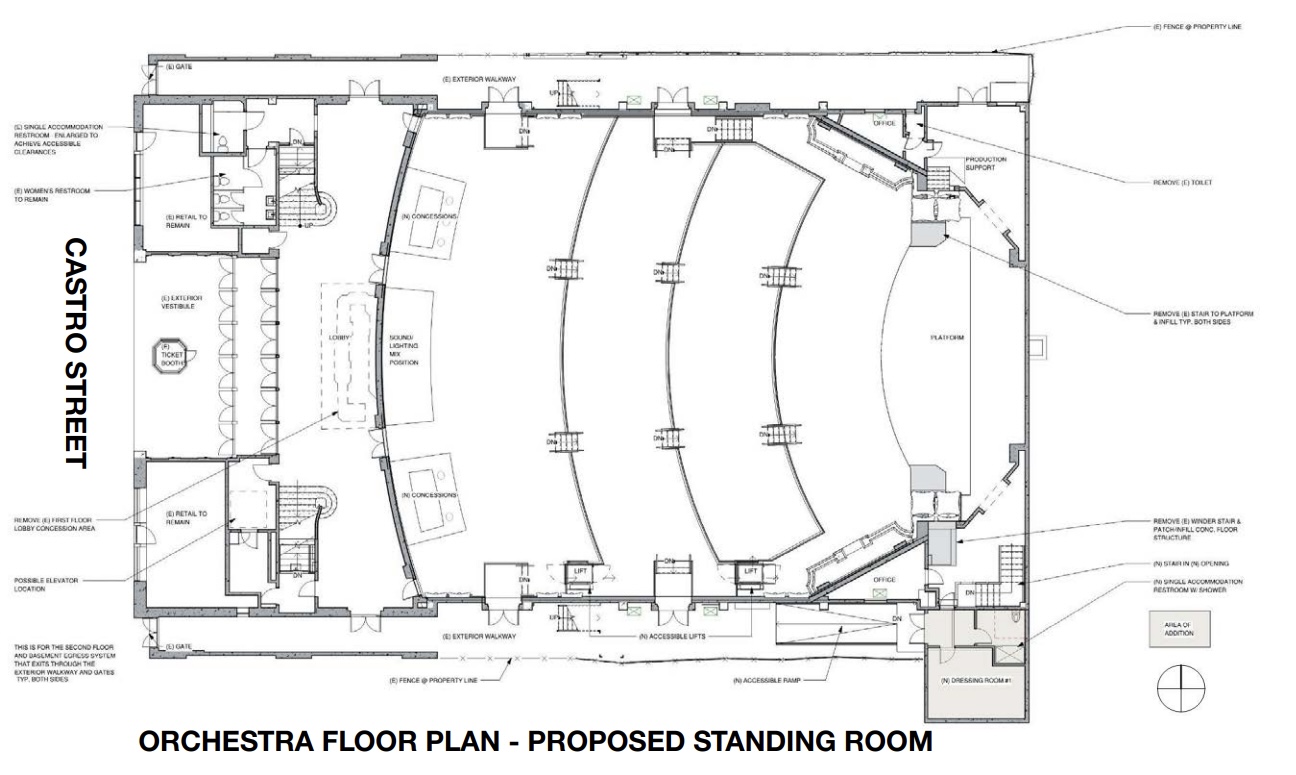 Image: Page & Turnbull/SF Planning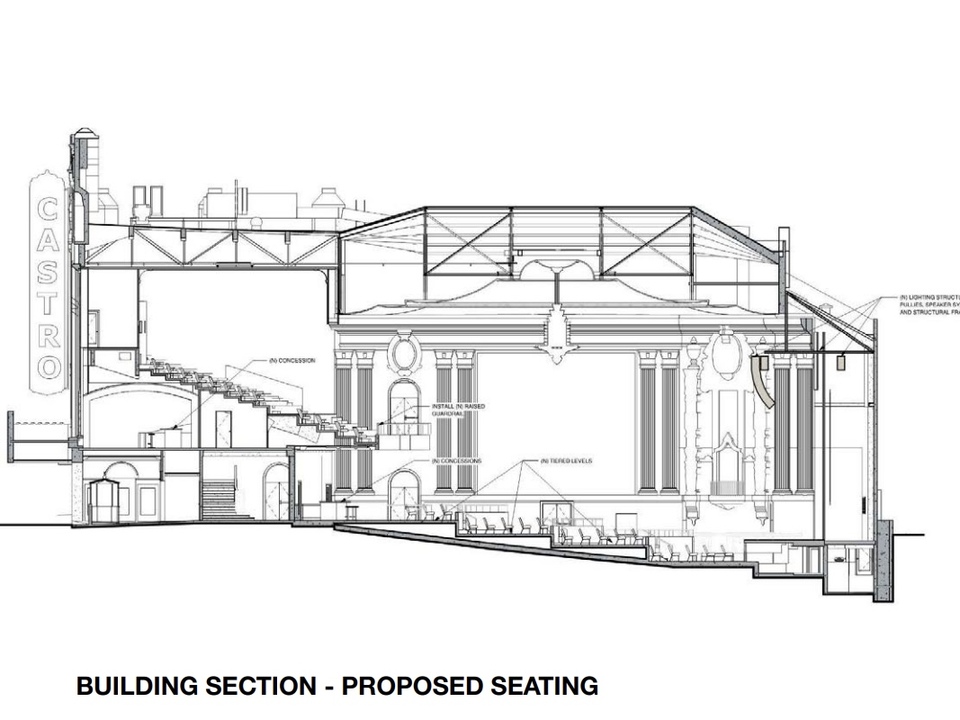 Image: Page & Turnbull/SF Planning
The current lobby concession area will also be removed and concessions will be moved to two stations inside the theatre. The women's restroom on the lobby level will receive Americans with Disabilities Act (ADA) upgrades.
Plans indicate there is also the possibility of a lobby-level elevator being installed that would access only the second floor and not the basement-level men's bathroom.

Inside the Castro Theatre for a performance by comedian Jon Lovett. | Photo: APE/Instagram
Other changes include adding a second-level lobby and ground-floor dressing room, converting the basement-level boiler room into a program space, and improving the building ventilation with ductwork on the roof.
At this time it is unclear when construction is set to start on the Castro Theatre renovations. The Berlin & Beyond Film Festival just wrapped up last week and the SF Film Festival, Silent Film Festival, and Frameline are all scheduled to take place in the coming months.
A price tag for the remodel has not been made public, however some estimates have said that it will cost approximately $30 million to upgrade the theater. When interviewed, Perloff would neither confirm nor deny that figure to Hoodline.
Update 3/18:
David Perry, spokesperson for Another Planet Entertainment, told Hoodline that Gregg Perloff, Mary Conde, and any other APE representatives were not available for interviews. Instead, Perry would only answer prepared questions via email.
In response to why APE decided to remove the seats Perry said, "the existing seating in the Castro Theatre is being adapted to accommodate a variety of uses, including film screenings, special events, and standing concerts." "The current seated capacity of the Castro is 1400, and that capacity is not planned to increase or significantly decrease."
Perry told Hoodline they did not have a timeline for approvals. "At this time, we do not know how long the approval process will take although we are hopeful it will be done by late Summer/Fall," said Perry.
SF Planning's chief of staff Dan Sider confirmed that the project was in the early stages. "The Castro filed a very preliminary application just last week," said Sider. "[I]t's only for a meeting with staff to discuss the project and presumably to get clarity on some of the same questions you raise in your email."
"Depending on the ultimate scope of the project, it's likely that it will require review by the Historic Preservation Commission (HPC), but because neither the scope nor the necessary entitlements are yet clear we can't project a timeline," added Sider.
According to Perry, the cost of the remodel remains unknown. "We do not yet have a total estimated cost for the renovations taking place at the Castro Theatre, many of which will be based on the total permitting costs that are not yet known," said Perry. "As such permitting costs are part of the public record, as final costs become available, they will be made public as is standard practice."
Hoodline again asked about the future of repertory film at the Castro Theatre. In response Perry said, "Film events, including major film festivals, movie "sing-a-longs" and preservation of the Castro Theatre organ will continue to be part of the Castro Theatre programming." "Additionally, concerts, special events, community activations are all part of the expanded offerings we will be announcing as we confirm them."
"After the renovation is complete, and we have a better sense of programming opportunities, we will be able to answer that question more accurately," added Perry.
While many Castro residents and theatre-goers have requested APE host a community meeting inside the Castro Theatre, Perry stated that APE has no plans to do so.
"As we have been doing, Another Planet is continuing to meet with, partner with, dialogue and program with local LGBTQ and Castro Community groups one on one, including several events taking place in May and June which will be announced shortly," said Perry. "We look forward to our continued dialogue with all of the Castro's stakeholders."
Asked why after bunging the initial announcement APE did not make a public statement about the remodel Perry said, "after the completion of the various San Francisco planning and design reviews, we will present all of those findings."
"The current design proposals are public documents," said Perry. "However, until the review process is done, it would not be appropriate for us to comment or present anything in a different forum."
"We are in the very early stages of the review, planning, and approval process," added Perry.
Sider confirmed that APE will be required to obtain community input. "Because the project is still in its infancy the particular venues aren't yet clear, but there will absolutely be a process for the public to weigh in," said Sider.