Last week, Another Planet Entertainment (APE) took Hoodline on a 'behind the seats' tour of the historic Castro Theatre, which included viewing a mockup of the proposed seating changes and touring the backstage area.
It's been over a year since APE has taken over the programming of the 100-year-old Castro Theatre, while ownership remains with the Nasser family and Bay Properties Inc.
APE has proposed much-needed renovations of the neglected Castro Theatre, along with removing the orchestra-level seating and replacing them with four-tiered sections of platforms with removable seats.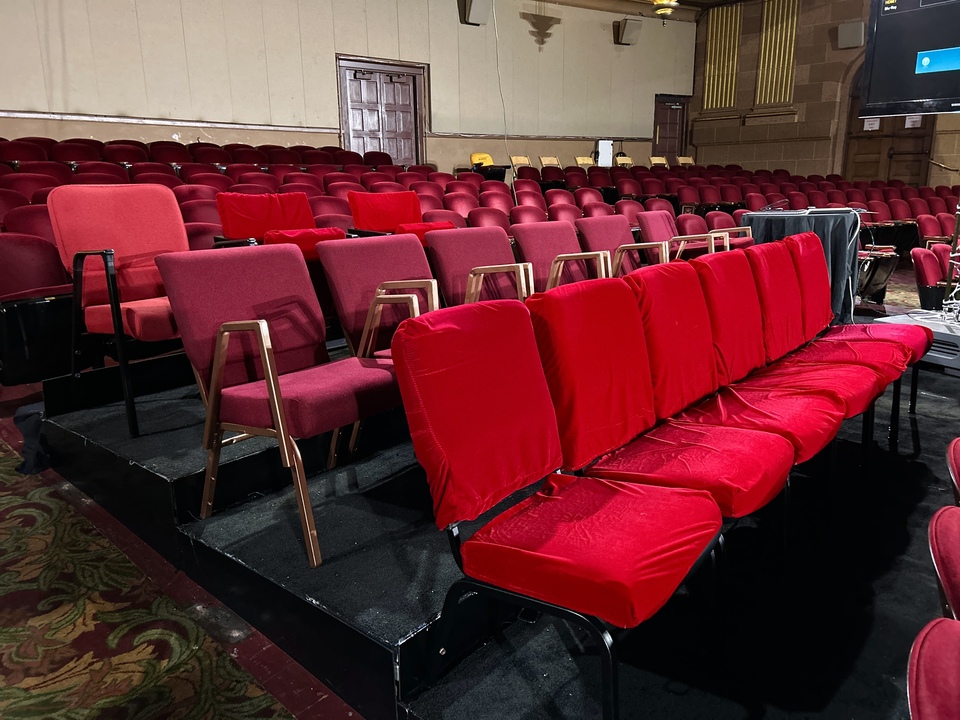 Four of the proposed seating options at the Castro Theatre. | Photo: Steven Bracco/Hoodline
In January, APE released new renderings of its proposed changes to the seating, which includes a motorized raked floor.
APE Senior Vice President Mary Conde led Hoodline on the tour, which started with a mock-up of four possible seating options set on top of a riser. Two of the seats are manufactured by church-seat manufacturer Bertolini, another by Eldridge, and one by Series Seating called the Model K chair.
The video of the motorized floor can be viewed while sitting in the proposed chairs inside the Castro Theatre.
"Over the last several weeks, Another Planet has been testing a series of new seats for the Castro Theatre, and we have some more 'seat tastings' yet to do," APE spokesperson David Perry told Hoodline. "The goal: to make sure we have the most comfortable, most adaptable, and most appropriate seat for film including sightline considerations and cup holders."
View this post on Instagram
After evaluating the chairs, the tour continued backstage to view the Castro Theatre's proscenium which APE has also proposed restoring.
While backstage, standing water was visible and Conde told Hoodline the basement was currently flooded and inaccessible. According to Conde, four sump pumps were being used to remove the water from the recent storm that flooded the basement.
Additionally, Conde explained that a small green room to the side of the stage would also be upgraded and expanded.
Looking at the Castro Theatre's ceiling, Conde told Hoodline that restoration work will take approximately six months to complete. Restoration workers will need to inspect the ceiling closely in order to determine the extent of the restoration work that needs to be completed.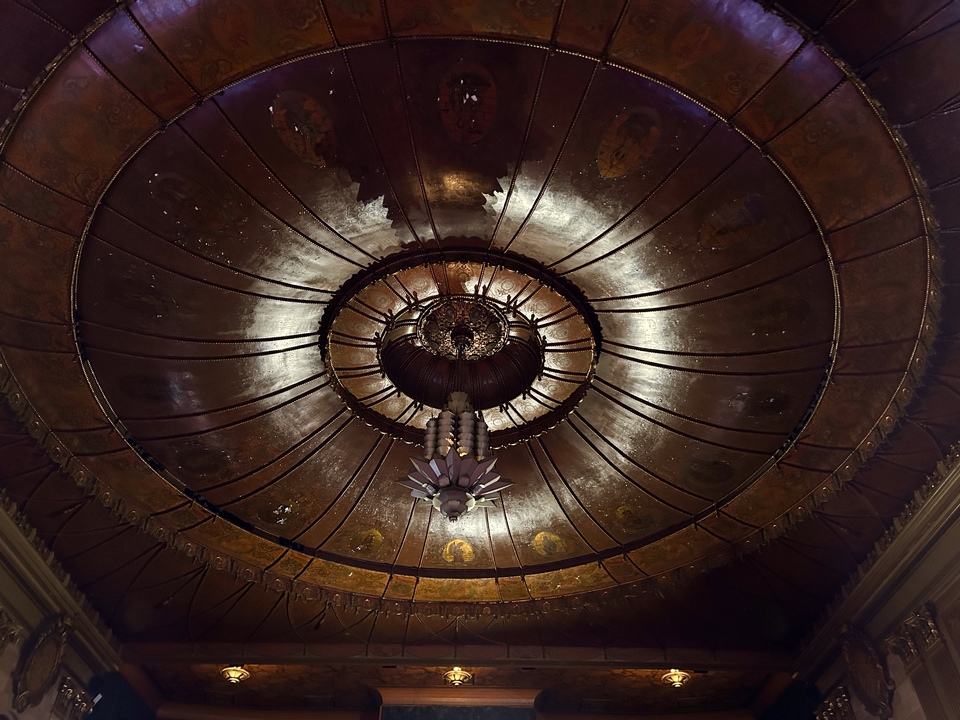 The Castro Theatre's ceiling will also be restored. | Photo: Steven Bracco/Hoodline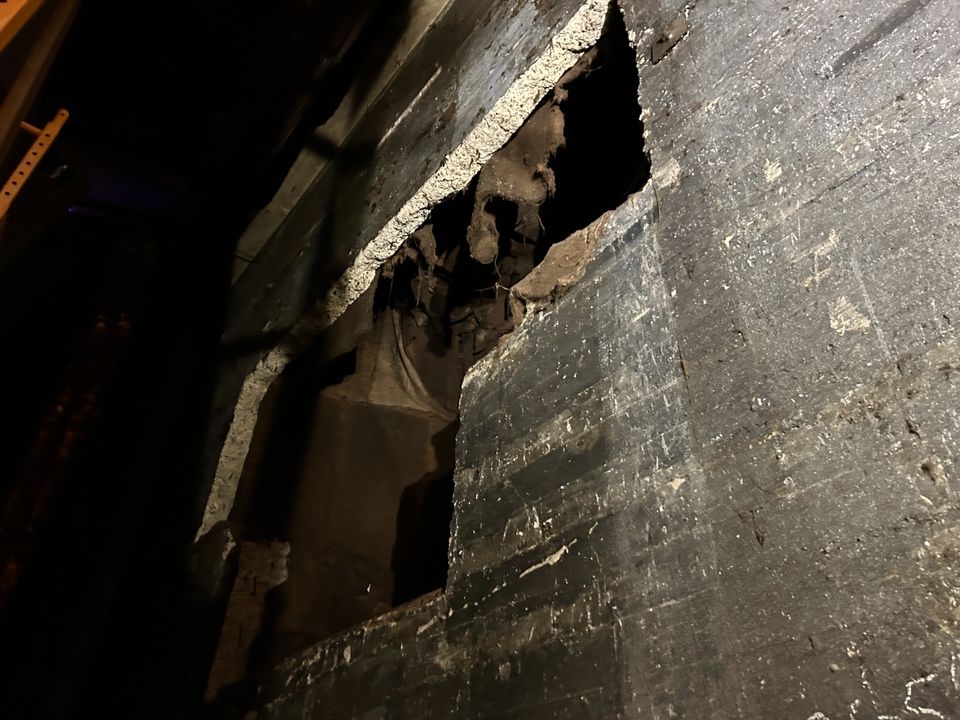 The back wall of the Castro Theatre was knocked out several decades ago in order to accommodate a larger screen. | Photo: Steven Bracco/Hoodline
Additional renovations include removing the lobby-area concession stand, expanding the women's restroom, improving the ventilation and electrical systems, adding a ground-floor dressing room, and possibly adding an elevator with access from the lobby level up to the second floor.
All of this work is currently on hold while District 8 Supervisor Rafael Mandelman's proposal to update the landmark designation works its way through city approvals and additional permits are obtained.
In January, the San Francisco Historic Preservation Commission (HPC) voted unanimously in support of recommending the expansion of the Castro Theatre's landmark designation to the Board of Supervisors. The Castro Theatre was officially designated as San Francisco landmark #100 on September 3, 1977.
"Another Planet Entertainment has always supported the landmarking of the interior of the Castro Theatre and are gratified by today's unanimous vote to do so," said APE spokesperson David Perry at the time.
However, the hearing left ambiguity around the orchestra-level seats. As gay historian Gerard Koskovich explained, the Landmark Designation Fact Sheet "specifically identifies seating 'configured in classic movie palace fashion in gently curved rows' as constituting a 'defining characteristic' of the Castro Theatre which must therefore be protected."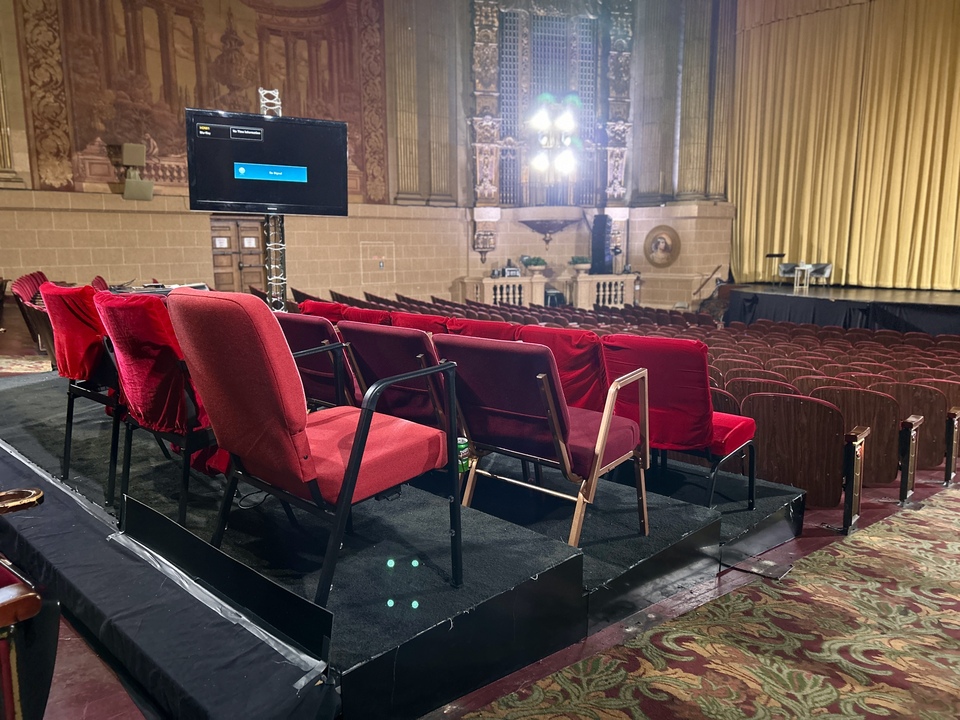 Mock-up of the proposed platforms. | Photo: Steven Bracco/Hoodline
April is shaping up to be a marathon month of hearings about the theater. The landmark designation will go before the Land Use Committee (Melgar, Preston, Peskin) on April 3, followed by the full Board of Supervisors on either April 4 or 11, and becomes effective 30 days after approval. A joint hearing between Planning and HPC is set for April 13.
While the update won't be official at the time of the joint hearing, Mandelman tells Hoodline, "Planning and HPC have expressed that the updated landmarking will inform their decision-making on the 13th, even though it will not technically have taken effect yet."
"I take Planning and HPC at their word, and in addition, this project requires at least one approval that can be appealed to the Board of Supervisors," added Mandelman.
In recent months, APE has gained the support from Frameline Film Festival, SF Gay Men's Chorus, Castro Organ Devotees Association, Movies For Maniacs, Castro/Upper Market Community Benefit District, BuildOut California, Audrey Joseph, Dani Izzie, and Donna Sachet.
Opponents of the proposed plans include the Castro Theatre Coalition which includes the Castro LGBTQ Cultural District, Castro Merchants, Castro Theatre Conservancy, Friends of Harvey Milk Plaza, Harvey Milk LGBTQ Democratic Club, Alice B. Toklas LGBTQ Democratic Club, SF Heritage, SF Neon, Dan Nicoletta, Cleve Jones, Joshua Grannell (aka Peaches Christ), and others. [Full disclosure: Steven Bracco, Hoodline's Castro reporter, is a board member of the CQCD and member of the Castro Theatre Coalition.] (Update 6:30 p.m.: Although an original member of the coalition Joshua Grannell wished to clarify they haven't yet formed an opinion on the newest plans.)
Earlier this month, APE released a summary of its community benefits package. "The Castro Theatre and Another Planet Entertainment are deeply committed to revitalizing the iconic theater and ensuring it remains the epicenter of the Castro community for another century," APE explains. "This project and effort is a prime example of how local businesses and performing arts organizations can support and honor our city's past while adapting to the realities of future needs to ensure the spirit and operations of the Castro Theatre remain for generations."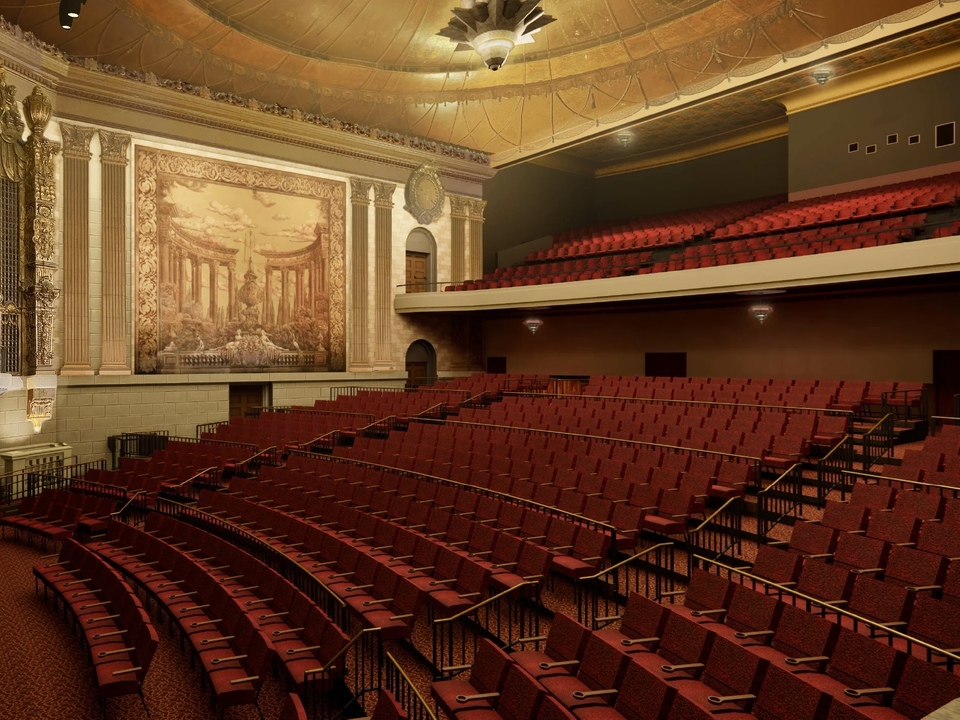 The latest rendering of the proposed seating floor plan. | Image: Castro Theatre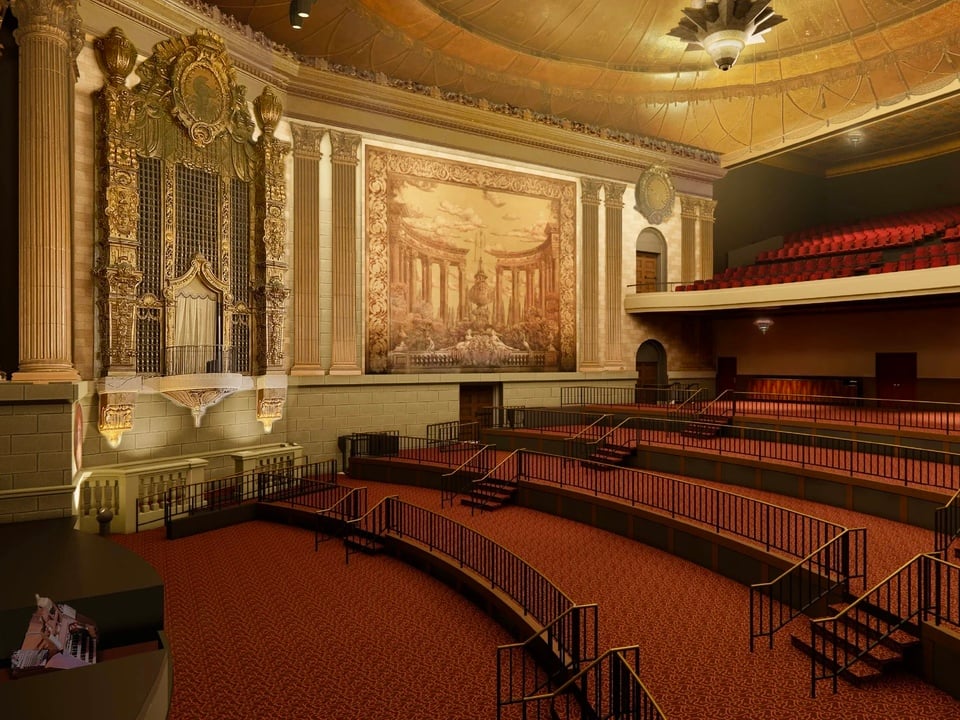 The latest rendering of the proposed standing-room floor plan. | Image: Castro Theatre
"We envision and plan to deliver an eclectic program of film, music, comedy, private and community events, and LGBTQ+ content that is affirming, diverse, and always mindful of the historic neighborhood in which it lives," added APE. APE states that it has committed $15 million to the Castro Theatre's restoration and upgrades.
APE states that it "pledges that 33% of programming at the theatre will be devoted to film screenings and film festivals hosted by such groups as, but not limited to, the Jewish Film Festival, Arab Film Festival, Cinema Italia, Third I South Asian Independent Film Festival, Berlin and Beyond, and the Silent Film Festival."
"The robust package of community benefits from Another Planet for the Castro Theatre has been put together with extensive input from local businesses, community members, and stakeholders and is now available online," Perry told Hoodline. "As time goes on, additional details will certainly be forthcoming."
In January, APE told the San Francisco Chronicle that it intends to host 175 events per year — leaving the theater dark for approximately 190 days. At 33%, that equates to 58 days of film-focused programming. With 11 days already committed to Frameline, that leaves 47 days for all other film festivals and screenings.
Last week Perry told the Bay Area Reporter, "Daily film screenings are not going to happen again. That's a fact. Will there be a robust film schedule? Yes."
"[T]heir idea of their film programming seems to be when someone else comes in and pays for it. How kind of them," said longtime Castro Theatre event producer Marc Huestis. "These folks from Another Planet and their high-paid publicist are selling a bill of goods that on the surface seem good, but one only has to scratch the surface to see what is really going on."
From Bong Joon-ho to Francis Ford Coppola -- here's March Madness, Castro style! https://t.co/mHUp8kG57l pic.twitter.com/nMo4Lyl3WS

— Castro Theatre (@Castro_Theatre) February 27, 2020
"What's shocking to me is how disingenuous APE has been with the community in describing their plans for the Castro Theatre," said Castro Merchants board member Terry Beswick. "I am so uninterested in anything they say unless it's part of a signed contract."
In March 2020, just before the pandemic shutdowns, the Castro Theatre was scheduled to be closed for just one day. By comparison, the Castro Theatre currently has one show scheduled on April 29.
Perry tells Hoodline, "By early April, you'll be seeing a number of additional confirmations for events coming into the Castro."