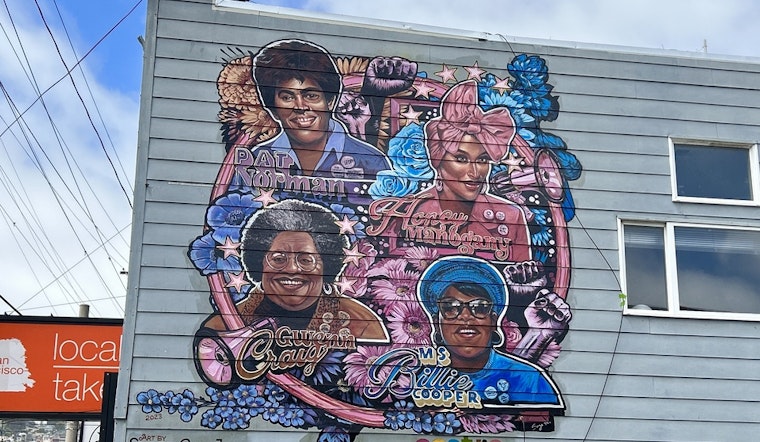 Published on May 31, 2023
A new mural honoring lesbian and transgender Black women activists was recently installed in the Castro.
Haitian American artist Serge Gay Jr. painted the mural on the side of Castro gift shop Local Take, adjacent to the public parking lot behind Walgreens.
The mural features activist and drag performer Honey Mahogany, trans advocate Miss Billie Cooper, LGBTQ rights advocate Gwenn Craig, and the late civil rights activist Pat Norman.
Titled 'Circle of Change', Gay explained that each activist is surrounded by flowers which are meant to honor each of them for their work in the community.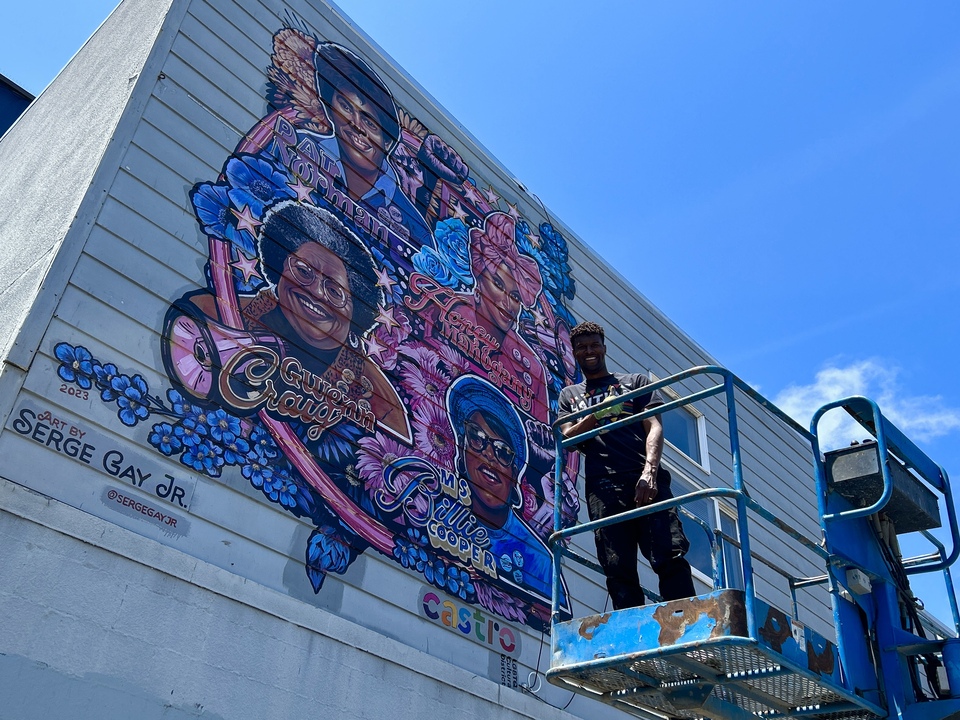 Artist Serge Gay Jr. after completing the new mural. | Photo: Steven Bracco/Hoodline
"Giving someone their flowers for their achievements in the community is a thank you," explained Gay. "It's showing your appreciation."
The mural was sponsored by the Castro LGBTQ Cultural District (CQCD). CQCD district director Tina Aguirre tells Hoodline that Gay was paid $5,000 "for the entire production of the mural, including supplies and rental of equipment." [Full disclosure: Steven Bracco, Hoodline's Castro reporter, is a board member of the CQCD.]
"This mural increases representation of LGBTQ people in the Castro, especially lesbians and bisexual women, LGBTQ people of color, and transgender individuals," said Aguirre.
"Miss Billie, Gwenn, Honey, and Pat are all great examples of leaders that have made change on local and national levels," added Aguirre. "I am proud to partner with Serge Gay Jr. on this mural because his art is gorgeous and reflects our values on many levels."
View this post on Instagram

Gay has painted a handful of murals around the neighborhood including ones at neighborhood bar Moby Dick, hospice care facility Maitri, the former Pottery Barn, and inside nightclub Beaux.
Additionally, Gay tells Hoodline he's considering installing another mural on the wall outside Catch in honor of the AIDS Memorial Quilt, the original home of the quilt.
Installing the mural necessitated the closure of the parking lot for 10 days at a cost of $3,043. District 8 Supervisor Rafael Mandelman was able to help cover the cost using add-back funds his office allocated to cover SFMTA-related fees for various events in the district.
Mandelman said they also used this funding to cover Interdepartmental Staff Committee on Traffic and Transportation (ISCOTT) fees for Harvey Milk Day, the Pulse Memorial, and the Menorah Lighting at Jane Warner Plaza.