Today we bring you, for a change, a tale of retail success in the Castro neighborhood. After nine years at its current location on 17th Street, Castro gift shop Local Take (3979B 17th. St.) is preparing to expand to a new, larger space at 18th and Castro streets.
Local Take will be moving into the space formerly occupied by exercise studio Core40 and health services clinic Magnet at 4122 18th Street.
"This is my dream spot," said Local Take owner Jenn Meyer. "Everything about it just makes me so happy to be here."
"I'm excited about this new beginning," added Meyer. "I love this block of 18th Street, it feels like a completely different neighborhood from 17th Street."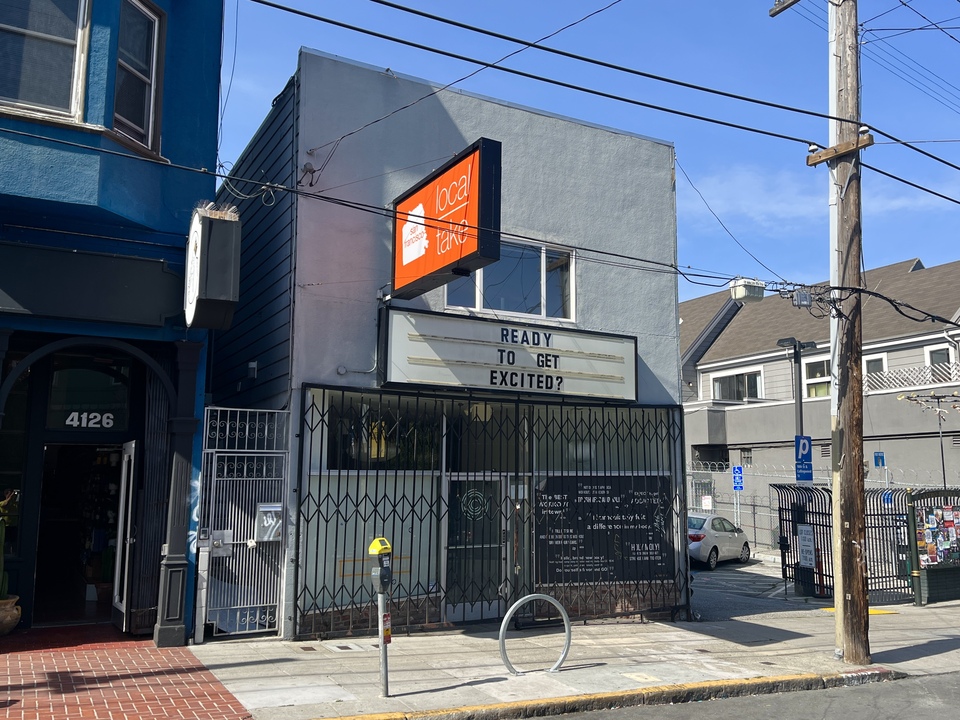 Local Take opens this month at 4122 18th St. | Photo: Steven Bracco/Hoodline
Meyer tells Hoodline she plans to open sometime later this month — a specific date opening date is not available at this time.
"Everything's just taking longer these days," Meyer said, regarding the opening process.
Once the new store opens, Meyer says she'll keep the 17th Street location open for a week or two in order to clear out sale product and fixtures.
Opened in 2013, Local Take sells everything from tote bags, to t-shirts, jewelry, pottery and more. "I call it a gallery gift store," said Meyer. All of Local Take's items are made by local artists. Meyer said they have items from about 120 local artists.
"It has been an amazing experience," said Meyer. "We have been really successful."
While Meyer enjoyed her location just off Jane Warner Plaza she said, "it had it's limitations." "It had no display windows and there's four steps that lead down into the store."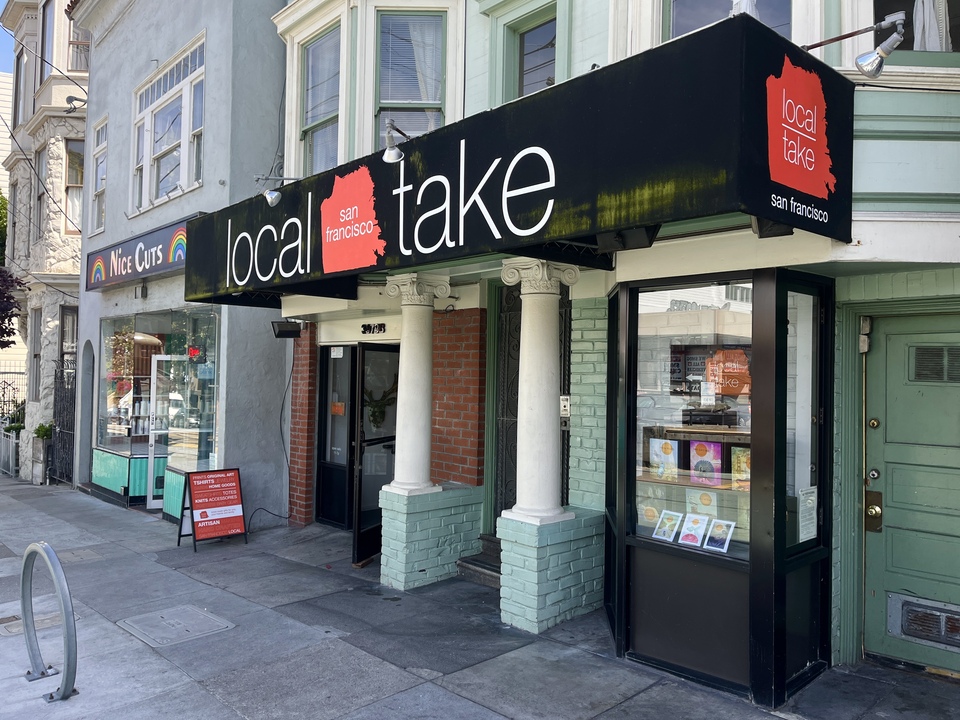 Local Take has been at 3979B 17th St. for nine years. | Photo: Steven Bracco/Hoodline
With less foot traffic along 17th Street, Meyer said customers came to appreciate the shop as "a hidden gem."
"I love that about it too, but it limits the amount of exposure we can get," Meyer said.
Local Take's new space, adjacent to the Collingwood Street parking lot behind Walgreens, is larger and has two display windows. Meyer said this will allow passersby to look right into the store and see what they have going on inside.
"It feels like I'm doing something safe and close to home by opening up my concept but just doing it in this new fresh space," Meyer says. "I love the Castro so much, I've been here for almost a decade and I don't want to leave."
Meyer said customers can expect the same experience at the new store but with the opportunity its selection. A large wall at the back of the store will be dedicated to large format art. Meyer said local photographer Gooch will be the first artist to display his work on the wall.
Getting through the past two years of the Covid-19 pandemic was not easy, and Meyer said survival was made possible due to a variety of factors. "It was so many different things," said Meyer.
"We had an amazing client base going into it. We had a lot of loyal customers who were buying gift certificates and shopping online." Meyer said Local Take was strong going into the pandemic after a successful holiday shopping season in 2019.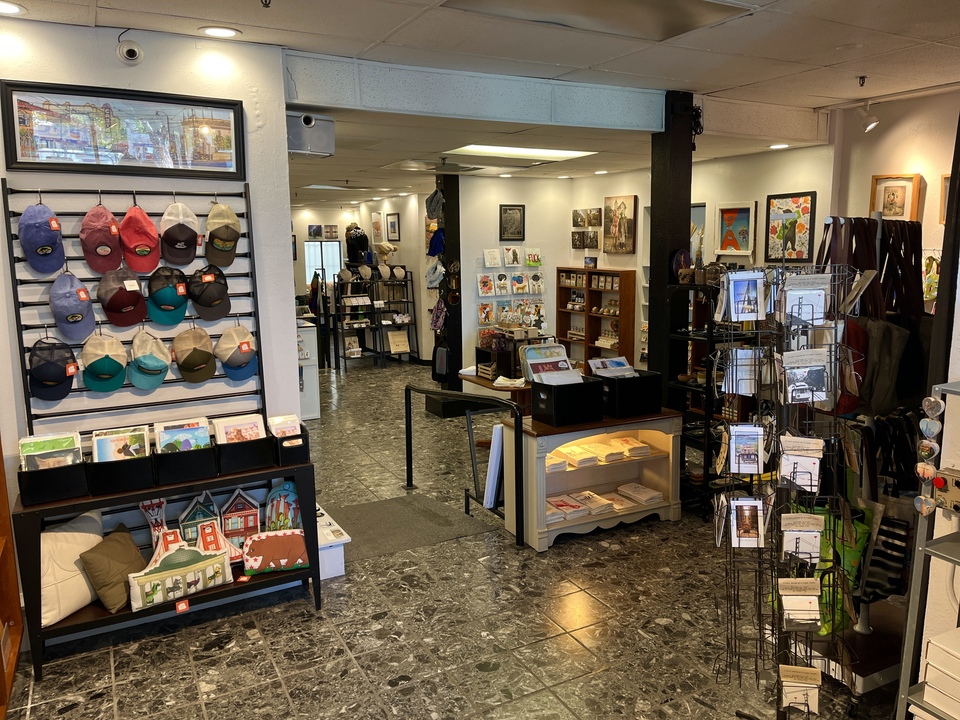 Inside Local Take on 17th St. | Photo: Steven Bracco/Hoodline
On top of a great customer base, Meyer said her landlord was highly accomodating. "Our landlord immediately just said 'What do you need and how can I support you?' My landlord continued to support us for two years."
Meyer said her landlord forgave six months of rent and worked with her on gradually increasing payments to what Local Take could afford each month.
Meyer also applied for every grant that she could find and was awarded several, including city and federal grants. In the end she received received two Small Business Administration (SBA) Paycheck Protection Program (PPP) loans.
"That was huge," said Meyer about the SBA PPP loan. "If any of these things had not happened it might have been a different story."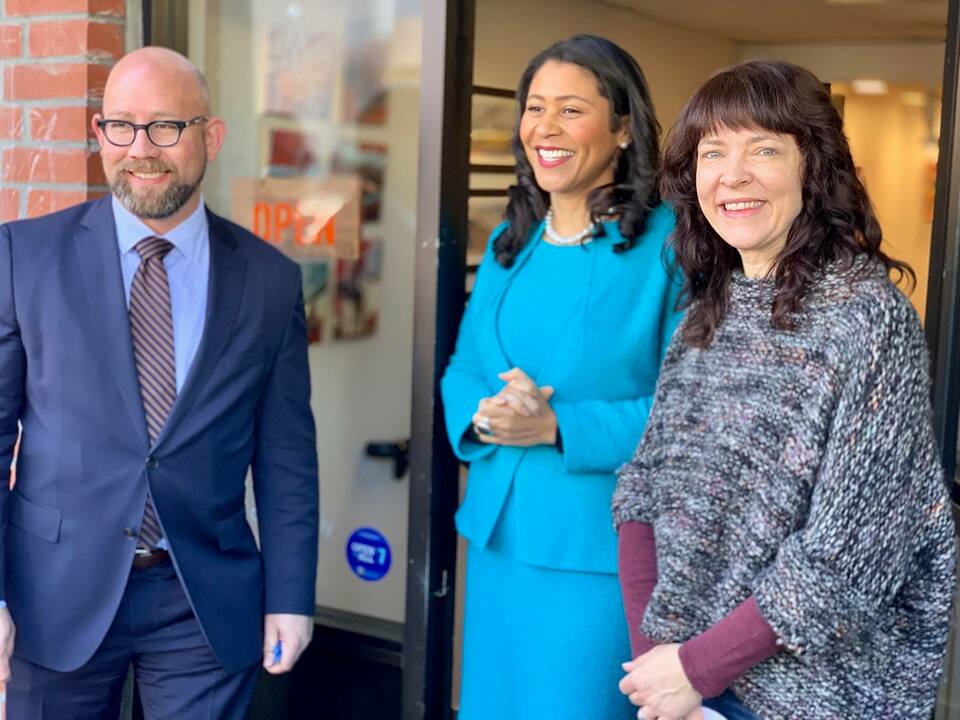 Supervisor Rafael Mandelman (left), Mayor London Breed (center), and Local Take owner Jenn Meyer (right). | Photo: Rafael Mandelman/Facebook
"Every piece of help I got from the community, city, government, and my landlord contributed to our being able to survive the past two years," she says.
While operating a retail store during the pandemic was difficult, Meyer says, "there was never a moment that I had to decide if I was going to keep going. It was always a solid foundation."
As the Castro prepares for Pride Month in June, Meyer said she's started to notice more shoppers in the neighborhood, with "more tourists... and people are traveling more."
"The Castro seems more bustle-y in the last month," added Meyer. "You can feel the energy ramping up in the Castro."