By
Tony Ng
- Published on May 24, 2023.
In a shocking real estate fraud case that has captured the attention of the Bay Area, an elderly Redwood City woman, Sara Jansohn, unknowingly sold her $1.833 million home - according to Zillow Zestimate - for a fraction of its value after being taken advantage of in an elaborate scheme, according to the San Francisco Chronicle. Desiring to save her home from foreclosure, Jansohn signed the fateful papers over two rounds of margaritas with the help of real estate agent Tonika Miller and assistance from Hollywood actor Justin Rodgers Hall, who were allegedly working together.
As The San Mateo Daily Journal reported, Jansohn was under the impression that she was entering into a reverse mortgage for $500,000, but was in fact signing her home away to Hall's company, Rex Regum LLC. Hall would later sell the property for approximately $1 million while allegedly transferring the proceeds through various bank accounts.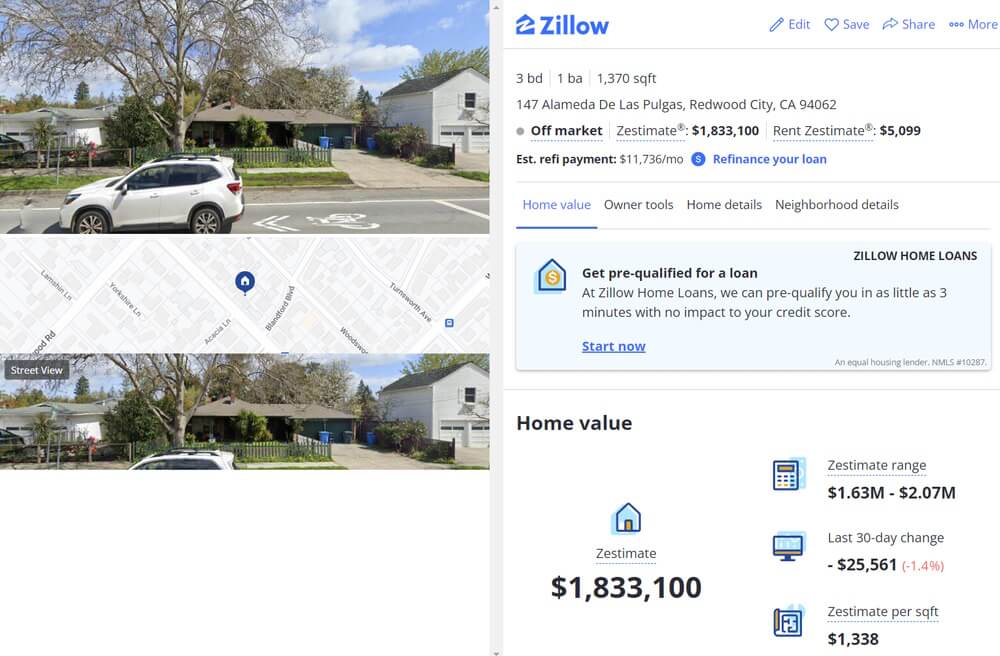 Source: Zillow
Miller, who pleaded no contest to charges of theft and forgery, has already served time in prison, while Hall's trial is set to end with closing arguments today. During the trial, it was revealed that Miller and Hall targeted Jansohn, whom they perceived as an "easy mark" due to her simple lifestyle, part-time job as a crossing guard, and the responsibility of caring for her husband with dementia, as the San Francisco Chronicle detailed.
Eventually, Jansohn's case came to light, leading to the arrest of Hall and Miller. In their defense, attorney Charles Smith contended that the deal made between the parties was fair, stating that his client entered into a "lawful agreement" with Jansohn. Smith also challenged the prosecution's claim that Jansohn was plied with alcohol before she agreed to the deal, arguing that it was her own decision to consume the margaritas.
According to the reporting from the SF Chronicle, legal experts have noted that this type of scam is, unfortunately, all too common, as vulnerable older adults often struggle to maintain their valuable family homes while dealing with complex end-of-life decisions, making them easy prey for fraudsters.
On the other side of this complicated story stands Lion Share Investments, LLC, an investment firm that purchased the house from Hall's company Rex Regum, LLC in 2018. As detailed in court documents obtained by Hoodline, Lion Share is currently suing Hall, Miller, and Rex Regum, LLC for damages, alleging breach of the Purchase Agreement, fraud, and negligent misrepresentation, among other claims. This lawsuit adds another layer of complexity to an already convoluted case, as Jansohn has also filed a cross complaint against the defendants accusing them of elder abuse. With her attorney's help, Jansohn was able to stop Lion Share's eviction efforts. Since the original complaint by Lion Share Investments, there have been many twists and turns, including attempts to get the case thrown out. This case was still ongoing as of April 18 on which Hoodline found additional court documents, including another Request for Dismissal.