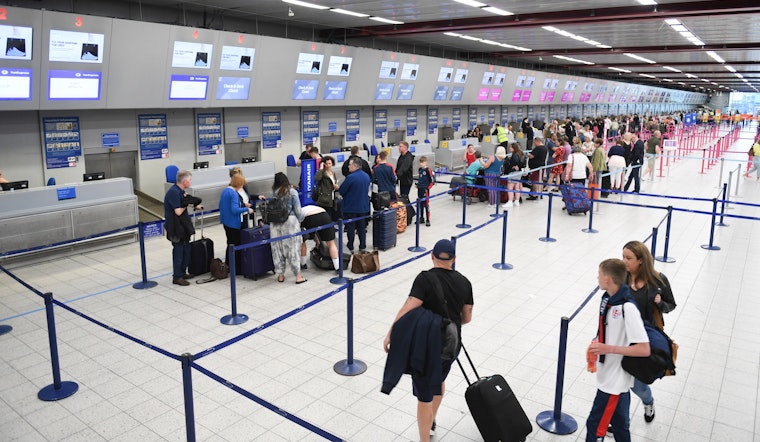 Published on June 02, 2023
Travelers in the Bay Area might be interested to know that a recent study revealed the longest and shortest wait times at airports across the United States, including San Francisco International Airport (SFO) and San Jose International Airport (SJC). According to the Bounce report, SFO had the second-longest combined average wait time of 47 minutes, 18 seconds, while San Jose International Airport made it into the top three airports with the shortest wait times, with a combined average of just 18 minutes, 18 seconds.
LONG LINES AT SFO: Here's a view of the line stemming from security checkpoint #1 at SFO. Again, TSA workers are not on strike. The strike outside of every terminal today is SFO food service workers made up of more than 30 different employers and 84 locations. @abc7newsbayarea pic.twitter.com/6xwuLxuTHn

— Lena Howland (@LenaHowland) September 26, 2022
This news comes as Hoodline reported that San Jose International Airport recently reached a significant milestone by averaging one million passengers per month over the past year, a benchmark that was absent since the coronavirus outbreak in 2020. However, the airport's passenger total still remains 23.1% below its record-high level achieved in 2019, highlighting the slow recovery of the aviation industry in the Bay Area.
Meanwhile, as SFO continues to struggle with long wait times, the airport managed to reach 70,000 travelers on two separate weekdays in May 2023 - a significant milestone not seen in three years. This achievement came just as SFO officials anticipated servicing around 140,000 passengers at the start of the summer travel season, even though passenger traffic remained at 84% of pre-pandemic levels during the winter of 2023.
It is interesting to note that San Francisco International Airport's layout and limited space were cited as contributing factors to bottlenecks and increasing wait times. In contrast, San Jose International Airport's lower passenger volume and its primary focus on serving business travelers likely contributed to its shorter wait times. Business travelers tend to be more familiar with security procedures, and this could explain the more efficient operations at SJC.