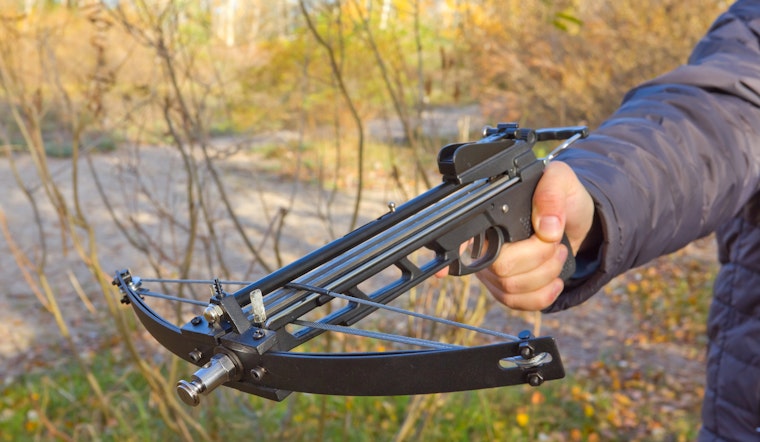 Published on June 08, 2023
Update: A San Leandro man accused of pointing a loaded crossbow at two BART workers and threatening to kill at least one of them was arrested last week, San Mateo County District Attorney Steve Wagstaffe said Thursday. 41-year-old Daniel Ray Baxter faces charges on two counts of making criminal threats and two counts of assault with a deadly weapon. According to authorities, the man allegedly pointed the weapon at one of the workers and said, "I'll kill you." Both workers barricaded themselves in the train operator's cab and called BART police. When officers arrived, they found Baxter lying on the floor of one of the cars. He admitted he was the person they were looking for and was subsequently issued an order banning him from BART and booked into jail. Baxter appeared in San Mateo County Superior Court in Redwood City on Thursday for a preliminary hearing via the San Francisco Chronicle. His attorney presented no evidence, and Judge Sean Dabel sent the case to trial. Baxter will appear in court next on June 22. He continues to be held in San Mateo County Jail in lieu of $50,000 bail.
A recent horrifying event on BART has raised further concerns about the safety of public transportation in the region. According to Henry Lee of KTVU, 41-year-old Daniel Ray Baxter has been arrested and charged with criminal threats and assault with a deadly weapon. Baxter allegedly pointed a crossbow with an arrow at a BART worker on a train and shouted, "I'll kill you!" before the employee and their co-worker barricaded themselves in the train operator's cab.
This chilling incident points to the growing anxieties around the safety of public transit in the Bay Area.
As NBC Bay Area reported, the recent anxiety of being on BART and Muni has gotten so bad it has led a local business in San Francisco to offer self-defense workshops specifically targeting those who rely on public transit. The heightened public interest in learning self-defense techniques reflects an increased awareness of potential dangers associated with using the region's transportation system.
The ongoing public concern comes despite reassurances from transit authorities that crime rates have not risen, and that strong partnerships with local police forces are in place to ensure rider safety. Kimberly Burrus, SFMTA chief security officer, stated that the San Francisco Police Department reported about 2.14 Muni-related crimes per 100,000 miles. While recognizing that ridership numbers are still low, Burrus emphasized the importance of police collaboration in addressing public transit crimes, citing the recent arrest made in connection with the gruesome attack on a 79-year-old woman.
Another point of concern is the rise in violent crimes on BART. According to a statement from the agency, violent crimes on BART have increased 57% year-to-date through November 2021 compared to November 2022. It is worth noting, however, that the overall numbers are still lower than pre-pandemic levels. BART authorities maintain that they have a historically high number of uniformed safety staff on platforms and trains, including officers dedicated to riding trains, new unarmed ambassadors, community service officers, and fare inspectors. Crisis intervention specialists have also been employed to assist those experiencing homelessness or struggling with mental health or addiction issues.
Despite the efforts put in place, these harrowing incidents still create a sense of fear and unease among the Bay Area's public transit users. For example, a NBC Bay Area report mentioned a woman named Claudia Mendez, who rides public transit every day and now finds herself constantly vigilant. Classes like the self-defense workshops being offered in San Francisco are one way people are attempting to regain a sense of control over their safety while using public transportation.
Moses Rickett, the instructor behind the self-defense workshops, affirms that the primary objective of these classes is teaching de-escalation and prevention. Fighting, as Rickett states, is "never the answer, but when it is, it's the only answer." The growing interest in such self-defense classes highlights the need for continued efforts from public transportation authorities to address safety concerns.
The recent crossbow incident on BART is yet another reminder that the question of safety on public transportation remains a pressing issue. With people in the Bay Area resorting to self-defense workshops to empower themselves in the face of potential danger, transit authorities must prioritize safety measures and maintain effective communication with their passengers to foster a sense of trust and security.