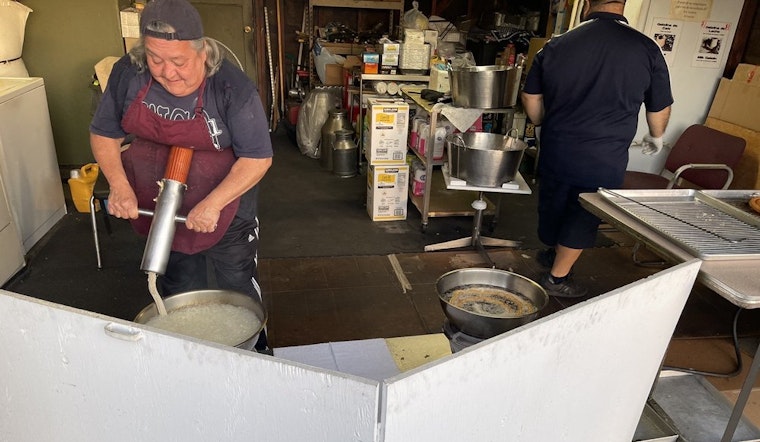 Published on June 03, 2023
When one thinks of churros, the mind inevitably conjures up images of marketplace stands, indulgent carnivals, or cozy local bakeries. But would you ever expect to stumble upon the tastiest churros in a garage in East San Jose? A TikTok video posted today, has sparked the curious foodie community into a frenzy. The video points to an unexpected locale, turning it into a hotspot for churro aficionados.
According to Yelp reviews from loyal customers, this East San Jose garage-based business has been attracting hungry visitors from all around the bay area for awhile. Known for serving the "best churros" in town, it seems that their unique churros-making technique, creating jagged exteriors with a perfect sugar coating and a pillowy interior, has gained them well-deserved praise. It also appears that the churros are priced quite reasonably for the bay area.
The talent behind the churro magic is a friendly husband-and-wife team. The couple runs their business out of their avocado-colored garage, serving what some have claimed to be the best churros they've ever experienced. A story worth noting is that of the husband, adored for his culinary prowess. He skillfully began his journey as a churro artisan back in Mexico and carried his passion for crafting delicious churros with him to the United States, where they can now be appreciated by local food enthusiasts.
So, what makes their churros stand out from the sweet and satisfying competition? The answer lies in a combination of factors - first and foremost, the care and craftsmanship that goes into making each churro. Churning out perfect churros to order takes time and patience, so visitors should anticipate waiting a bit before they can indulge in their sweet fix. The wait is well worth it.
It's not only the quality that sets these churros apart. The idea of buying beloved churros from a suburban garage only adds to their allure, creating an aura of mystery. Inquiring minds have even taken to Reddit, hunting for information on the churro-selling garage, whose name seems to be somewhat elusive. A Reddit post highlights the business's enigmatic reputation, with the poster seeking its name after trying the mouthwatering churros for themselves.