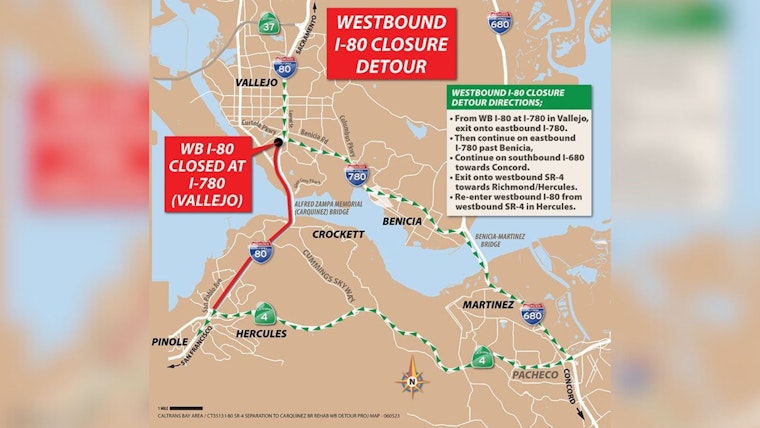 Published on August 22, 2023
The upcoming Labor Day weekend will see an unprecedented 104-hour full highway closure of westbound Interstate 80, tentatively scheduled from Thursday, August 31st to Tuesday, September 5th. According to Contra Costa County, the essential paving project will begin with road closures at the westbound I-80/I-780 interchange in Vallejo, starting after 9 p.m. on Thursday and lasting until the following Tuesday at 5 a.m.
This ambitious project will affect countless commuters who regularly traverse the stretch of I-80 connecting Vallejo to Hercules. As a result, traffic detours have been meticulously planned in advance, redirecting drivers from westbound I-80 onto eastbound I-780 in Vallejo, guiding them past Benicia, and, continuing on southbound I-680 towards Concord. Lastly, motorists will exit onto westbound State Route 4, heading towards Richmond and Hercules, finally re-entering I-80 from SR-4.
While such an extensive, simultaneous closure may seem disruptive to local residents and travelers alike, the I-80 paving project serves a greater purpose by ensuring the long-term viability and safety of one of California's most heavily-trafficked transportation arteries. As previously discussed within the public announcement, this bold undertaking will enable crews to work more efficiently, expediting the completion of critical road repairs amidst the narrow Labor Day weekend window.