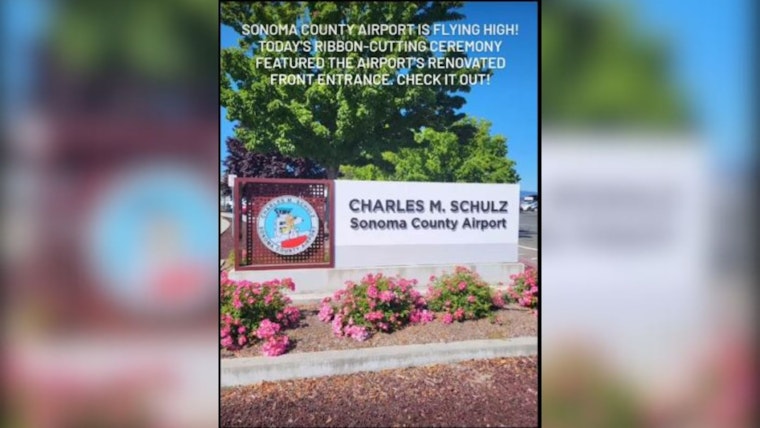 Published on August 24, 2023
On Wednesday, Sonoma County Airport proudly celebrated the completion of its $40 million terminal modernization project, marking a significant milestone in the region's transportation infrastructure. The grand unveiling showcased a modernized air terminal filled with upgraded amenities, new facilities, and local artwork embodying the spirit of its namesake, Charles M. Schulz - the beloved American cartoonist, and creator of Peanuts.
As reported earlier, this crucial investment secures the airport as a convenient alternative to its larger counterparts in southern California. The revamped entrance to the terminal now features glass paneling, heralded by the return of bronze statues of Charlie Brown and Linus to welcome travelers anew.
The renovations boast an impressive 27,000 square feet of additional space, including a refreshed ticketing lobby, improved security lanes, a spacious main lobby with four extra boarding gates, dedicated concessionaires, and an outdoor seating area. Travelers can look forward to passing through a state-of-the-art baggage claim area fitted with two carousels, relishing improved public viewing areas and car rental spaces, and admiring artwork that pays tribute to Charles M. Schulz, as per the County of Sonoma Facebook post.
A Press Democrat article expounded on the reception of the renovation, quoting Airport Manager Jon Stout as he remarked about the public's response to the updates: "It's a lot of wow (from visitors)." Among the gleaming upgrades are new and improved amenities such as private lactation rooms both pre- and post-security, an outdoor patio equipped with shade umbrellas and seating, and an additional pet relief area between the concourses.
Enhancing the traveler's experience is the introduction of novel dining options, with Apple Spice moving from Concourse B to a permanent home in Concourse A. The relocation allows the concessionaire to expand its offerings to include pizza, soup, sandwiches, and ice cream, accompanied by a selection of beer, wine, and non-alcoholic beverages. Meanwhile, Concourse A also welcomes another newcomer in Crush, a wine bar showcasing local beer, wine, and a full bar, as well as select breakfast and lunch items.
Noteworthy is the airport's focus on local and national products, as evidenced by the upcoming full-service vending area in Concourse B. Passengers will be delighted by the variety of fresh food items such as hot dishes, hot coffee, cold coffee, popular snacks, beverages, and other travel essentials made available to them.
According to the county's press release, the Charles M. Schulz - Sonoma County Airport's Capital Improvement Plan will have a substantial economic impact on the region. The project supports an average of 164 jobs annually, generating $100.9 million in total payroll, $31.2 million in tax revenue, and a remarkable $231.7 million in economic output for Sonoma County.