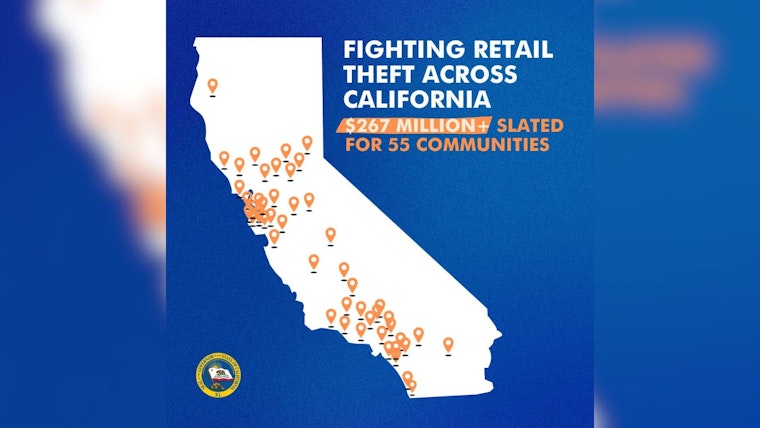 Published on September 13, 2023
In an unparalleled move to address the rising tide of organized retail crime, California Governor Gavin Newsom has announced the state's intention to invest a colossal sum of $267 million into combating this menace. The funds, which represent the largest ever single investment in this area, seek to support 55 cities and counties in their mission to hire more police, increase arrests, and secure felony charges against accused persons, according to the Office of California Governor Gavin Newsom.
CA is poised to make our largest-ever investment to combat organized retail crime.

With a $267 million investment, we will see more takedowns, more police, more arrests, & more felony prosecutions. When criminals walk out with stolen goods, they'll walk straight into jail cells. pic.twitter.com/RX3qpm7LS1

— Office of the Governor of California (@CAgovernor) September 13, 2023
The announcement comes at a critical time, as retailers across the nation grapple with the surge of brazen smash-and-grab incidents. Governor Newsom emphasized the pressing need to stem the tide by declaring that with this substantial investment, "Californians will soon see more takedowns, more police, more arrests, and more felony prosecutions."
Apart from bolstering the ranks of police departments and sheriffs' offices, the funds will notably contribute to the establishment of retail theft investigative units equipped with advanced surveillance technology. Moreover, efforts will be channeled towards the training of loss prevention officers, fostering cooperation between businesses and communities, and reinforcing local law enforcement's ability to combat vehicle and catalytic converter theft in the state.
13 district attorneys' offices across California stand to receive grants worth up to $2,050,000 each, enabling them to procure the establishment of dedicated vertical prosecution units for organized retail theft. These units are expected to augment existing crime prevention strategies while also allowing county-wide intelligence centers to take root, thus facilitating the prosecution of offenders.
Furthermore, the California Highway Patrol's Organized Retail Theft Task Force (ORCTF), established by Governor Newsom in 2019, has played a vital role in dismantling large-scale statewide organized crime operations. To date, the ORCTF has recovered $30.7 million worth of stolen merchandise, conducted over 1,850 investigations, and arrested more than 1,250 individuals.
This historic investment underscores the state's unwavering commitment to public safety, as California's 2023-24 budget already includes an all-time high of more than $800 million in funding to support various programs aiming to improve public safety and address retail crime on multiple fronts.