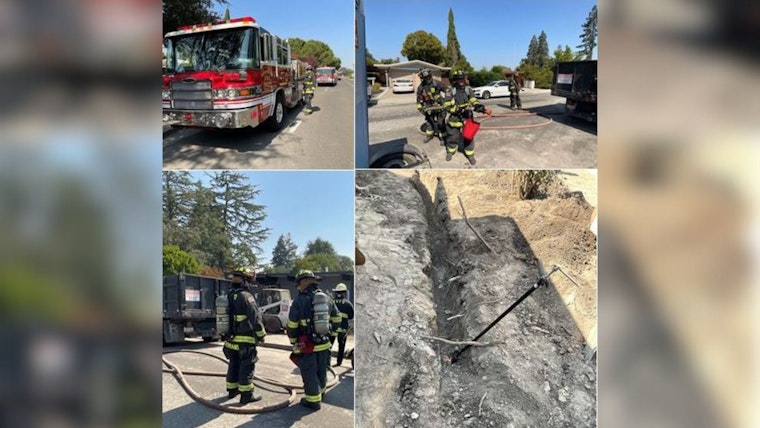 Published on September 22, 2023
Yesterday, a construction crew accidentally hit and ruptured a residential natural gas line while excavating in the 2500 block of Nedson Court in Mountain View. This mishap led to a swift response from the local Fire Department and a temporary evacuation of the area.
According to a press release from the City of Mountain View, a 9-1-1 call came in at 11:34 a.m., detailing the ruptured three quarter inch gas line. The Mountain View Fire Department rapidly dispatched units to the site, arriving only eight minutes later. They discovered the active leak and promptly evacuated five construction workers to W. Middlefield Rd. Additionally, all residents on Nedson Court were ordered to shelter in place as the Mountain View Police Department temporarily shut down traffic in both directions on the street.
As a precaution against the potential ignition of the flammable gas, fire crews deployed a charged water line to protect the scene. The response to this hazardous situation was fast and efficient: a PG&E crew arrived, applied a clamp to the damaged line, and successfully stopped the gas flow by 12:10 p.m. Thankfully, no one was injured in the incident, and all affected parties were allowed to return to normal activities once the situation was stabilized. Mountain View authorities reported that traffic resumed in both directions on Nedson Court after the shelter-in-place order was lifted.
This event fortunately yielded no injuries or fatalities.