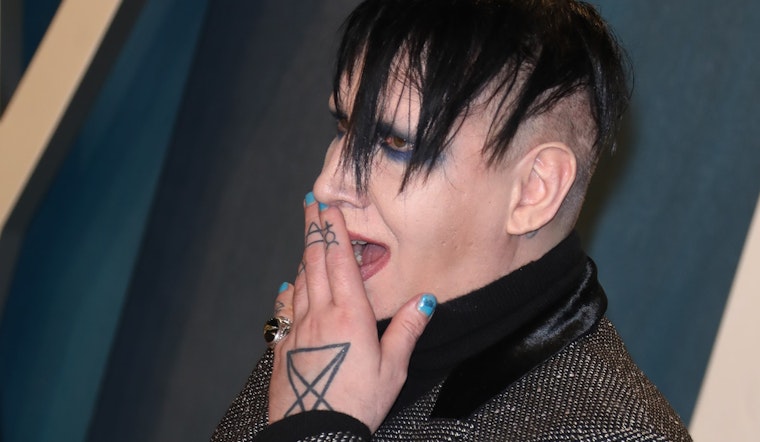 Published on September 18, 2023
Earlier today, rocker Marilyn Manson, legally known as Brian Warner, was given a sentence of 20 hours of community service and a fine after pleading no contest to blowing his nose on a videographer at a 2019 concert in New Hampshire. The 54-year-old artist requested to appear via video for his hearing but was required to be in the courtroom in Laconia, 30 miles north of the state capital Concord, as per the judge's expectations CBS News reported.
During the encounter in question, which took place on August 19, 2019, at the Bank of New Hampshire Pavilion in Gilford, Manson faced two misdemeanor counts of simple assault. In a fully negotiated plea agreement with prosecutors, he pleaded no contest to just the nose-blowing charge, leading to the dismissal of the other charge, which accused him of spitting on the videographer, WAFB explains. Pleading no contest means Manson is contesting the charge without admitting guilt.
Upon agreement, Manson was fined slightly over $1,400, with $200 suspended. He will need to remain arrest-free and notify local police of any New Hampshire performances for two years. Interestingly, the judge allowed Manson to serve his community service in California and, according to NBC News, the musician mentioned to reporters that he might choose to work with people in recovery. He must provide proof of his community service by February 4th.
The videographer, Susan Fountain, described Manson's actions as "the most disgusting thing a human being could have done." According to a police affidavit, the incident occurred when Manson approached Fountain in the venue's stage pit area, put his face close to her camera, and spit a "big lougee" at her. Later, Manson kneeled before her, covered one nostril, and blew his other nostril on her arms and hands, as described in detail by CBS News. Manson's inappropriate behavior towards Fountain was captured on video and reviewed by a police sergeant.
In Manson's defense, his attorney, Kent Barker, argued that the type of filming Fountain was doing commonly exposes videographers to "incidental contact" with bodily fluids. He asserted that since Manson's past performances over the years are well-known for shocking and evocative antics, the alleged victim had consented to expose herself to potential contact with sweat, saliva, and phlegm in close quarters. Barker also claimed Manson planned to argue that any contact related to spitting or sneezing was unintentional NBC News reported.
Had Manson gone to trial on the charges, each might have resulted in a jail sentence of less than a year and a $2,000 fine if convicted. While the nose-blowing incident takes center stage, Manson's controversial reputation extends beyond this case. Earlier this year, in May, a California judge threw out key sections of his lawsuit against former fiancée Evan Rachel Wood, a "Westworld" actor, who accused Manson of sexually and physically abusing her during their relationship and encouraging other women to do the same WAFB informs. Manson's suit, filed last year, alleged that Wood and another defendant, Illma Gore, defamed him, intentionally caused him emotional distress, and derailed his career in music, TV, and film. Manson is appealing the ruling.
Moreover, several women have sued Manson in recent years with allegations of sexual and other abuses. Most of these cases have been dismissed or settled, including a suit filed by "Game of Thrones" actor Esme Bianco.