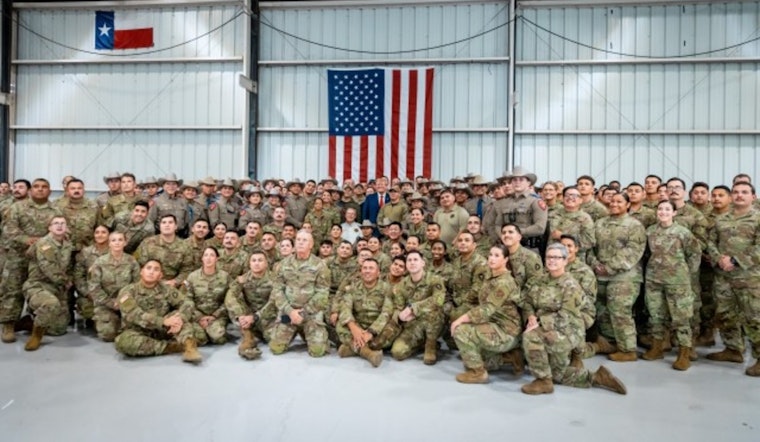 Published on November 20, 2023
Governor Greg Abbott and 45th President Donald J. Trump served Thanksgiving meals to more than 240 Texas National Guard soldiers, Texas Department of Public Safety (DPS) troopers, and other service members involved in Operation Lone Star (OLS) at the border in Edinburg.
During his address, Abbott praised the service members for their sacrifices and dedication toward ensuring the safety of Texans and Americans. He acknowledged their work, often far from their families during the holiday season. "I am proud to be with President Trump here today to thank the thousands of Texas National Guard soldiers and DPS troopers who are stationed along the border for Operation Lone Star to respond to President Biden's border crisis. This Thanksgiving as they are away from their families and loved ones, may we remember the sacrifices these brave men and women in uniform make every day to ensure the safety and security of all Texans and Americans." stated Governor Abbott, as stated in the Office of the Texas Governor Official Website.
Before this meal service began, Abbott, together with DPS Director Steve McCraw, Adjutant General of Texas Major General Thomas Suelzer, Texas Division of Emergency Management Chief Nim Kidd, DPS Officers Association President Richard L. Jankovsky, Texas Border Czar Banks, and National Border Patrol Council President Brandon Judd, was briefed about border security measures, including OLS vehicles and assets deployed against the border crisis.