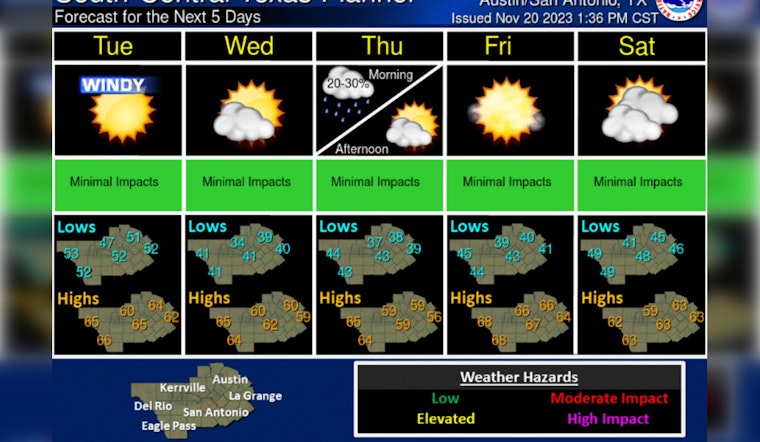 Published on November 20, 2023
Austin, Texas, can anticipate colder weather as Thanksgiving nears. As reported by FOX 7 Austin, the conditions for the last Friday before Thanksgiving were characterized as "cloudy, dreary, foggy and cool," clearing by mid-morning with expected sunshine in the afternoon.
A KXAN report indicates the city will face two cold fronts and a strong Pacific low. The first will likely arrive late morning to early afternoon today, potentially accompanied by isolated showers and storms. However, much of the area is predicted to remain dry, with more sunshine expected to appear later in the day. The forecast predicts temperatures to briefly peak at 80°F, though primarily hovering in the 70s for most of the day.
Significant temperature drops are projected for Tuesday and Wednesday, with highs likely remaining in the low 60s. Winds could reach speeds of between 20 and 30 mph on Tuesday, reducing to lighter winds by Wednesday. Approaching Thanksgiving Day, a small system, detached from the main storm pattern, is expected to move eastward into South Texas. According to the same KXAN report, rain chances for Thanksgiving Day are now at 20%, with precipitation most likely during the morning to midday hours.