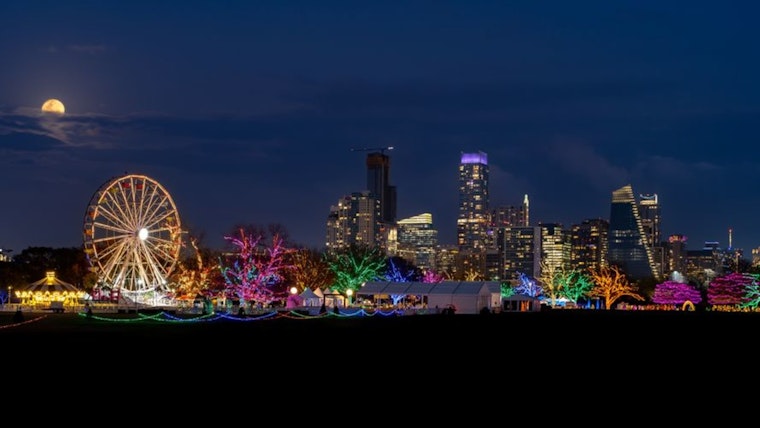 Published on November 20, 2023
Austin prepares to celebrate the holiday season with an array of festive events. A My San Antonio report highlights five holiday hotspots, including the Austin Trail of Lights at Zilker Park, which has received national recognition this year.
The 59th annual Austin Trail of Lights, as mentioned in a KXAN article, has been listed among the top six holiday displays nationally by RV Trader. The event, which will quickly run from December 8 through December 23, features 2 million lights, 90 holiday-lit trees, and over 70 additional displays, drawing both local and international visitors.
In addition to the Trail of Lights, other city offerings include the Peppermint Parkway, hosted at the Circuit of Americas from late November to late December. This attraction treats visitors to a mile-long drive-through display of 6 million lights, animated characters, a peppermint-infused plaza with rides, and a holiday market.
Social venues such as the Gibson Street Bar and Miracle on 5th Street add a vibrant twist to Austin's holiday roster. Both within short driving distance from the Trail of Lights, these venues offer intriguing decor and an expansive Christmas-themed drink menu, exclusively serving the 21-and-over crowd from early December to the end of the month.
The Mozart's Holiday Light Show is a family-friendly event that runs until early January 2024. It offers free admission, table reservations, and a distinctive light-show boat experience. From Lake Austin to the heart of downtown, holiday cheer pervades the whole city.
Austin's reputation as a holiday destination has been bolstered by the national recognition received by the Trail of Lights. KXAN quotes Gillian Luce, the Director of Consumer Marketing with Trader Interactive, stating that the Trail of Lights tradition attracts hundreds of thousands of local and international visitors annually.
With its diverse attractions, Austin continues to draw locals and visitors alike during the festive season. Through the success of the Trail of Lights and the expansion of other popular holiday spots, Austin is committed to providing unforgettable seasonal experiences for all.