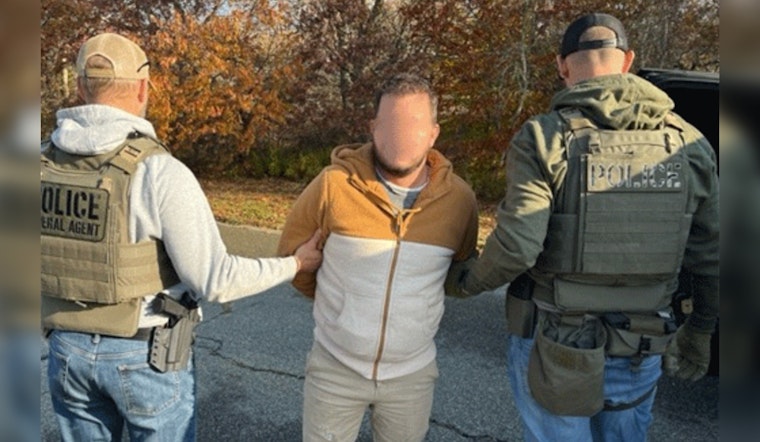 Published on November 20, 2023
Saulo Cardoso Ferreira, a 37-year-old man facing charges of child sexual assault in Brazil, was arrested near his residence in Martha's Vineyard, Massachusetts, last week, November 14. The arrest was conducted by the U.S. Immigration and Customs Enforcement's (ICE) Enforcement and Removal Operations (ERO) deportation officers, according to the WCVB.
Ferreira, an undocumented Brazilian national, had absconded from his native country after receiving a 14-year prison sentence for sexually assaulting a 5-year-old child. He entered the United States without undergoing an official immigration inspection at an unknown date and place, as reported by Boston 25 News.
The ERO Boston Field Office Director, Todd Lyons, announced that the arrested individual represented a considerable threat to Martha's Vineyard inhabitants. Lyons said, "[Ferreira] sexually assaulted a five-year-old child in his homeland and then ran from authorities when held accountable for his actions," reported by Boston 25 News.
Authorities first learned of Ferreira's presence in Martha's Vineyard on September 28. Following his apprehension, ERO agents issued him an official notice to appear before a Department of Justice immigration judge. Ferreira will remain under federal custody while his removal proceedings are underway, based on a Boston 25 News report.
In addition to Ferreira, another Brazilian fugitive was apprehended by ERO authorities within the span of a month. This individual, wanted in Brazil for child murder, was arrested in Plymouth in October, as reported by WCVB. The apprehension of these fugitives underscores the critical importance of ongoing effective law enforcement coordination and action.
In the fiscal year of 2022, ERO Boston arrested 46,396 noncitizens with criminal records residing in the U.S. These individuals were associated with 198,498 charges and convictions, including 21,531 assault offenses; 8,164 sex and sexual assault offenses; 5,554 weapons offenses; 1,501 homicide-related offenses; and 1,114 kidnapping offenses, according to Boston 25 News.