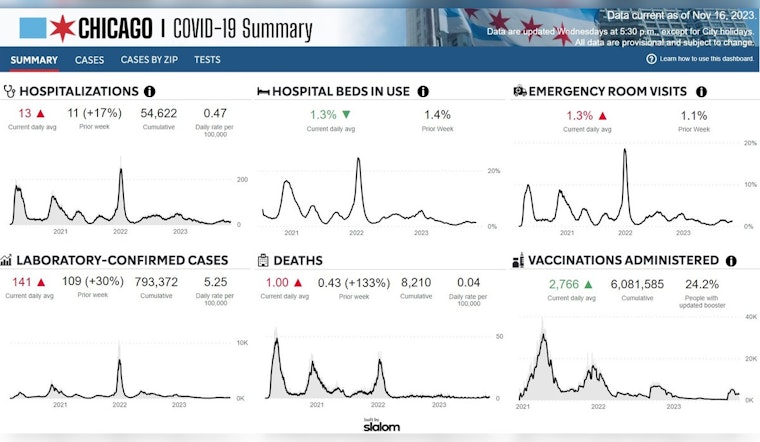 Published on November 20, 2023
Illinois health officials are voicing apprehension about the increase in COVID-19 hospitalizations as the Thanksgiving holiday draws near. The state has seen a surge of almost 17% over the past week according to the Chicago Sun-Times. This upswing coincides with the expected busy travel period for the holiday, which could potentially escalate the viral spread if proper precautions are ignored. The CDC has also noted a rise in viral detection at various wastewater treatment facilities in the city.
This week, the TSA predicts that nearly 290,000 travelers will use Illinois' airports, marking an 8% increase from last year's figures, even exceeding pre-pandemic levels. The significant airport usage amplifies the need for continued adherence to COVID-19 safety protocols such as masking, distancing, and regular hand washing, according to Dr. Yanina Purim-Shem-Tov, an emergency medicine doctor at Rush Hospital.
"I know we all have fatigue of COVID and we may want to relax our precautions," Purim-Shem-Tov stated in the Chicago Sun-Times article. She added, "But I cannot recommend enough to, keep your vigilance, keep your hands clean, and if you have to be in an enclosed space, we're still recommending masks."
Even with the recent spike in cases, the COVID-19 risk in Illinois is currently lower than in the past three years. CDPH data shows nearly a quarter of Chicago's population has received the latest booster shot, despite previous insurance and supply issues. Health officials are, however, still encouraging people to enhance ventilation at gatherings as an extra preventive measure against the virus.
Dr. Purim-Shem-Tov addressed concerns about potential co-infections of COVID-19 and flu, since Rush Hospital has observed patients with both. Therefore, she added weight to the necessity of getting the COVID-19 booster shots, and flu vaccines, particularly for the elderly and those with compromised immune systems.
Beyond COVID-19 and flu, Purim-Shem-Tov noted in increase in RSV cases, mainly among children. Although the current year's figures are still below last year's high and generally mild in healthy adults, identical precautions to those against COVID-19 and flu are still crucial.
With the holiday season here, the likes of Purim-Shem-Tov advocate for diligent adherence to safety practices to curb further spread of COVID-19, the flu, and RSV. Maintaining personal hygiene, spatial distancing, mask-wearing, and keeping vaccinations current is the advisable protection strategy.
The current COVID-19 situation in Illinois is not as severe as in previous years, yet the anticipated holiday travel and the risk of co-infections of several respiratory viruses underscore the ongoing necessity to remain vigilant and informed about the evolving pandemic.