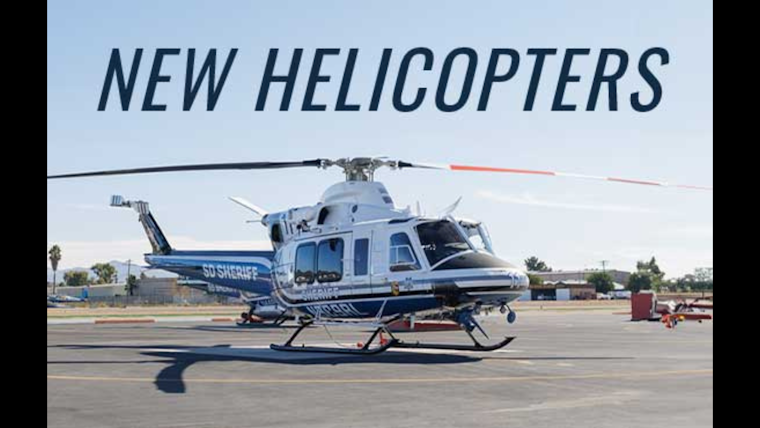 Published on November 18, 2023
The San Diego County Sheriff's Department recently acquired two advanced helicopters, the Bell 407GXi and Bell 412EPX. The helicopters will bolster the region's public safety and emergency preparedness efforts. They are designed to support deputies during various operations like emergency calls, suspect tracking, and search and rescue missions, as reported by the San Diego County Sheriff's Department.
A news conference is to quickly take place on Monday, November 20, at the ASTREA Base at Gillespie Field. Scheduled speakers include Sheriff Kelly A. Martinez, Supervisor Joel Anderson of the Second District, and CAL FIRE Chief Tony Mecham. The event will also showcase the helicopters' capabilities and their potential impact on the region's public safety and emergency response initiatives.
The Bell 407GXi boasts advanced features such as a Rolls-Royce M250 engine and Garmin G1000H NXi avionics, enhancing its power, speed, and efficiency. Accordingly, the Bell 412EPX, tailored towards firefighting and rescue missions, brings invaluable resources to the region, ensuring optimal performance under challenging circumstances.
The acquisition of these helicopters demonstrates the San Diego County Sheriff's Department's commitment to innovation being a vital component in enhancing public safety across the region. Despite the steep learning curve often associated with new technologies, these acquisitions are a significant investment in the communities' betterment.
Aerial Support to Regional Enforcement Agencies (ASTREA), established in 1971, has provided aerial support to the department and its partner agencies for over five decades. Aviation's role in public safety has continuously grown, particularly in disaster mitigation and public welfare. Annually, ASTREA handles approximately 6,000 missions in support of patrol, fire, and rescue operations throughout the region, according to the San Diego County Sheriff's Department.