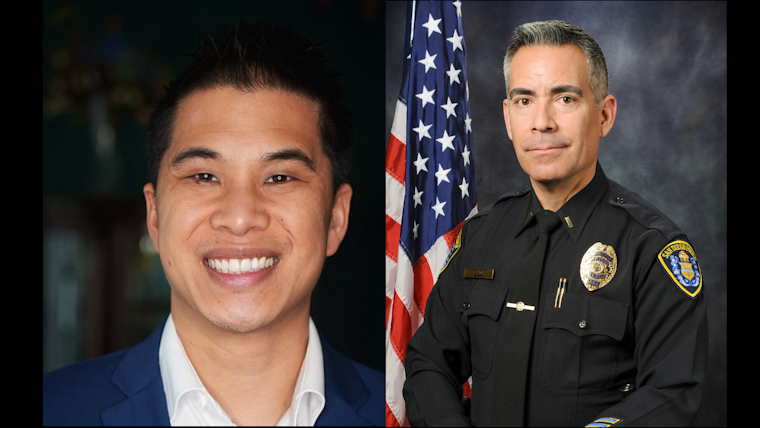 Published on November 18, 2023
San Diego Police Department (SDPD) officers, Lieutenant Charles Lara and Sergeant Nicholas Nguyen, have been appointed to serve on California police boards. The appointments were announced by Governor Gavin Newsom last Thursday. They underscore both the merit of the officers and San Diego's influence on state-level law enforcement initiatives. The San Diego Police Department provided details on these appointments and highlighted comments from Mayor Todd Gloria and Police Chief David Nisleit.
Lieutenant Charles Lara's appointment is to the Peace Officer Standards Accountability Advisory Board. Established by Senate Bill 2, this board reviews misconduct cases involving peace officers and advises the Commission on Peace Officer Standards and Training (POST) on decertification recommendations. "Through their experiences with SDPD, I'm confident Lt. Lara and Sgt. Nguyen will be valued voices as members of these boards, bringing insight and fairness to difficult decisions," as stated by Police Chief David Nisleit.
Lt. Lara has been a SDPD member since 1999, holding the rank of Lieutenant since 2011. He to be brought experience in Internal Affairs, dealing with department disclosures, training in search and seizure and non-bias based policing. Lt. Lara also brings academic credentials to the board, including a Juris Doctor degree from the University of California, Berkeley School of Law, and a Bachelor of Arts degree in Legal Studies and Politics from the University of California, Santa Cruz.
Sergeant Nicholas Nguyen, the other appointee, is awaiting Senate confirmation to join the Commission on Peace Officer Standards and Training (POST). A SDPD member since 2005, Sgt. Nguyen holds the rank of Police Sergeant since 2014. This commission, which includes the Attorney General as an ex-officio member, meets quarterly to set standards for POST staff.
Sgt. Nguyen holds a bachelor's degree in Electrical Engineering from the University of California, Riverside. His career is also marked by extensive involvement in community programs, contributing to his suitability for the commission. These include founding the First Responder Whiskey Society, being a Director at the San Diego Police Officers Association and San Diego Chapter of the Gary Sinise Foundation, and membership in the Honorable Order of Kentucky Colonels.