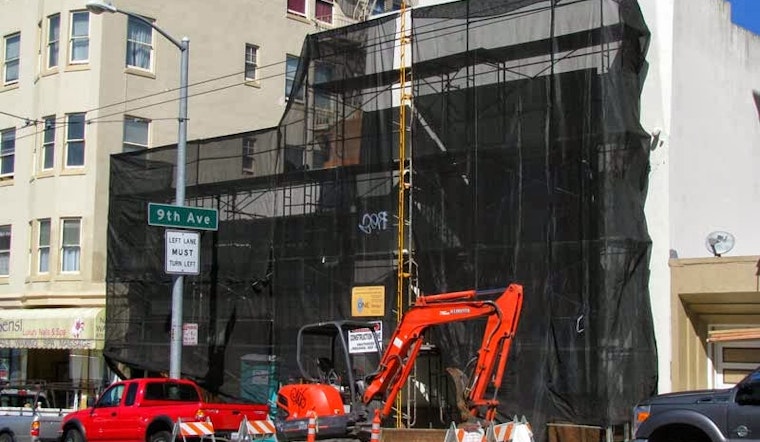 Published on October 24, 2013
In a few weeks, the local coverage area of Uppercasing, Haighteration and Hayeswire will be expanding. Today's post is a preview.
The historic Doelger building, located at 320 Judah Ave, is once again without a prospective tenant.
The site was set to provide a new location for the expanding
Mission Cats
, a Mission-based cat boarding business. According to Mission Cats co-owner Ash Wilkie, however, the business has decided not to occupy the space. Wilkie indicates that renovation plans have been extended beyond the initially expected date, leading her and co-owner Genna Darby to pursue alternative options. We contacted the site's owner, Geoffrey Darby, with questions as to when to expect the completion of these renovations. Darby reports that he is, "Currently unsure of the occupancy of the building as the renovations will not be complete until the end of this year." He anticipates that the site could be divided into up to four different spaces. Though Darby would, "love to see a start-up or two in the space," he remains open to, "any prospective tenants that would be a good match for the Inner Sunset neighborhood and [take] care of this wonderful historic landmark." Mission Cats' decision to withdraw their tenancy leaves up for grabs not just the future of a neighborhood business location, but also a key piece of San Francisco history. Recently granted landmark status by the San Francisco Board of Supervisors, the Doelger building was the longtime headquarters of Doelger Home Sales, perhaps the single most influential shaping factor in the architectural development of the Sunset. Earning his first profits selling moonshine and bathtub gin out of a "tamale" cart in Golden Gate Park, Henry Doelger pooled his investments in land speculation. In 1926, he bought 14 blocks of sand dunes between Judah and Kirkham. By the time of his move into his new headquarters at 320 Judah in 1932, he had built nearly 3000 homes in the Sunset and Golden Gate Heights neighborhoods.
Doelger's philosophy was far removed from San Francisco's current crop of high income focused development firms. He aimed his properties at those for whom home ownership in the city had been otherwise out of reach. Pricing his first home at $6750, with a monthly mortgage of $32, Doelger drew in the type of working class populations that continue to populate the neighborhood. Beginning with the first sale in 1927 (a blue and white unit on 39th Ave), the company went on to build 24,000 homes in the Sunset, at their peak completing them at a rate of two homes per day. Initially criticized for their uniform designs (and inspiring the 1961 Malvina Reynolds song
Little Boxes
, also known as the theme song to the Showtime TV show "
Weeds
"), Doelger's cupola-fronted, garage-centered homes are now an enduring part of San Francisco's architectural iconography, their distinctive designs synonymous with the look and feel of the Sunset.
It was from the offices at 320 Judah that Doelger built a 100 million dollar empire. The building itself is an architectural standout, its streamlined art deco design just within view of where the N turns off of 9th Avenue and onto Judah. Currently hidden beneath construction equipment, the site is scheduled to be completed in early 2014, at which point it will hopefully reveal a revamped piece of San Francisco heritage.
---
If you'd like us to notify you when our coverage officially expands to the Sunset and beyond, you can sign up below. We won't spam you -- promise.