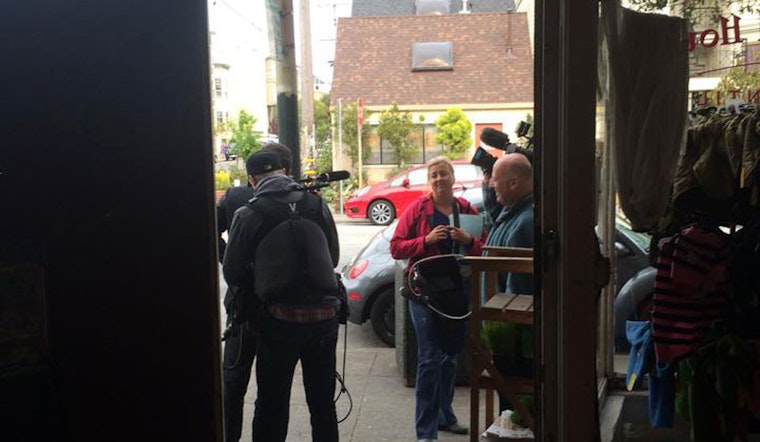 Published on April 25, 2014
A segment of The Daily Show With Jon Stewart apparently focusing on Google Glass was filmed in the neighborhood yesterday.
Multiple readers tipped us off to the camera crew's visit to the neighborhood. Reader Junji H. sent in the photo above, capturing the crew filming outside Animal House. The pet store at Fillmore and Waller banned Google Glass last month.
The daily show filmed part of a segment outside the non-google-glass friendly animal house in the lower haight today, to air next week.

— clowntraps (@clowntraps) April 25, 2014
The crew also sought to film inside Molotov's, although we're told that they were turned down. The bar is still dealing with legal repercussions from the February incident in which a woman wearing Google Glass got into an altercation with other patrons at the bar. That resulted in several bars around the city banning the face gear. Apparently the Daily Show was able to film outside the bar instead.
@LowerHaight @haighteration Daily Show in the hood filming a segment ripping on #googleglass fiasco at Molotov's! #mustwatchTV

— joshtobin (@JoshTobin) April 24, 2014
The crew was also spotted at other locations around the city, including Isotope Comics in Hayes Valley...
...and outside Harry's Bar on Fillmore:
Twitter user @clowntraps above says the segment is supposed to air some time next week. We'll keep an eye out.