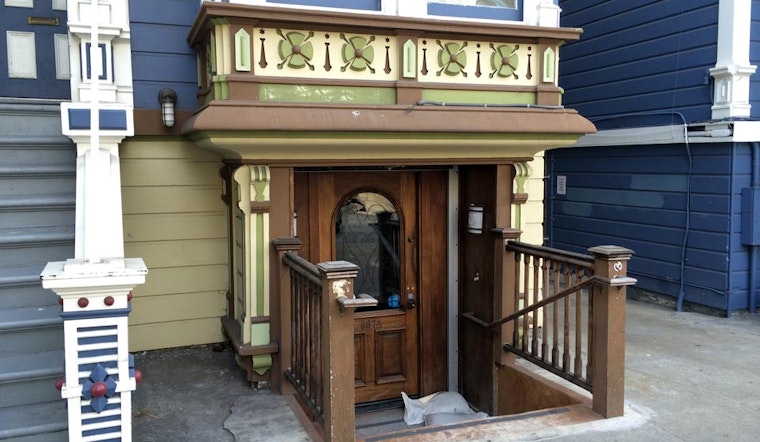 Published on June 29, 2014
The Lower Haight has been a top destination for card-carrying marijuana users since the early '90s when activists with the
San Francisco Cannabis Buyers Club
led the
city
and
state
(and country) towards partial legalization.
But we've learned that the neighborhood's last remaining dispensary,
Good Fellows
at 473 Haight, is not getting its lease renewed at the end of the year.
If this is the end of an era, certain federal government agencies are certainly to blame. But there are also citywide questions about what can be done, and what isn't being done for the citizens with licenses.
And the feds might not even be a threat pretty soon.
Scare Tactics That Worked
The Good Fellows space is needed for other potential plans, property owner Steve Kovacs told us by phone this week. He said Kate's Kitchen and Love Haight Computers are staying regardless of whatever happens, but he wouldn't lease to another medical cannabis dispensary.
"I'm all for marijuana," he explained, "and it's wonderful that the state allows it. But at any time the federal government can come after me for renting to one."

He added that he'd actually received a letter from the Department of Justice five years ago, threatening him about Good Fellows. They said he was violating federal statutes in leasing to a business that was dealing with an illegal substance, and that he would be subject to prosecution. He can finally act to protect himself now, he explained, because the lease is up.

It's a familiar story.
The Vapor Room was one of the most popular dispensaries in the city for many years, bringing together a diverse set of people from around the neighborhood. In an homage to the era, city artist Romanowski recently
created a popular mural
near the location depicting a bunch of well-known residents, using Vapor Room design themes.
Though well-loved, the Vapor Room was
shut down in 2012
as part of the Department of Justice's unilateral war against state-sanctioned medical marijuana.
That story helps explain Kovacs' fears today. City cannabis regulations restrict dispensaries from being located within 1,000 feet of any structure used primarily by people under 18.
Here's Vapor Room founder Martin Olive on why that rule didn't matter:
"The reason we were forced to leave came about after local US Attorney Melinda Haag, during her 'crackdown,' used the notion that since there is a playground within Duboce Park, the whole park is considered a 'playground.' The rear of our property line (not our building) was within 1,000 feeet (by a just a couple of feet) to one of the

entrances

to Duboce Park (but most definitely not the actual playground). That was enough of a 'reason' to single us out and threaten our elderly, widowed landlord with 40 years imprisonment and asset forfeiture of her property and finances if she didn't evict us."
The Vapor Room had received all the necessary permits from the city, and had been operating without interruption for years.
Martin Olive (Photo: Rose Garrett)
Olive has since turned the business into a delivery service while he continues looking for a new retail location (if you can help with that, he says
get in touch
). But he's still haunted by the situation and its implications:
"Not a single dispensary in the country is 'permitted' to exist according to federal law, but they used the enhanced penalties of Drug Free Zones near schools and playgrounds as the arbitrary reasoning for their crackdown two years ago, despite the fact that almost every dispensary in SF is within 1,000 feet of a park that contains a playground somewhere in it."
All the uncertainty around zoning has since pushed dispensaries into more suburban parts of the city, or out of it altogether.

What Will San Francisco Do?
And yet, mercurial raids by the Department of Justice may be over. The House of Representatives
passed legislation
last month that would restrict federal agencies from enforcing federal anti-marijuana laws if they go against state laws. The Senate and the President still need to agree. Meanwhile, the Food and Drug Administration is
reviewing
whether marijuana should still be considered a controlled substance.
Marijuana legalization advocates have been startled by all the good news at the national level. With
21 other states
already allowing medical marijuana, if not outright legalization, all signs would seem to indicate change is here for good.
It's the local situation that's surprisingly bad.
The city has for years provided a tentative map of zones where prospective dispensaries would not conflict with city-defined school zones. It's not "official-official"—you still need to go through a
complex formal application process
that can sometimes reveal issues. (In fact, a review for a
new dispensary on Divisadero
resulted in a rejection after city planners found it was too close to a school.)
If you look on the map below, you'll see every currently available zone in orange. At first glance it looks like they're spread pretty evenly all over the city. But the older, denser neighborhoods have more schools and related facilities, which makes these locations more likely to generate rejections. And commercial real estate is generally more expensive, too (especially in the last few years).
So dispensaries that want to serve patients in neighborhoods have been moving south to places like the Outer Mission, where three opened up in the last couple of years.
But some nearby business owners and residents
haven't been happy
with this new type of commercial activity.
Distress, whatever its causes, rose to the point last year that Supervisor John Avalos pushed the planning department to study the possibility of shrinking restricted areas to 600 feet. That's what you see in yellow.
The idea is to make it easier for dispensaries to move back or open up in neighborhoods where they're wanted.
The planning department released the
official report
(map included) in March. The next step is for the city's Planning Commission to consider it. "So far no one has introduced an ordinance to amend the MCD regulation," says city planner and report author Aaron Starr, "and I'm not aware of any effort to do so."
Why? We asked around and got a few informed guesses. One is that the supervisors are all busy with the housing crisis, which makes sense. Another is that no one besides Avalos seems interested, which is more surprising.
And there's another issue coming up. The city of San Jose just passed a bunch of new restrictions that will likely shut down much of its thriving dispensary scene. As the
SF Weekly notes
, this could send a wave of the South Bay's more regular users up to the city.
Romanowski's Vapor Room mural (Photo: Andrew Dudley)



To be sure, area licensed marijuana users have come a long way since groups like the Cannabis Buyers Club fought for the rights available today. You can still walk down to Market or up Haight if you want to find a store that will sell to you legally, or you can just order a delivery.
The question is really about how dispensaries should be integrated into local neighborhoods. A plurality of residents further south may view them negatively, but for many here, dispensaries have helped a community of people come together in spite of the War on Drugs, as enforcement has waned from the city level in 1991 to state, then finally the federal level today.
It remains to be seen whether the local dispensary issue will become a priority for decision-makers in city government. In the meantime, we'll sign off by noting that any citizen can initiate amendments to the planning code by following the process described
here
.