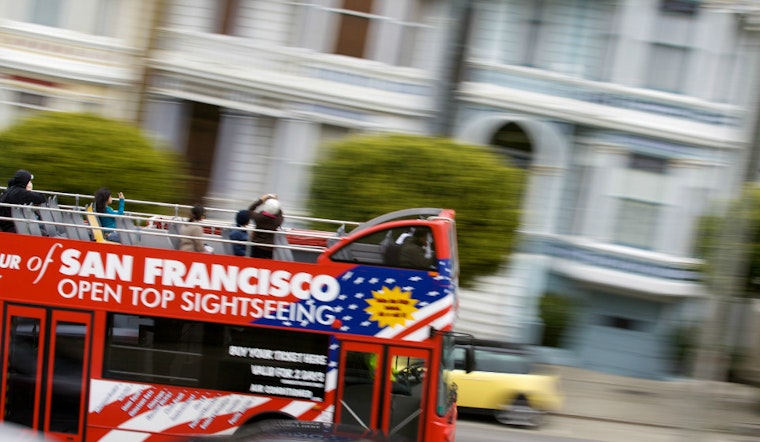 Published on January 09, 2015
Today, visitors to Alamo Square Park can enjoy an unobstructed view of the backdrop to '90s sitcom Full House and one of San Francisco's most famous attractions, the Painted Ladies. But it wasn't like this a little over a year ago, when the high volume of tour buses prompted a neighborhood backlash and a localized ban.
On
Nov. 19th, 2013
, the San Francisco Municipal Transportation Agency Board of Directors unanimously voted to restrict all commercial vehicles carrying nine or more passengers from the streets surrounding Alamo Square Park, with the exception of employer shuttle buses. After January 2014, when the restriction went into effect, bus drivers that are found in violation faced a $100 fine, and signs have been posted around the neighborhood that read "Tour buses and vans (seating capacity of eight or more passengers) prohibited".
As we pass the one year anniversary of the implementation of the ban, many of the area's residents are feeling its effects.

"I definitely have not seen [tour buses]. I have noticed a lot more tourists on foot," said Jeanne Hallacy, a resident on Oak Street.
Misael Vazquez and Brian Williams have also noticed a decrease in the number of tour buses passing through the Alamo Square neighborhood.
Vazquez said that before the bus restrictions were implemented, there weren't very many buses on the weekdays and the effects of the bus ban weren't noticeable to him because he worked on weekends.
Williams, on the other hand, said "I come out here to the park every weekend. The crowd of buses was just really annoying."
San Francisco Public Press/Flickr
Lauren Desantis on Fell Street said that she has not noticed a significant change in tour bus volume since "they're all stopping by my window now." This is due to the tour bus loading zone that the SFMTA established north of Fell, east of Pierce and west of Divisadero to decrease traffic immediately adjacent to Alamo Square Park. "We all complain about [the tour guides] from time to time," Desantis said. "Some characters that drive the buses can drive you nuts if you're home."
Robert Lyles, deputy spokesperson for SFMTA, said that SFMTA is satisfied with the results. "The volume of tour buses on Hayes Street alongside Alamo Square has declined by over 90 percent as a result of these restrictions."
In a study conducted in 2011, the SFMTA observed one tour bus or van passing through the Alamo Square area every three minutes. That's 50 buses or vans observed in a two-and-a-half hour period of time.
That observed number has dropped significantly from 50 tour buses or vans in two-and-a-half hours to just three in the same time span, according to an SFMTA study conducted in August 2014.
History
The
Alamo Square Neighborhood Association
has been combating tour buses in the area since 2011 due to complaints of engine and amplified speaker noise, traffic and parking impacts, vehicle size, gas emissions and the sheer volume of tour buses that travel through the neighborhood. The ASNA formally requested restrictions in September 2011, according to Lyles.
SFMTA committee meetings, which were open to the public, were held
throughout late 2013
. In an Oct. 4th public hearing, 30 people spoke about their opinions regarding tour buses in the Alamo Square neighborhood. According to the agenda, of the 30 speakers, 19 spoke of negative impacts of tour buses in the area while 11 spoke in support of allowing tour buses in the neighborhood.
As
we noted
in May of 2012, there exists a Facebook page titled "
Tour Buses Behaving Badly
", which is described as "a group of neighbors who want to document tour buses behaving badly." Pictures of tour buses parked around Alamo Square and links to news articles about tour bus complaints by neighbors make up the bulk of the content on this page. There have only been three posts in 2014, including
this photo
from April:
"SFMTA occasionally receives complaints that a tour bus or ban has violated restrictions," Lyles said. "In these cases, we contact the management of the tour bus company and remind them of the restrictions and instruct them to remind their drivers of the restrictions. This approach has been effective in deterring repeat violations."
Alamo Square Park on a recent Sunday afternoon was populated with both visitors and residents who hike up the hills to take pictures, sit in the grass and take their children to the playground. Susan Grossten, a visitor from Seattle, stood in front of the Painted Ladies and snapped pictures.
She said that Alamo Square Park was on her list of San Francisco attractions to visit, after Golden Gate Park and Union Square. "I didn't notice any tour buses. It's good that they banned them because this," (she gestured to the city in the distance) "is an iconic view."