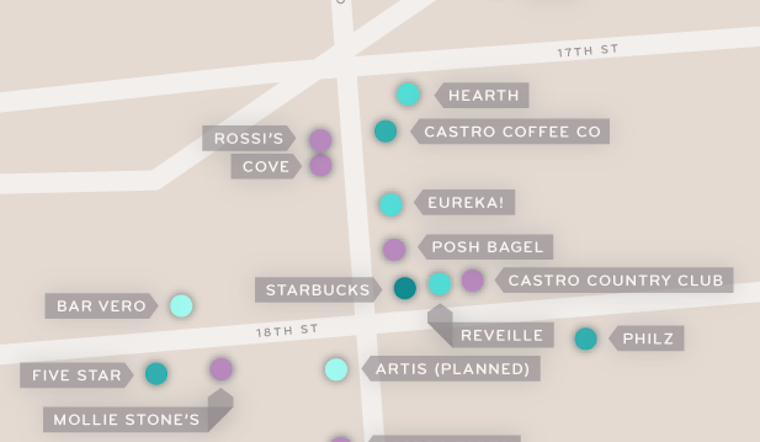 Published on February 23, 2015
The Castro, as we all know, has a lot of coffee shops.
As news of more and more caffeination stations heading to the neighborhood washes over Castro residents, we decided to take a closer look at just how many coffee sources there are in the neighborhood, as well as a brief history of coffee in the Castro.
As you can see below, we used city open business location data to look at both dedicated cafes and coffee shops (blueish dots) and other types of places where it wouldn't be usual to stop in for just a cup of coffee, like grocery stores, bakeries and some other eateries (lavender dots). (Update: 2/27: We've updated our graphics to reflect new information shared by readers. Thank you for your feedback!)
As noted, there are a good number of coffee sources in the neighborhood that have been around for over a decade. These include Spike's, Castro Coffee Company, Peet's, Starbucks and Morning Due. Cove, Cafe Flore, and Orphan Andy's are among the elder statesmen of the neighborhood's cafes, dating back to the 1970s.
Peet's opened up in the neighborhood in 1992, and was perhaps the first of the so-called "second wave" coffee companies. As SF Weekly noted in 2011, Alfred Peet, founder of the Bay Area staple, was "tired of terrible coffee and keen on what could come from well-roasted, well-sourced beans." He opened his Berkeley coffee shop in 1966, and focused on small batch, artisanally roasted beans (yes, a harbinger of ubiquitous buzzwords to come).
As noted by LA Weekly's Jonathan Gold, "the first wave of American coffee culture was probably the 19th-century surge that put Folgers on every table, and the second was the proliferation, starting in the 1960s at Peet's and moving smartly through the Starbucks grande decaf latte, of espresso drinks and regionally labeled coffee."
Next of the "second wave" coffee shops came Starbucks, which took its company inspiration directly from Peet's back in the early days, when things started out friendly between the two businesses. By the mid-'90s, Starbucks had settled in with the Market Street Safeway, and by 2000, the popular 18th Street Starbucks, affectionately called "BearBucks" or "StarBears", was open for business.
The 18th Street cafe used to be a location of Pasqua Coffee, a San Francisco-based retail coffee chain that was named The Pedestrian Café when it opened in 1983. Pasqua started as a single store and grew to almost 60 locations in San Francisco, Los Angeles, and New York City before it was acquired by Starbucks Coffee in 1999. Another Starbucks expansion, proposed for 2201 Market St., was squashed in 2013.
Philz Coffee, which this week landed a $15 million funding round to expand nationwide (aided, in part, by rapper/investor Snoop Dogg), was founded in 2003 by Phil Jaber, and expanded to the Castro in 2007. Revenue has grown nearly 400 percent since 2008 company-wide, and with a recent bid to relocate from its 18th Street location to the 500 block of Castro Street approved, Philz is still going strong in the Castro as an example of so-called "third wave coffee."
"The third wave is viewed as a step above the second wave," said Jaber in an interview last year. "It's artisanal, extra special, and high quality. Mostly local coffee companies occupy this category—some small and medium-sized but none very large. Third wavers are rising in popularity in America's most progressive cities."
And that, in a nutshell, is what's happening in the Castro and beyond. Though Philz remained the first "third wave" coffee shop in the Castro, joined by independent shops like Castro Coffee Company and traditional cafes like Jumpin' Java and Eureka!, a wave of new coffee outlets, mostly expansions, is now coming to shore in the Castro.
To review: Espressamente Illy brought its Italian import to Market Street in December 2013, and Reveille opened its second brick-and-mortar on 18th Street a year ago. In December, Hearth Coffee Roasters debuted in the former Sun Days tanning spot, and Weaver's Coffee & Tea opened adjacent to SF Fitness. And coming up, we've got word of yet more coffee shops eyeing the neighborhood, from a new espresso bar at the base of the ICON building to a possible Artís Coffee outpost to a Church and Market Verve Coffee expansion.
As more and more coffee outlets come to the Castro, the question of just how much of the neighborhood market share each individual business can net remains open. From sit-down cafes where socializing is the norm, to coffee shops thick with laptop-wielding freelancers, to spots where grabbing a coffee to-go is preferred, Castro denizens may traffic multiple spots for different purposes ... or stick to one tried-and-true favorite. 
Which coffee spots get your hard-earned dollars, readers? And what do you remember of the Castro caffeine landscape of yesteryear? Let us know in the comments (and alert us if any of our historical data misses the mark).