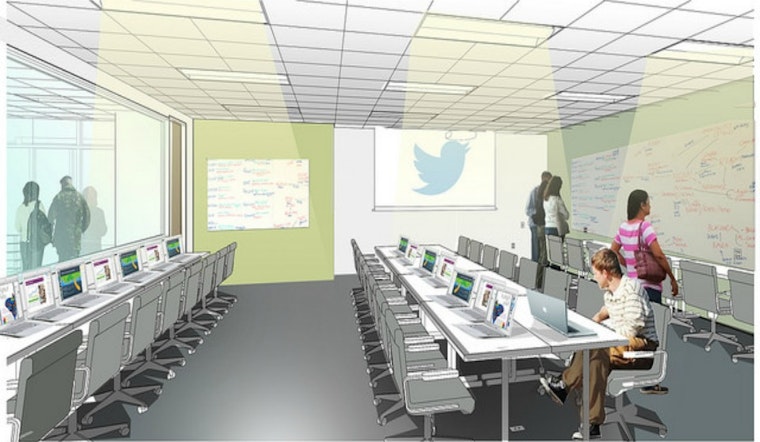 Published on February 03, 2015
The NeighborNest, Twitter's largest community investment, is set to debut this summer in Fox Essex Plaza. The 4,000 square foot learning center, designed by IA Interior Architects, will provide access to technology and education to clients and staff of community nonprofit partners.
The NeighborNest is just one of 10 neighborhood revitalization projects the Mid-Market tech company signed off on as part of the city's Community Benefit Agreement, a condition to receiving payroll tax-breaks from the city. Twitter is expected to spend $1 million on renovating an existing space within Fox Plaza, which is located directly across from their headquarters. Over the next four years the tech company will invest a total of at least $3 million in the NeighborNest as part of their community agreement.
The learning center will "unlock new opportunities" for clients of community-based partners with access to technology, education and training. Staffed entirely by volunteers, the space's first community anchor partner is Compass Family Services, a local nonprofit that provides services and tools for homeless and poverty-stricken families. Families will be recruited on a referral basis by Compass Family Services and will receive resume writing assistance, job hunting skills, and homework help for students, among other tools for success.
"Compass has a one-hundred-year track record of helping low-income and homeless families on the pathway out of poverty," said Natalie Miyake, Senior Communications Associate at Twitter. "Recognizing this expertise, Twitter identified them as an anchor partner to advise Twitter on the strategy and programming for the Twitter NeighborNest. We're delighted to be partnering with them."

The NeighborNest was approved by the City Administrator's Office as part of Twitter's Community Benefit Agreement that was put into effect January 1, 2015. The agreement will run for four years, until 2018, and includes a total of 10 improvements the tech company must deliver. Aside from the $3 million toward the NeighborNest, Twitter must also put in a minimum of 4,000 volunteer hours and $3 million in grants to local nonprofits.