This article, written by Marjorie Beggs, was originally published in Central City Extra's March 2015 issue. You can find the paper distributed around central city cafes, nonprofits, City Hall offices, SROs and other residences – and if you can't find it anywhere else, you can read it in the periodicals section on the fifth floor of the Main Library.
San Francisco has 105,000 trees on its sidewalks and median strips and an estimated 500,000 more in parks and backyards. Trees aid air quality and are good for property values. They improve people's physical and mental health, combat climate change, welcome wildlife, manage storm water runoff, reduce wind, encourage commercial areas' vitality.
One study even found that people drive less aggressively on tree-lined streets. Sounds good — 600,000-plus trees — but it's not. The city's tree canopy, the layer of leaves, branches and stems that covers our 49 square miles when viewed from above, is just 13.7 percent, according to a 2012 Planning Department survey. That percentage puts us far down the list of U.S. cities, near the bottom with Chicago and Jersey City, and is less than half the 33 percent average of metropolitan areas.
The news is worse for the Tenderloin and SoMa: They're at the very bottom of the city's canopy list with trees covering just a shade over 4 percent in both neighborhoods. By comparison, gloriously green Golden Gate Park tops the list, with 47.7 perfect coverage. A tree's chance of making it in the Tenderloin is probably about the same as a resident's. Not so good. And at least one study confirmed that like people, trees have a harder time thriving here than elsewhere in the city.  Owner neglect, vandalism, vehicle emissions and cars and trucks running over small trees take their toll.
"Three years after planting, TL trees have only a 60 to 70 perfect chance of thriving," says Phil Pierce, Friends of the Urban Forest policy and outreach director. "Citywide, it's 80 percent."
Tree tales are relevant today because another Tenderloin planting is scheduled for this spring, probably in May. Friends of the Urban Forest will coordinate the effort — as it has more than a dozen times before — and is expecting at least 50 trees to go in this time. Tenderloin trees have been a Central City Extra focus almost since we began publishing.
"The Re-greening of the Tenderloin," our November 2004 lead story, detailed the planting of 35 trees donated by TL property owner and co-founder of Adopt-A-Block, Charles Mosser, and coordinated by Friends of the Urban Forest.
"Trees," Mosser told The Extra back then, "give a flourish to the neighborhood. They make it seem more residential than commercial." Friends of the Urban Forest has been part of almost every TL planting since 1982, a year after it formed. Our re-greening story reported that, in 18 years, Friends of the Urban Forest had organized neighbors and planted — or replanted — 523 trees in the Tenderloin.
How many of those trees are still standing, how many were replacements for dead trees, how many were replacements of replacements — none of that is known. But back in 2000, an Urban Forest survey painted a grim picture: It counted 223 living trees, about half healthy and the rest just OK or struggling, plus six dead trees and nine empty plots.
All told, that's less than half of the trees it had planted in the Tenderloin. The rest had died uncertain deaths. Today, Pierce calculates that in the past 15 years, his organization has helped get 212 trees planted in the 'hood.
Their mortality rate hasn't improved. Three or four of every 10 planted won't last three years. Three years is a benchmark because Urban Forest follows up neighborhood plantings with an annual visit to each tree during those critical years. Most cared-for trees are established by then.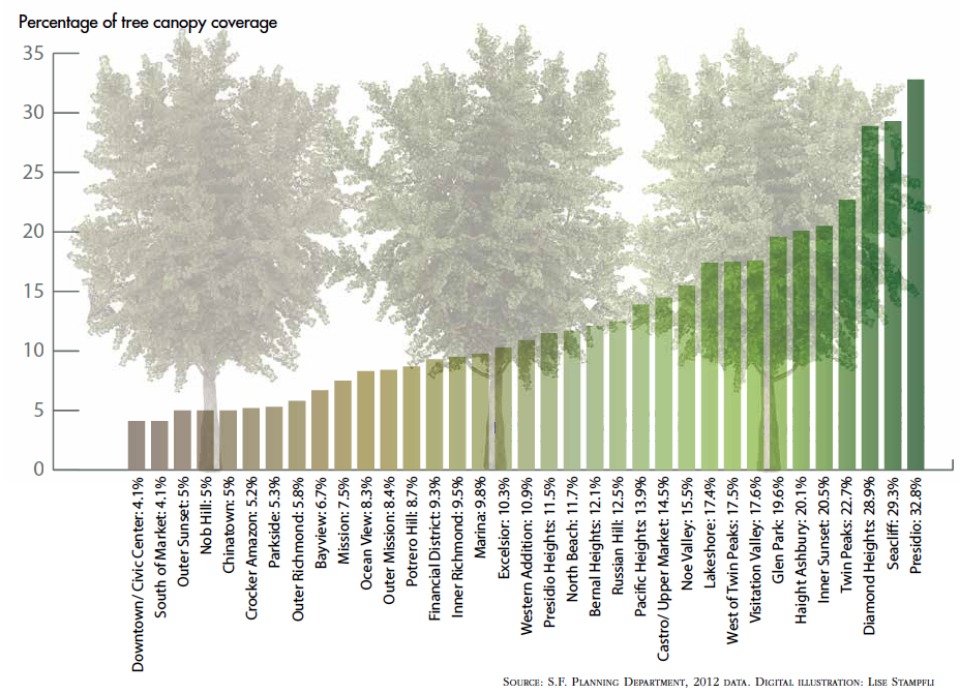 A voice for trees
Six years ago, John Nulty, former TL resident and activist who's been a voice for trees since the mid-1990s, surveyed the Tenderloin and found 20 dead or dying trees. This January, in preparation for the spring planting, he went out again and this time tallied 52 distressed tree plots — 18 were empty, 23 had stumps and the other 11 had been cemented over, their poles or grates were protecting bare ground, or they'd been beheaded, lopped off five or six feet above their base.

101 Hyde illustrates the problem. Nulty says the corner once had eight trees, four on each side of the Post Office. Back in 2004, Elaine Zamora, who would be named manager of the new Tenderloin CBD the next year, personally paid for five of them. Only three of the eight are still standing. "One was taken out so cars could see the street signs," Nulty says. "Then the police wanted another one taken out. Then two on the Hyde Street side were wrecked when they put up the scaffolding for the mural." One's fate is unknown.
Nulty heads up the Tenderloin Tree Campaign, formed 10 years ago with Zamora and TL resident David Baker when the ax fell on a huge Norfolk Island pine at 606 Ellis. The tree's other claim to fame is it had stood in front of one of the Tenderloin's last single-family homes (see The Extra's Issue No. 73).
Efforts to save the Norfolk Island pine failed, but tree-lovers got the city to expand protection to landmark and significant trees citywide. Today, about three dozen trees around the city have landmark status, none in the central city. Nulty in 2011 received kudos for 35 years of arbor and other activism from Friends of the Urban Forest and from Rep. Jackie Speier. Her certificate of recognition says, "You are a Johnny Appleseed of organizing; wherever you go, organizations sprout." John's brother, Michael, received a similar commendation at the event.
Urban forest plan passes
A City Planning consultant in 2012 surveyed publicly planted street trees in four neighborhoods — Bayview, North Beach, Outer Sunset and Western Addition — and used the 24,858 trees found there to extrapolate data about arbor health and benefits citywide. Among the findings: 7 percent of the inventoried trees were in poor condition or dead, a little over half were in fair condition and a third were in good or very good condition.
The survey also found that for every $1 spent on public trees, city residents get $4.37 in physical, social and aesthetic benefits — numbers that prompted the Board of Supervisors to finally pass a years-in-the-making Urban Forest Plan. Their unanimous approval of the plan Feb. 10 says they're all in favor of planting 50,000 more street trees citywide in the next 20 years and setting a goal for canopy coverage that will give us some street cred, treewise.
The plan's other major goal is to change who's responsible for tree care. Right now, the onus is on property owners who opt to put in a street tree, while DPW tends those it plants. The plan makes the city responsible for all existing and projected 150,000 street trees, not just those it plants. Nice idea, but the supes didn't allocate any of the maybe $20 million needed to back it up. Voters may be asked next year to approve an annual parcel tax of $60 to $80, Supervisor Scott Weiner, who introduced the legislation, told the Chronicle.
Trees aren't cheap to buy, but the big-ticket item is maintaining them, and property owners don't always do due diligence. "If an owner hires someone who doesn't use good arbor practices, trees not only are unlikely to thrive but it can create really hazardous conditions," says Ray Moritz, certified forester and owner of Urban Forest Associates who works with businesses, residents and government entities all over the Bay Area. "The city's plan to take over maintenance will be a game-changer if the money can be raised." When Friends of the Urban Forest sponsors plantings, it helps with annual inspections and provides lots of tips for keeping trees healthy.
The Tenderloin CBD went that one better: When it was established in 2005, it included an annual budget line item for tree maintenance. "That's gone now," confirmed David Seward, Hastings CFO and current CBD treasurer. "We're having some financial challenges and our budget is barebones — sidewalk-cleaning and graffiti- removal are about all we can afford. Still, I'm sure it will be put back, maybe in a year or so."
The plan's call to add 50,000 trees sounds like big jump, but it isn't. Over 20 years, that's only 2,500 a year, though it's 40 percent more than San Francisco plants each year now. Friends of the Urban Forest, working neighborhood by neighborhood, puts in 1,200 and DPW the rest.
The city's Urban ForestPlan cops to the fact that the 50,000 trees also include "a portion" of replacements for removed or dying trees, thus it "does not represent a significant increase in forest canopy." Pierce says the plan "may change how we do business but we'll still be planting trees in the central city every couple of years.
Tree care is the key to the plan's success — DPW could be out maintaining trees every three years, not every 12 years like it does now."
The spring planting
Concurrent with the upcoming neighborhood planting is a long-planned greening around Hastings, part of an almost $2.5 million project that will stretch along both sides of McAllister between Leavenworth and Larkin streets.
The county Transportation Authority put in $1.8 million and Hastings $640,000 for the streetscape changes: corner bulb-outs to improve pedestrian safety, lighting, sidewalk widening and replacement — and 18 ginkos, those hardy, deciduous trees whose origins go back 250 million years. Planting them will be the kickoff for the community event. To be a part of it, you must be a building owner and ante up $135 for each tree you want to plant on your property.
Friends of the Urban Forest consults with owners about the kinds of trees that work best in this unforgiving environment. But, basically it gets down to ginkos and Brisbane box. And these trees will be larger than most of those planted in other neighborhoods, Pierce says, the better to withstand potential vandalism. At that size, they can retail for up to $550 each, but, as always, Friends of the Urban Forest subsidizes them.
So for $135, you get a more mature tree, cement removal, permitting and the three years of follow-up care. Volunteers and a cadre of neighbors get the fun of planting day, with all tools supplied, coffee and pastries in the morning and a potluck lunch when all the trees are in. The deadline for signing up for a tree during the general Tenderloin planting will be in early April, but there's no need to wait. To apply or volunteer, visit Friends of the Urban Forest or call 268-0773.
For more tree stories, see those by Eric Eldon, editor in chief at Hoodline, The Extra's new neighborhood journalism partner, here and here.