If you've ever walked down Haight Street, you've seen the homeless and transient youth that dot the sidewalks, parklets, and parks. You've probably had multiple experiences with these people and their pets, some of which may not have been good.
So while Hoodline has covered issues around homelessness in various ways over the years, we've decided to take a more personal approach to understanding the Haight situation by talking with these homeless youth and hearing out those who were willing to share their stories.
Haight Homelessness
First, here's a quick review. The Haight, like other neighborhoods in San Francisco, has its share of people who are homeless because they lost their housing and jobs, or are dealing with mental issues or other major problems. But it also has a more specific subculture – "street kids" in the common parlance. Attitudes towards these homeless youth are particularly mixed, because they are often perceived as being homeless by choice (whether or not that is the case).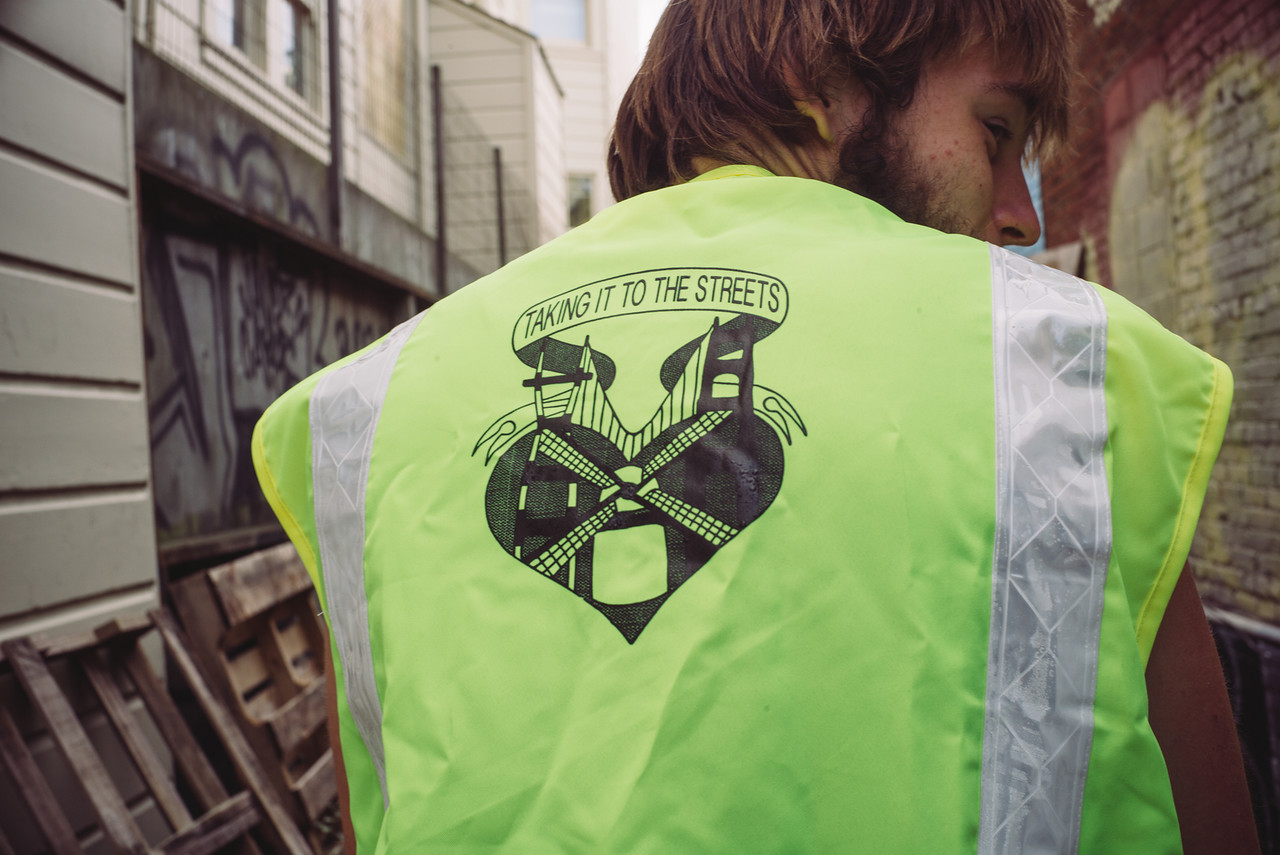 Mary Howe, founder of a long-standing local nonprofit, the Homeless Youth Alliance, and herself a former homeless youth, describes the situation this way:

This neighborhood is an international destination for youth who come seeking refuge from abusive families, alienating foster care and group home situations, and juvenile justice system involvement. These homeless young people encounter constant threats to both their physical and mental health while on the streets.
Her organization itself lost its lease in a neighborhood last year, and has since taken its services – therapy, counseling, case management, medical care, etc – to the street while it raises money to buy a building. (For the long and controversial experiences of HYA in the Haight, be sure to check out our review of this academic paper Howe co-authored recently.)
Local merchants also continue to be involved in the issue.
Along Haight Street, particularly between Masonic and Ashbury, several businesses have been working to improve relationships with the kids, by training employees to engage and be kind, to communicate fairly, and to help out when needed with an extra cigarette or a lunch.
Vendors like Goorin Bros, Second Act, The Booksmith, and 1428 Haight Crepery donate clothing and perishable foods to outreach groups, in addition to helping fund mentorship programs. Improving the homeless-merchant relationship is the tactic that Christian Calinsky is taking with his nonprofit organization, Taking It To The Streets, aimed at creating a more positive, cooperative environment.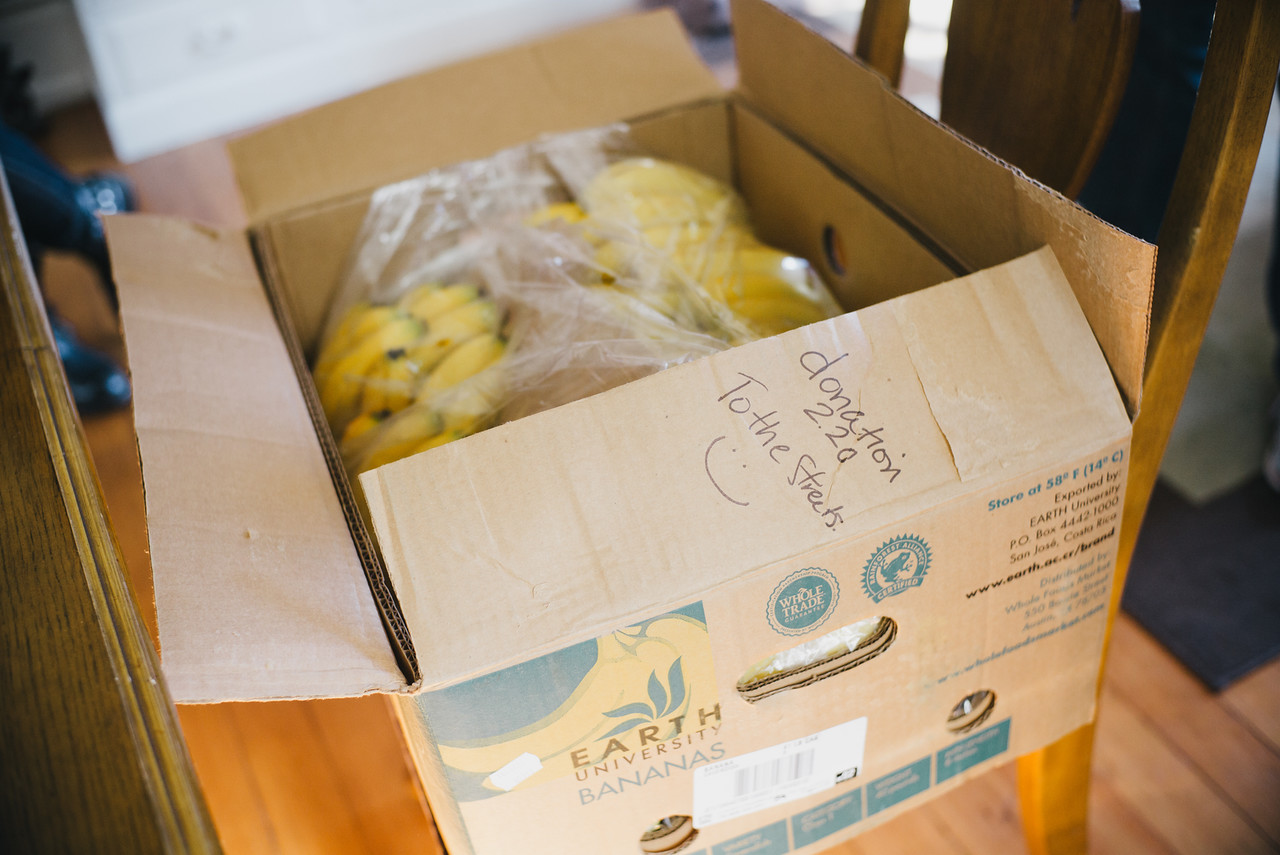 "You don't have to give them anything," says Jennifer Krase, Outreach Coordinator of Taking It To The Streets, "but at least say hello."
The nonprofit's Sweepers Program accepts motivated candidates up to age 35 for street cleaning and graffiti abatement four days a week, five hours a day, in exchange for mentorship, job training, and a place to live. Various merchants along Haight Street contribute $16 per month to help support the housing costs of the kids they take in through the program.
On the other hand, many merchants continue to express frustration with the loitering, petty theft, and drug commerce that happens as a result of the youth on the streets. The public parklet in front of Haight Street Market, for example, is a gathering place for residents, tourists, and homeless kids alike.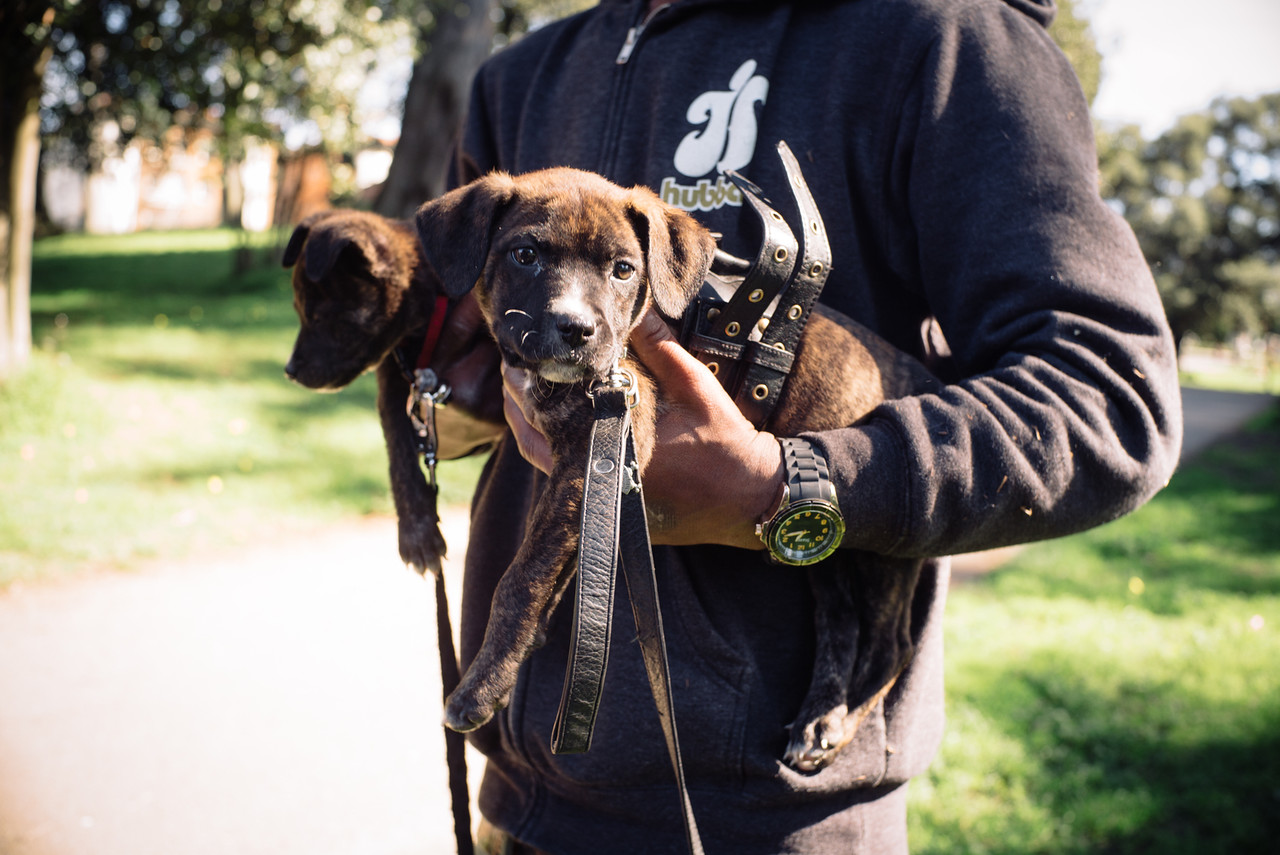 This, as you'd expect, sparks conflict. Brian Clements, General Manager of the market, has reported that the kids often make it difficult to maintain an understanding environment, selling drugs at the parklet despite specific requests to do so elsewhere, and taking advantage of the open door market by attempting to steal goods during busy hours.
So who are some of the faces that inhabit the parks? Over the last few weeks, few of the individuals we spoke to were permanent residents, although we've been told that there are a fair number who have lived in the park for years. Most residents in Golden Gate Park have been in San Francisco for a matter of weeks or months. They come from all over, by road or by rail, and live for a while with friends and other groups they meet in the city.
Noelle
There are currently six members of the Sweepers who now live in an SRO in the Mission, including a young woman, Noelle, originally from the East Coast.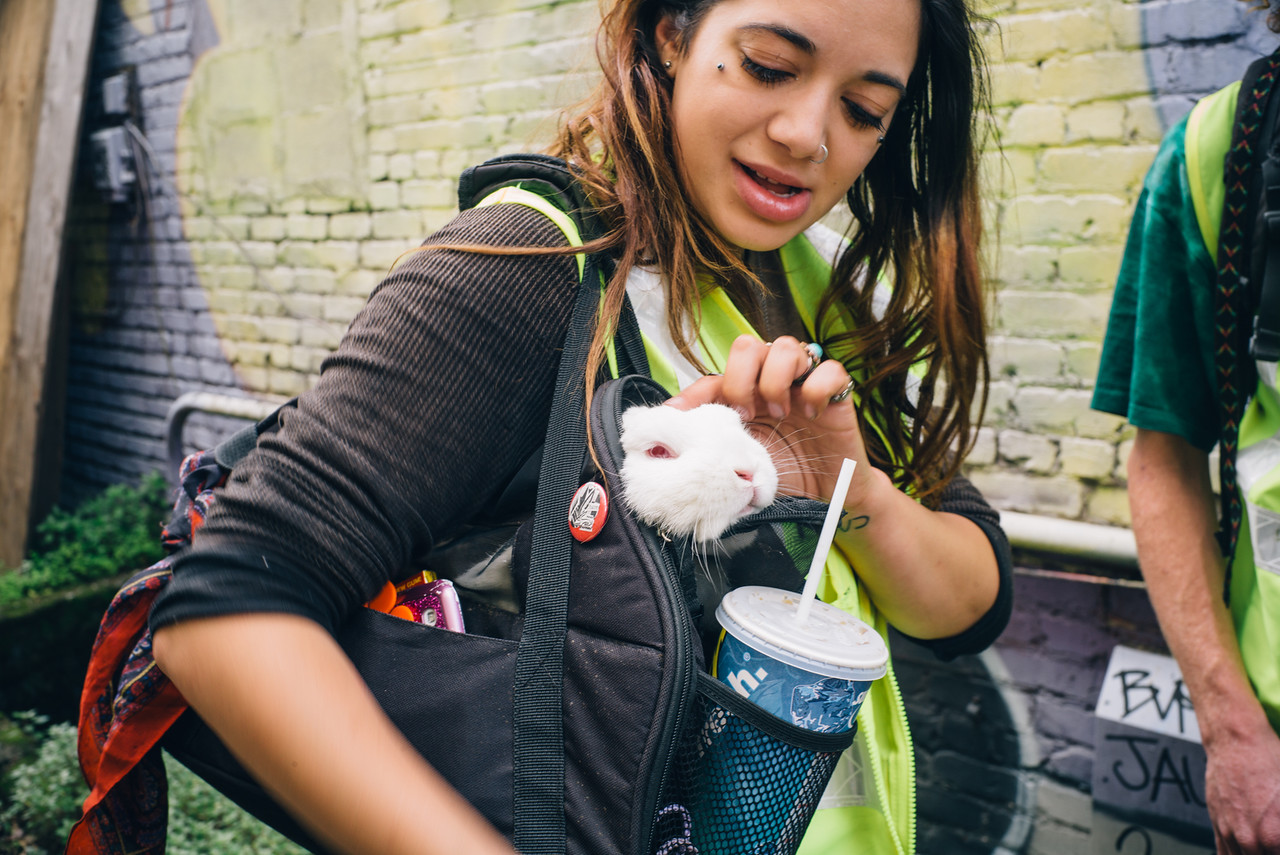 We spoke with her one day during the Sweepers' daily five-hour shift, which starts at noon by Mom's Tattoo. The members meet out front and don newly-branded vests, brooms, grabbers, and a seemingly endless supply of bright orange trash bags. They split up for the afternoon, covering Haight, Waller, Page, and all the side streets in between, picking up gum and bottles and other trash left behind by the large numbers of people in the neighborhood.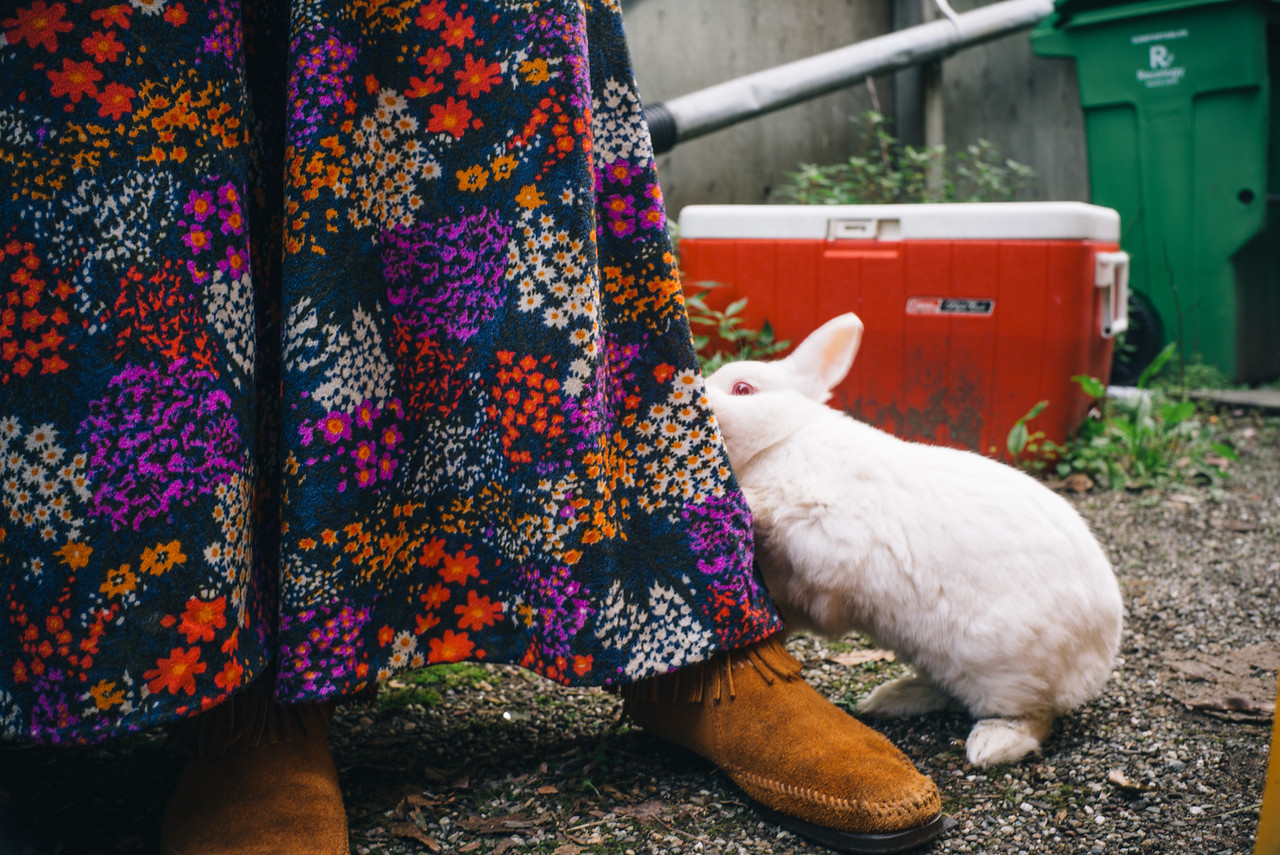 Noelle is probably most recognizable because of her fuzzy albino friend, Bunny. Despite the physical awkwardness of juggling the grabbers, trash bags, Bunny, and her afternoon soda, she balanced her load quite easily on her shoulders. Bunny takes it all in stride. Noelle began a stint in art school in Philadelphia, but drove out west in her jalopy of a car. While she recounted a story of how locals complained about the Sweepers being redundant with regular city workers, it was clear she felt optimistic about her work.

Lyric and Raven
Two other sweepers, Lyric and Raven, were covering all the side streets in-between Haight and Waller. Lyric comes to San Francisco from Moscow, by way of Los Angeles. Today was his first day, so Raven, a tie-dyed-wearing youth who was one of the two original Sweepers of the program, was showing him the ropes.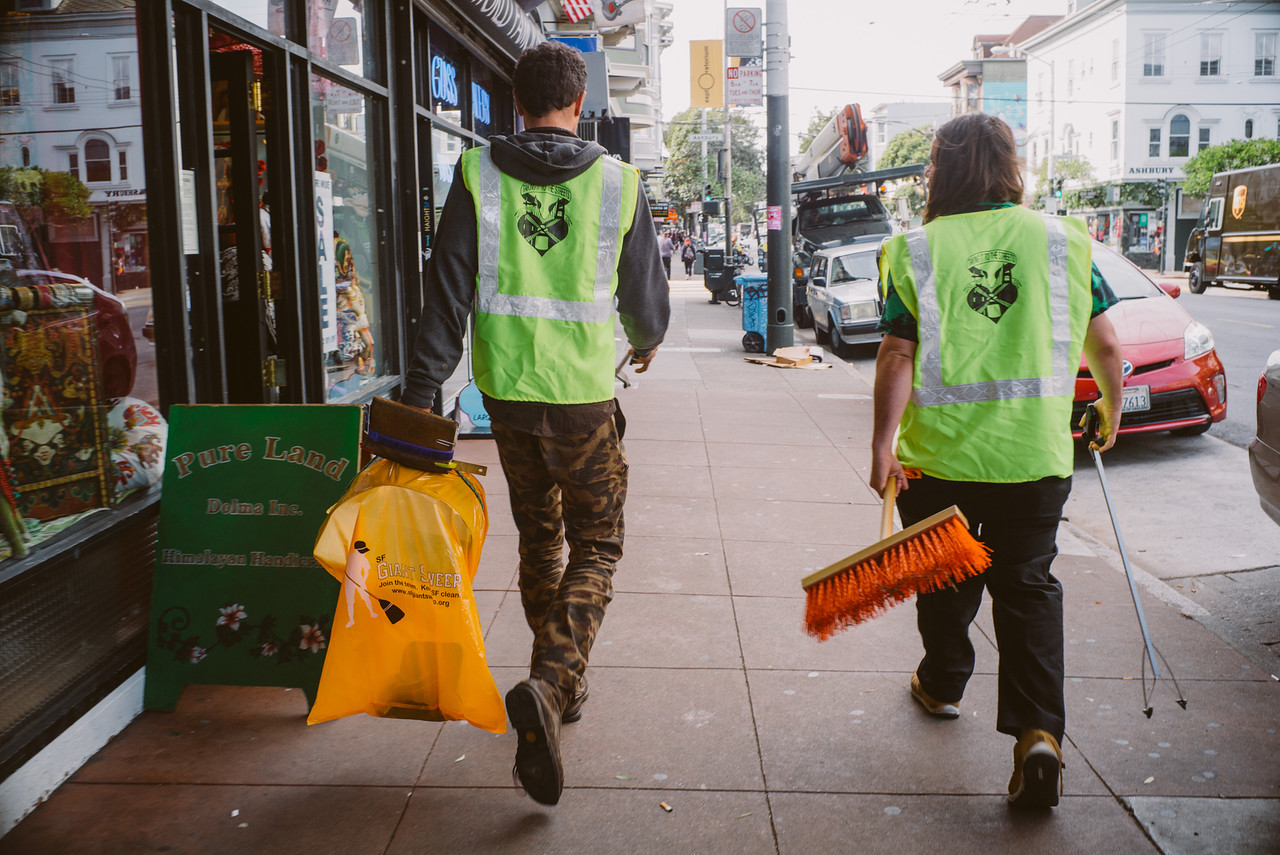 Lyric assured us that he wasn't that creative despite his moniker, but he never let go of his battered journal with the pen and a ruler stuck in the wrap, not even to use the grabbers or to change bags as they slowly filled with trash. It was awkward to work hobbled by one hand, but the notebook was clearly too important to put down.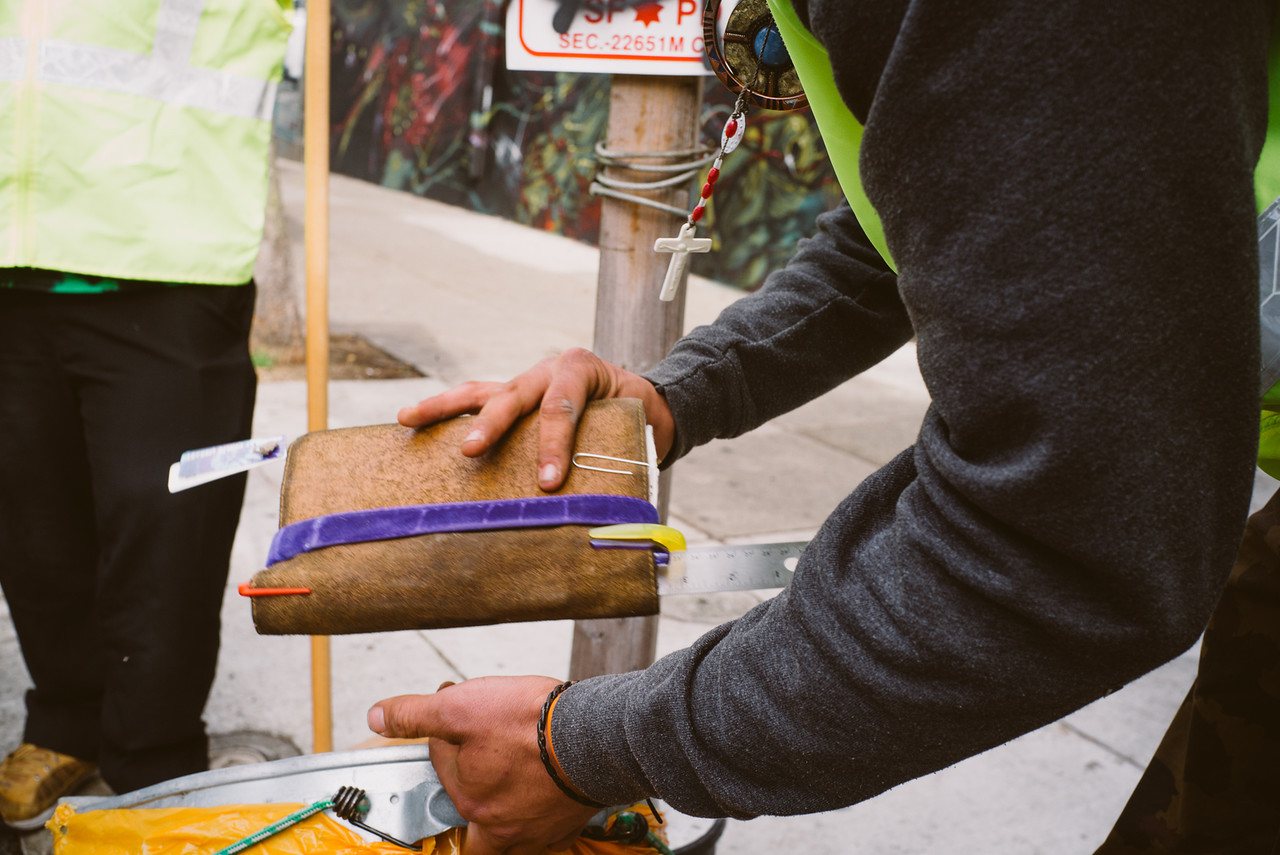 We didn't ask what was in it, but as he and Raven chatted about political science, philosophy, theology, mycology, and their plans to head back to the classroom, it was clear that there was something much more at work here than the lazy kids they're often perceived to be.
Tea Fairy
Newcomers are often loners until they meet up with a larger group, although they will occasionally work on their own by choice. Tea Fairy, for example, was born and raised in the SF Bay Area and her mother still lives in Novato. She and her boyfriend create paintings and mixed media pieces from the objects that they find along the way, or from objects that fellow travelers gift them... auto glass, mirror shards, sunglasses lenses. They prefer to live under the sky with their dogs Pete and Emma, although they say they have been kicked out of good spots several times by the police. They travel between Berkeley and San Francisco, selling their art as they go but avoiding the more popular Telegraph Ave because they say they prefer to stay away from the troublemakers who hang out there.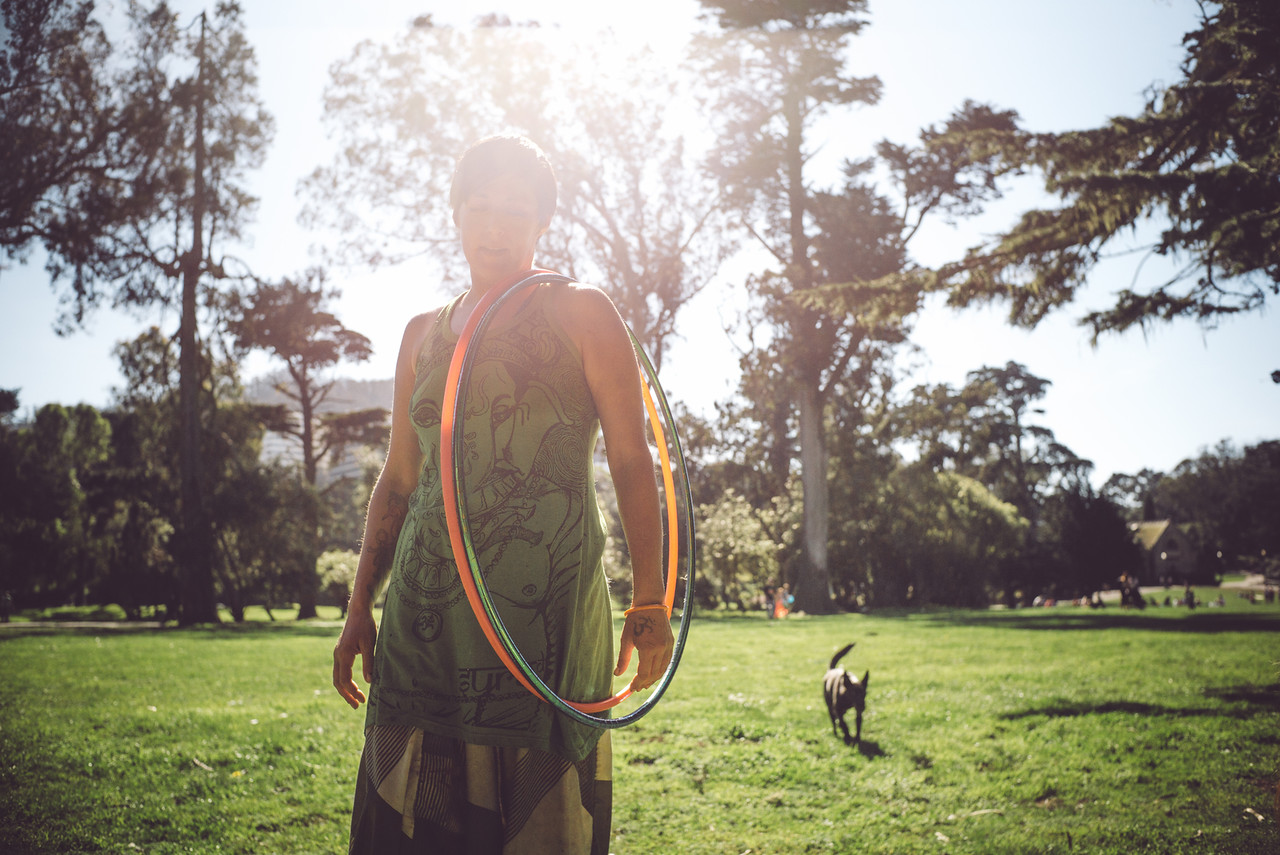 We met Tea Fairy in the sun as she had a spiral notebook and several sheets of extra paper spread on the grass around her, covered in her neat handwriting. Her dogs showed mixed reactions to her unusual lack of attention that day: Pete content with her sitting calmly in the trees and offering his services as a back rest, Emma bored and antsy because no one would play fetch with her. "I'm writing a letter to my mom," Tea Fairy says. They haven't spoken in years. Her project was 17 pages hand-drawn art, and her job that afternoon was to condense it down as much as possible. Her troubled relationship with her family echoes a familiar refrain from street kid culture.
A Different Reality

Even though the street kids are a relatively small subset of the San Francisco population, there are smaller divisions within them. Tribes, or gangs, keep groups separated territorially between Buena Vista Park, the Panhandle and Golden Gate Park, even though some of the gangs exist throughout the globe as well. Scumfucks, Grateful Dead Family, SF Dogs, SF Cats, and Juggalos are some of the few tribes that you'll find in SF and beyond. Calinsky of Taking it to the Streets was one of the original Scumfuck founders.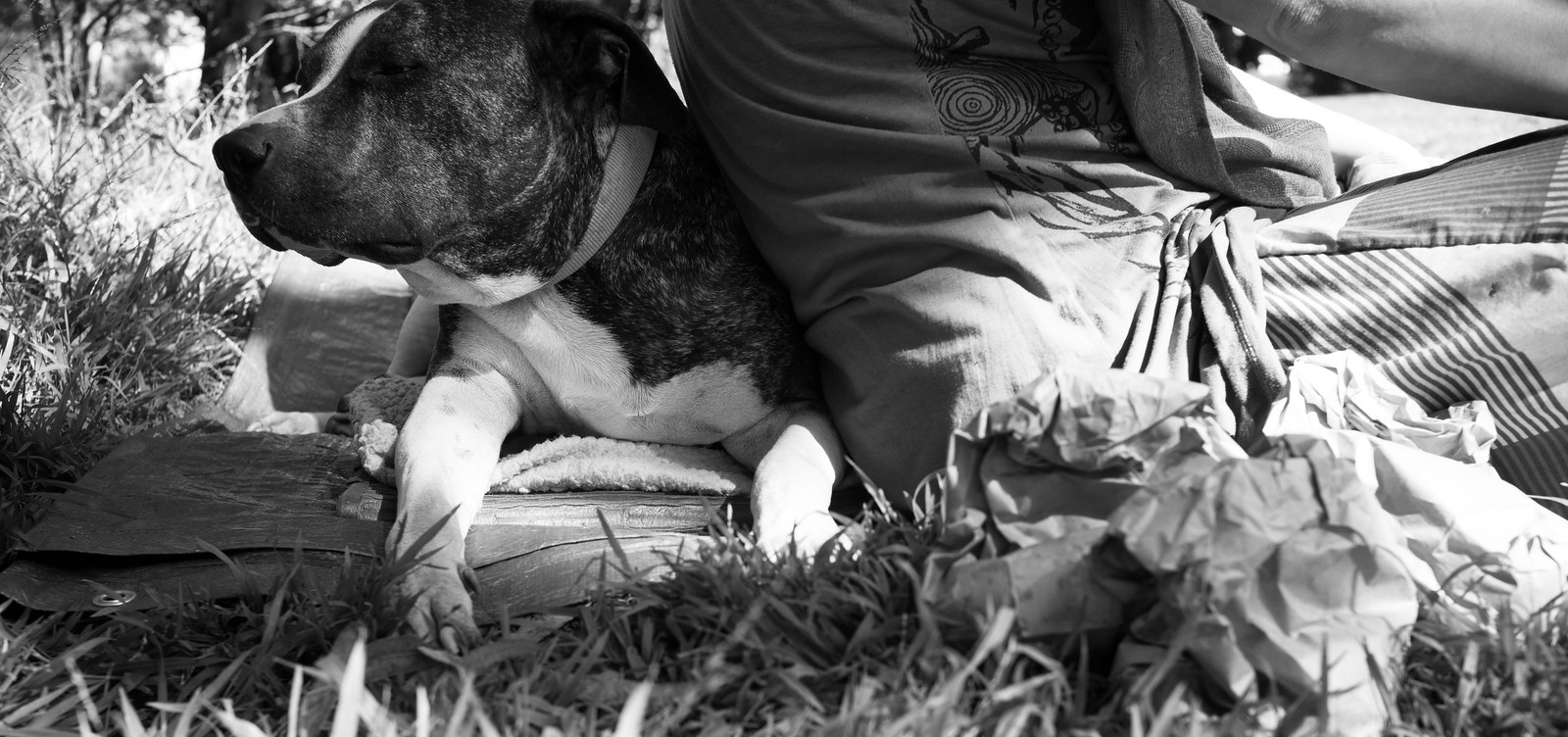 A popular method of transportation is to catch freight trains between cities. This is an extremely dangerous method of travel, due to the nature of boarding trains, law enforcement, and violence and crime by other members of the community. It's rare to find women who do this unless they're part of a group.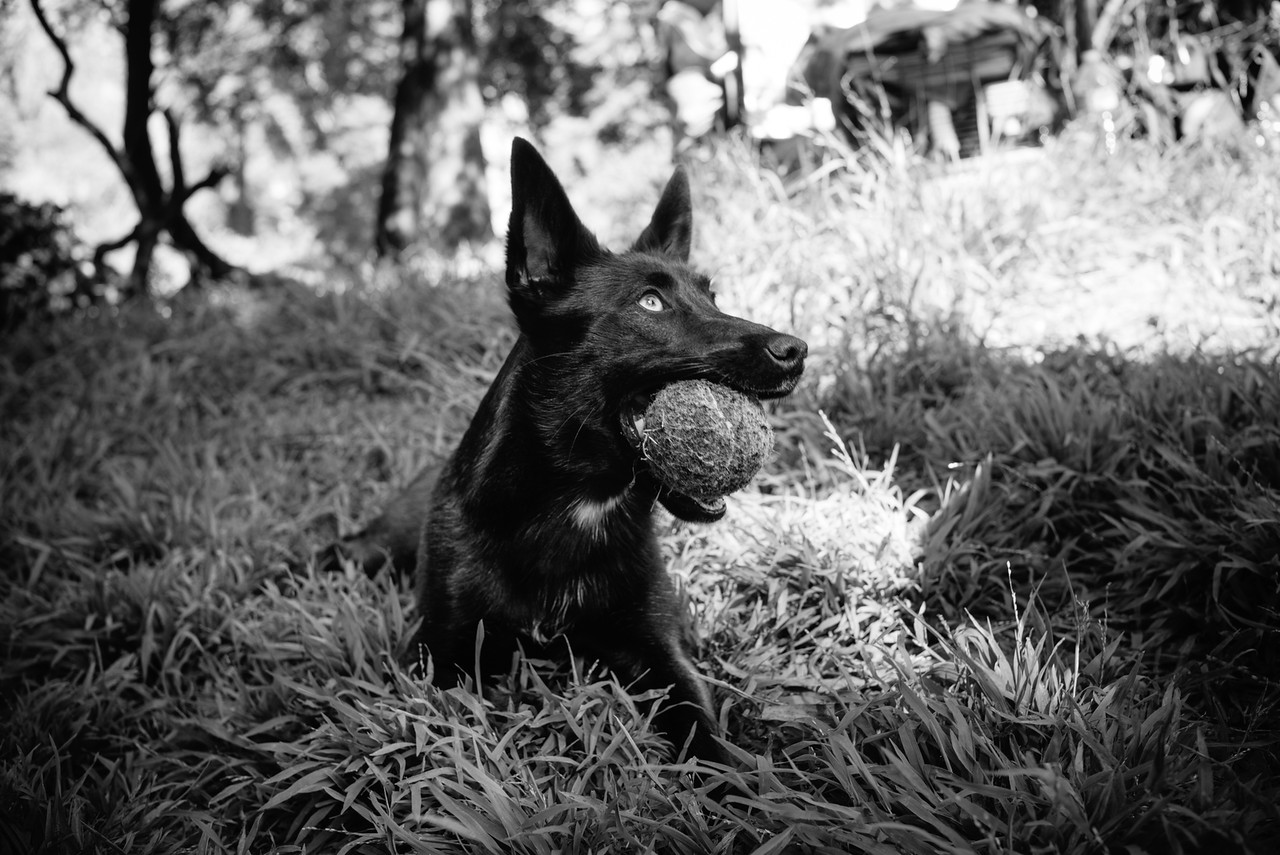 Most of the park dogs we met were on the large side, ranging from 30 lb mutts to beautifully stout purebreds. Loki was about the size of a small chihuahua, which turned out to be an advantage when hopping trains. Loki was so small he could easily be stuffed into a bib pocket, and he got his name (after the Norse trickster) because he managed to poop in a pair of giant boots bigger than himself.
The dogs of the parks can be treated very well, getting socialization and plenty of attention throughout the day. Whenever possible, Taking it to the Streets hands out preventative flea and tick medication for both dogs and cats. Through the weeks we saw a new litter of energetic puppies cared for by a dynamic redhead, "Shortcake," which was a challenge when the only supplies you have are a tarp and the occasional bit of fencing.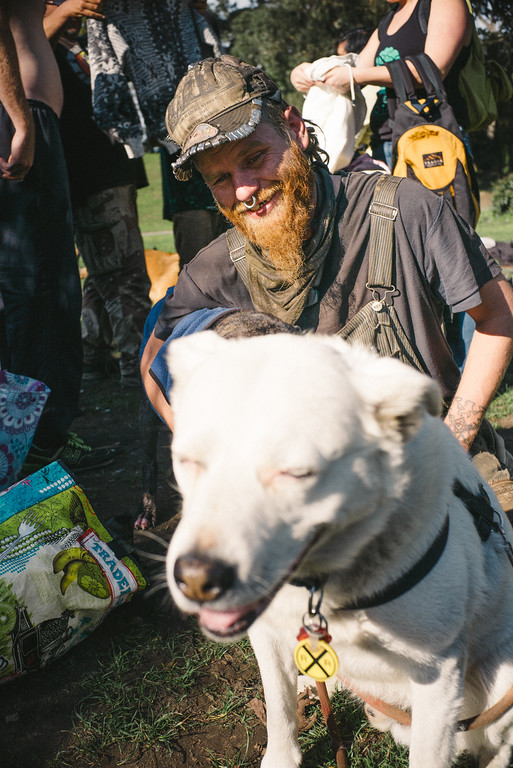 The first week, the puppies seemed nearly impossible to corral, but over time we saw them scattered throughout the community, handled by a variety of different people. As various people in the community are creatively talented, even the puppies are seen sporting repurposed, hand-stitched leather harnesses that would cost a pretty penny up at shops like Ceiba.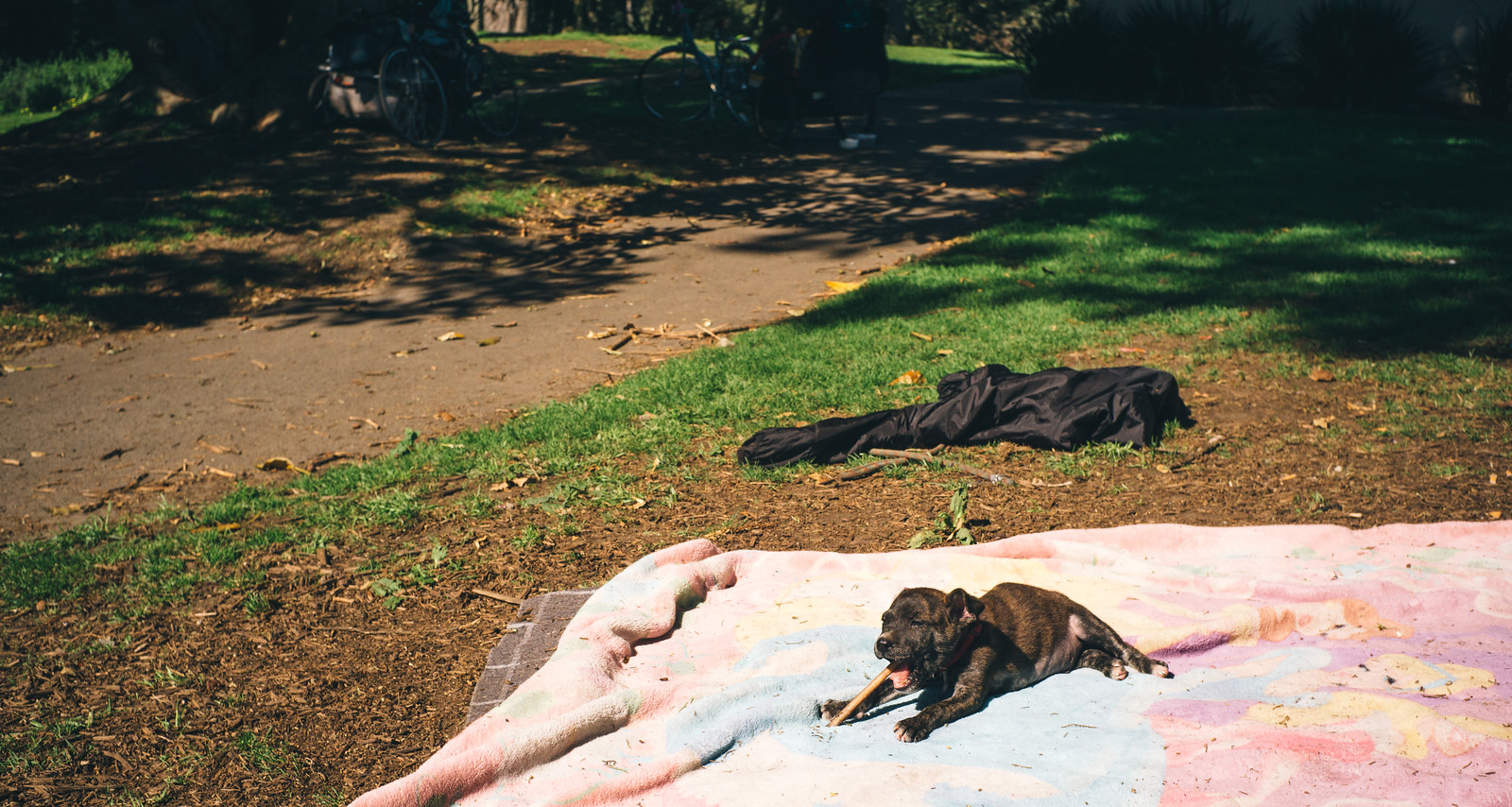 Of the people who stream through the Haight area and make the Park their home, we've talked to plenty of creative, interesting individuals, each with their own story to tell.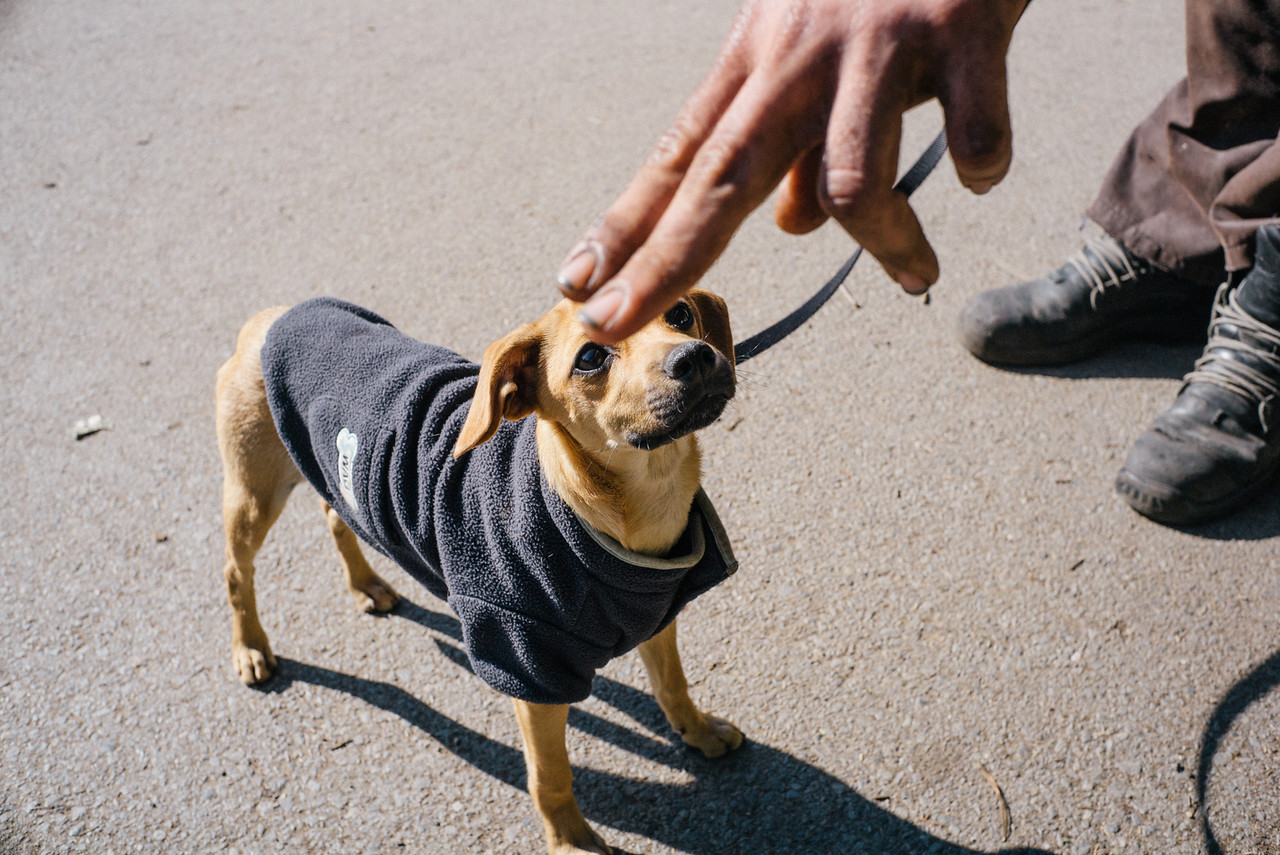 While some local residents and business owners have surely had negative experiences with street kids (and/or their dogs), getting to know the individuals who populate the area can offer a broader perspective on who they are as individuals, and what's next in the story of Haight's street kid-community relations.
You can find more photography from author Schmoo Theune on her personal site, Schmootography.