Hayes Valley is lucky enough to have some the city's biggest cultural venues, like Davis Symphony Hall and the War Memorial Opera House, right in its backyard. With the San Francisco Ballet season in full swing, we thought it was time to catch up with one of San Francisco Ballet's newest stars, Grace Shibley. 
Shibley joined the SF Ballet in 2013 after years performing with the Oregon Ballet Theatre. This season, she has already appeared in Serenade, Lambarena, Giselle, The Kingdom of the Shades and Hummingbird. Beginning March 20th, you can see her in SF Ballet's production of Don Quixote (and tickets are still available). 
What do you love about dancing? 
"I was very shy as a child and ballet was one of the first places where I felt comfortable and able to express myself. I still feel most at home and most uninhibited when I am onstage. I love the feeling of dancing a piece of choreography that really works, when the movement and music combine in a way that enhances and unifies both parts. As a dancer, I feel such exhilaration and fulfillment when I can find this true synergy in a piece."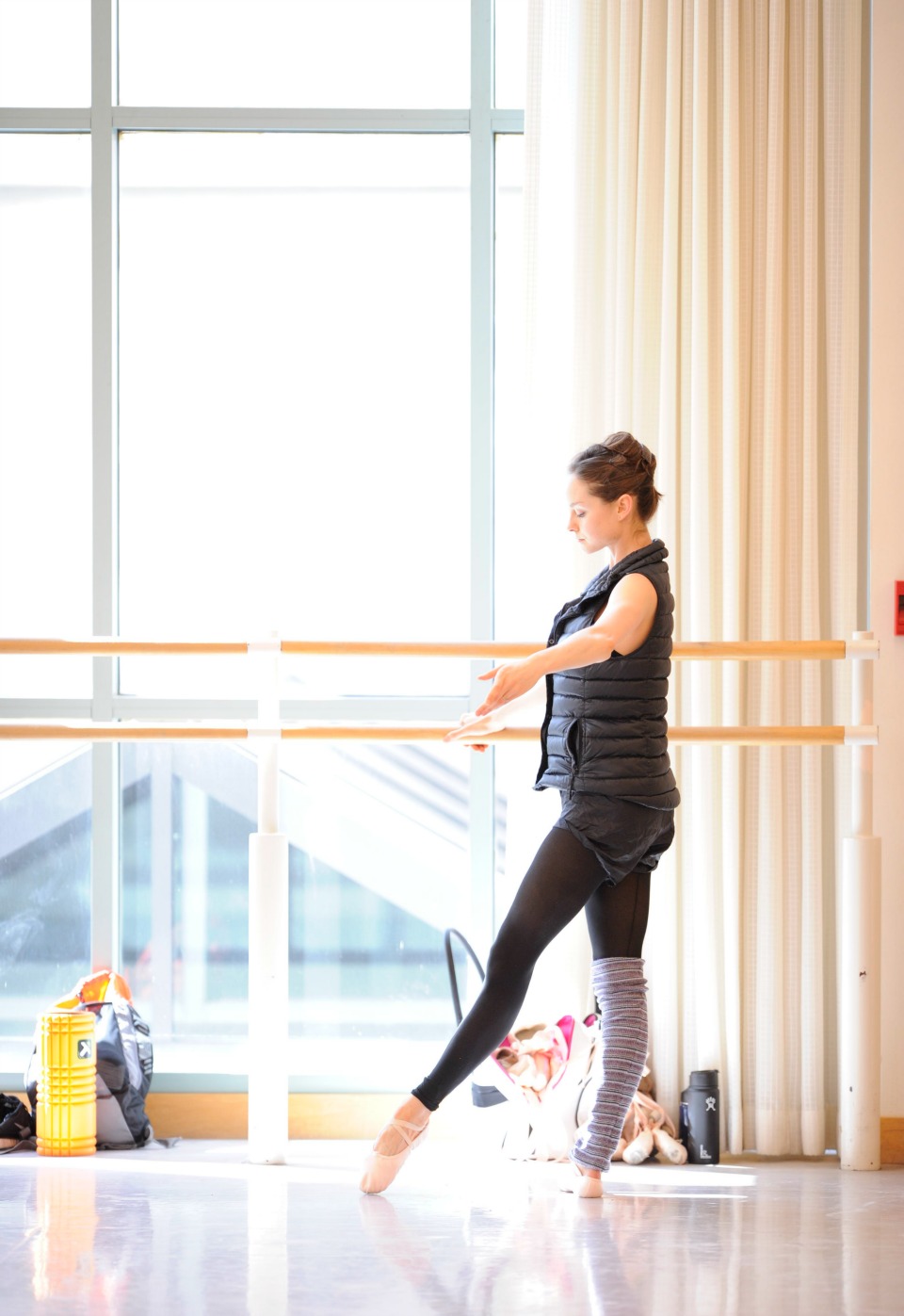 Grace taking class (Photo: Erik Tomasson)
What makes working with SF Ballet different from your other company? 
"I came from a much smaller company and was surprised and happy to find upon joining SFB that the group of dancers are very supportive of one another and that the company, although it is fairly large, still feels like a family. SFB's diverse repertoire of work is a huge draw for its dancers. We are very fortunate to be able to explore a variety of classical and contemporary pieces, and work on new commissions with the leading choreographers of today's dance scene."
What does your work schedule look like? 
"Our year is broken up into two main parts. We have a rehearsal period from July through November and then a performance season beginning with Nutcracker and ending in May. When we are in our rehearsal period, we typically work Monday through Friday from 10am until 6:30pm. We always start our day with a one hour and 15 minute ballet class. The rest of the day is spent rehearsing the ballets that will be performed throughout the year.
"Once we get to performance time, we work Tuesday through Sunday, with class and rehearsals still happening and performances in the evenings. It is a very rigorous schedule. Our breaks and days off are often at least partially spent getting various types of physical therapy and doing maintenance bodywork so that we can perform at our highest possible level."
What's your daily routine? 
"I always wake up pretty early. I like to get a good breakfast in and see my husband in the morning. I walk to work when I can. It's a nice to get outside when I know I'll be spending most of my day indoors and it's a good warm-up before ballet class too.
"I get to work about one hour before class starts so I can stretch, do any exercises I need to do and prepare my pointe shoes. Depending on my rehearsal schedule, I might have a break to go for a stroll around Hayes Valley, do some college work, sew ribbons and elastic on my pointe shoes, or work out in our studio gym. Otherwise, I'm in the studios rehearsing. In the evenings I'll either have a performance or get to go home."
Is there any special trick you have to staying fit? 
"No big trick. It's a continuous process. Our daily activities usually keep us in pretty good shape. However, some ballets require more stamina that others and unless we're doing full run-throughs of our programs every day, my level of cardio fitness goes down. To help with that I like to work out on a spin bike or elliptical machine. I also try to do some pilates and strength-training conditioning to make sure my body is as strong and supported as possible to meet the demands of whatever ballet we're working on."
What's the biggest misconception people have about ballerinas?
"I think one of the misconceptions some people have is that ballet dancers are one-dimensional. While we do spend a lot of time preparing for and at work, our company is full of people with diverse interests outside of the ballet world. There are musicians, surfers, Giants fans, soccer fans, photographers, students, bakers and more!"
What are your favorite spots to eat, drink or relax in Hayes Valley? 
"We are so fortunate to work in Hayes Valley. Sometimes I like to just walk around on my breaks and window shop at all of the shoe and home stores. I love that we have a little park in the middle of everything and visit the Juice Shop and Blue Bottle stand on occasion.
"Like many people, I've recently discovered and am loving Souvla as well as the different sushi options. Sushi is one of my favorite treats. Most of the time I look for a quiet corner of Arlequin or another coffee shop for some study time. Many of the dancers are also enrolled in a college program called LEAP so we have to also find time to get our homework done!"
Thanks to Grace for taking the time out of her schedule to chat with us. For tickets and more information on SF Ballet's current season, visit SFBallet.org.