If you've ever strolled down Noe Street, you've noticed Guy, the cheerful flower seller on the corner of Noe and 15th. We recently stopped by the learn more about Duboce Triangle's neighborhood fixture, how the city has changed since he first set up shop, and why flowers are his calling.
Name/age/provenance?
"My name is Guy Clark, I'm 65, and originally from Baltimore, Maryland."
How did you find your way to San Francisco?
"There I am in Amsterdam, 40 years ago, in this gay bar called DOK, with this turban on ... I had been given it as a going away present when I left Baltimore ... and this man, who looks like he could be from Libya, or Tunisia, North Africa somewhere, he looked at me, and he sort of nodded ... and I nodded back ... and I thought, 'I need to tell this guy I'm black and from Baltimore, before this gets too far!' So I had walked over to him and I said, "Hi, my name is Guy and I'm black and from Baltimore!" and this guy he didn't really respond, he looked like he was in shock a little bit ... and I thought, oh he probably doesn't speak English… you know, he doesn't look like he speaks English ... and then he said, "Hi, my name is Ervin, I'm black and I'm from Oakland!" I ran into this guy three separate time in Europe, and the third time we decided that we would exchange addresses and that I might get out to San Francisco one day. That's how I came to San Francisco. We're still best friends 40 years later! He's a real estate mogul, he has a design company, and he's doing extremely well."
What were you doing in Europe? Tell me about your travels there.
"I had traveled from Norway to Greece in that time. I worked in Greece as a model, I worked in Berlin ... I worked for the British Army, I worked for the American Army in a snack bar, I worked as a bouncer at a gay bar, where I met Peter Berlin, and I was going to school in Paris, studying French. I went from Norway, every major city, if I liked it I'd stop and look for work. The only kind of jobs I could get were singing, modeling, or doing TV commercials."
What was your TV commercial for?
"I did a TV commercial in Greece, for a company called Jamaica Chocolate Chip cookies. I was supposed to be a Jamaican selling cookies!"
What did you do when you first arrived in SF?
"I think when I first came, I worked for Rainbow Grocery, they had a General Store that I worked at. Then, later, I decided to sell flowers."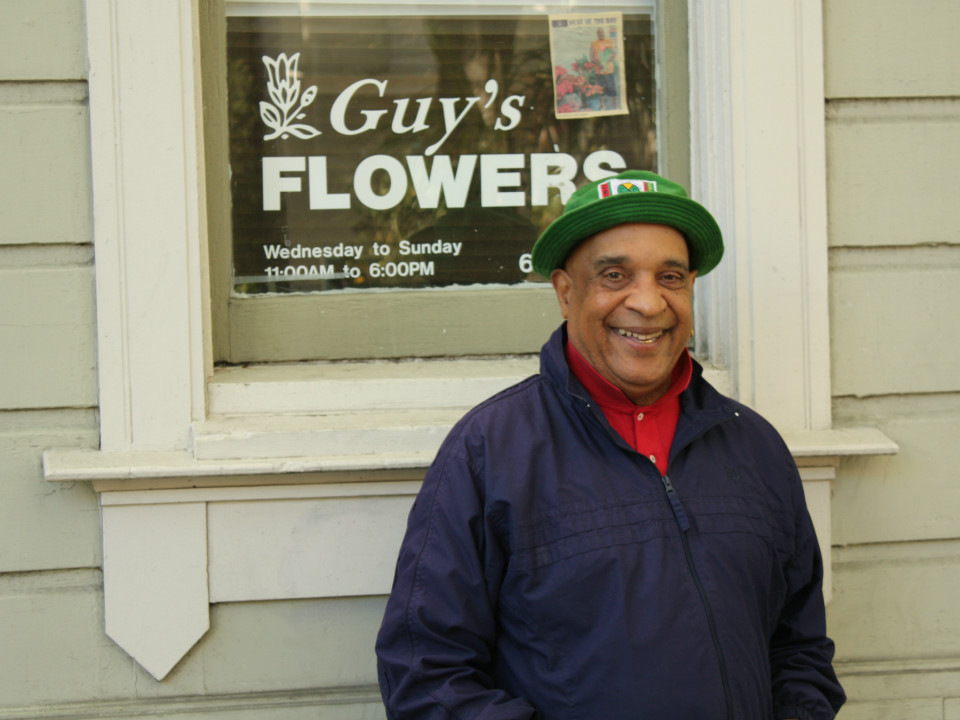 What was the city like when you first got here?
"I came to SF in the late '70s; AIDS was growing here in the city, and there were lots of changes ... an epidemic had taken over, and everybody was scrambling to survive. There was panic ... it was like a tsunami. We were trying to piece together what was here before, but so many people were dying, it was never gonna be the same. I knew hundreds of people who passed away. It was so devastating because no one was prepared for this. No one was prepared. No one was prepared for a funeral, for caskets, for casket flowers, for anything. We were just trying to help each other out."
Do you still keep in contact with your family?
"I have a brother who is passed, and a sister who is younger. She still lives in Baltimore, but we're estranged. When my mom died, I had a heart attack and then heart surgery. I was unaware of how sick I was. I had a doctor's appointment before I was going to fly, but they told me there was no way I could fly ... I went to the ER. I was in the hospital for the next week having surgery ... they buried my mother. My sister was very angry with me ... she was very homophobic ... she ended up disregarding the will and taking everything, even an account that my mom had established for me. I was so angry at my sister for being so greedy that we never spoke again. It was devastating. It was terrible."
Have you always been on this corner? At 15th and Noe?
Always on this corner, except for my first day. I started on Haight and Fillmore, and I was there with nine buckets, the second day I was there, the police came up, he sort of looked at me, and said, 'I don't know who you are, I like you, but you see that guy across the street at the flower shop? He doesn't like you.' A friend of mine came up, we put the flowers in the back of his pickup, and he came to Noe and 15th, and I said stop! Right here! This is it! At that time, it was just a corner… I said, I feel something here. And now I've been here for 35 years!
What was on the corner when you first got here?
"It used to be a women's health clinic. When I drove up in the car I went inside and asked if they wouldn't mind if I sold flowers outside. They had specimens of blood and poop and urine in the windows, and they said, 'It would be wonderful if you could sell flowers, look at what we're dealing with!' I went down to City Hall and got the permits, and I've been here ever since!"
What is your schedule like?
"I sell flowers Wednesday to Sunday, and usually about 9am to about 4pm. I have accounts on the side; I do bars, restaurants, banks, sometimes I do weddings. I don't like to do weddings and things like that, I'd rather for it to be short and simple. A wedding is a pretty big production."
How have you seen the neighborhood change?
"When I first got here, this was a black neighborhood. Most of these buildings were owned by black families. That has changed; I only know one black family that owns the same building in all these 35 years. All the others have gone from apartments to condos. The difference in people started happening; before there was a very diverse type of person that lived here, and now it's so homogenized. It's only, you know, white yuppies."
What is it like to see your regular customers grow up and change over the years?
"I feel like the uncle of the neighborhood! 35 years ago when I started, I remember babies at the time that now have their own kids! My cousin used to tease me and say that I was the Mayor ... I should ask for babies to kiss! I've even had my picture taken with one of the Mayors here on the corner. Art Agnos!"
Did you used to live around here?
"I used to live in that yellow building right there [on Noe], the yellow one the fourth from the corner. We lived there 28 years, but then we were served a notice that the apartments were being developed into condos. I was evicted four years ago. If I knew what I know now I wouldn't have moved ... just because someone has more money it doesn't mean that they can send half of San Francisco to some other place."
What did you do when you were evicted?
"I couch-surfed for a while… I hadn't had a roommate in 30 years, and then I had a roommate ... it didn't work out. I was homeless after I moved out of another place because my roommate crashed my car… I just couldn't find a reasonable place. David Weissman [the filmmaker of 'We Were Here'] had asked me how my living conditions was. I told David that I was going to the bridge. It's not that I don't' have money I couldn't find anything. I could get a one bedroom for $350 in this neighborhood; 25 years later, there's nothing available. David had a studio in his building, that was $800 ... I lived there a year or so, then my number came up with San Francisco housing. I was on a listing for government housing and finally it came through. Now I've been there for three years."
What have you learned about the world, about yourself from these experiences?
"The lesson that I learned from losing my house and downsizing, and losing my family, helped me with life in general. What's important, what's not. All the material things were not important anymore. What was important was being able to survive on what I was doing. On what I had. On the flower stand."
How have you adjusted to these changes?
"I used to be bitter about losing my home, but I've tried to embrace the whole transition. It brought me to my senses; I realized that I had more than I needed ... cars, motorcycles, canoe, I was very material. When I had to move, I went to the other end of the spectrum. I became non-material. I was getting rid of almost all of my things that I had hoarded over the years. It was junk. It was too much. Then I started realizing what I really needed in life ... it was that less was best. "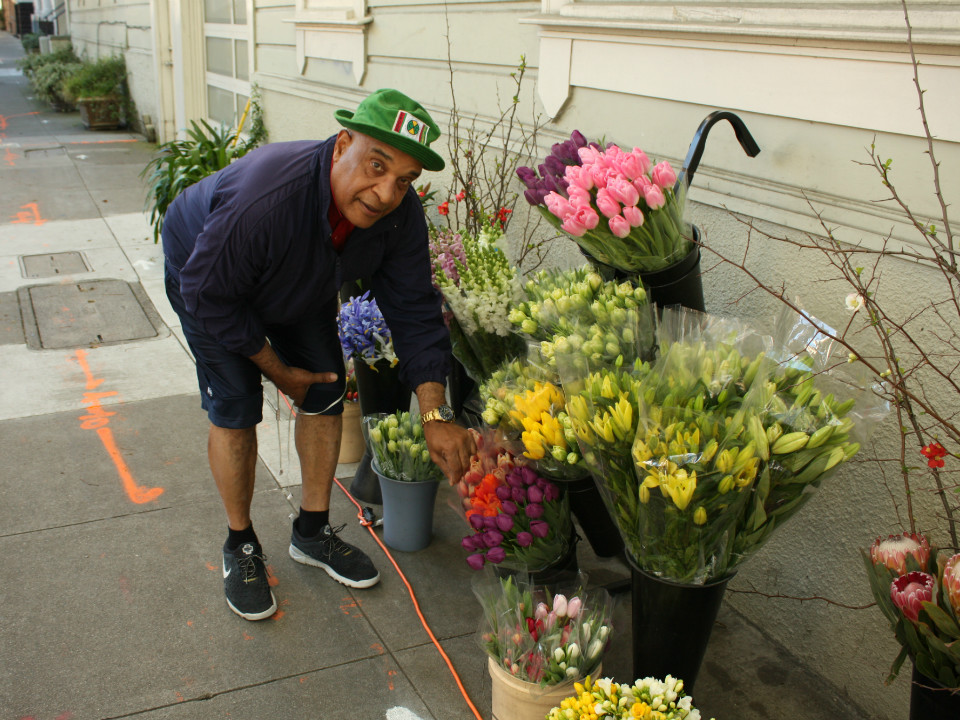 What's your favorite part about selling flowers?
"The flowers. The beauty of them. The different seasons, the different varieties."
What is your favorite flower?
"The peony is my favorite; tulips are my favorite; lilacs are my favorite."
What's your most popular seller?
"Tulips are very popular; most flowers you can now purchase year-round because of hothouses."
Any famous clients?
"I've sold flowers to Bobby McFerrin [of 'Don't Worry, Be Happy' fame] ... Sylvester used to buy flowers from me ... Robin Williams' wife used to buy flowers from me ... Mark Leno, several others."
What's your favorite part of SF? What keeps you here?
"My favorite part of San Francisco is the visual. The visual of San Francisco ... the vistas, the weather. It used to be OK with the police, but now it's completely different."
What do you mean by that?
"The other day I was pulled over by police and had guns at my head. I was coming here with my flowers at 5 o'clock in the morning. They pulled me over, they had me down on the ground, they had guns at my head, and they told me my lights were out. They made me get down on the street with my palms up, asking me questions like, 'are you a diabetic? Did you shoot up this morning?' They asked all kinds of crazy questions. My dad was a retired police sergeant. These guys were using excessive force. When they told me my lights were out, I thought, this is a Zipcar! When you turn it on, everything comes on ... it has sensors to turn the lights on. I didn't want to argue with the policeman, but they ended up giving me a ticket for $230, or traffic school for 8 hours, or to go to court. I chose court, because I need to explain, to tell my story, and to get it out that they used excessive force. This is ridiculous! I'm a 65-year-old man, and this is a little bit too much. My court date is April 7th."
[Update: In April, Guy's court date was scheduled for June 6th. We'll keep readers posted.]
What's some advice you'd give to anyone going through a transition in their life right now?
"I just would like people to realize that there may come a time when you lose your home or your job, but don't give up hope. Somehow we seem to survive. Not in the same capacity, but in a better one."