Reminiscent of the apocryphal story about a dog eating a child's homework, a customer recently returned a mangled suitcase to the Castro's Michael Bruno Luggage shop, with a similar story. 
Lou Briasco, owner and operator of the shop at 2267 Market St. for the past 33 years, had told the customer that the manufacturer, Briggs & Riley, had "the best warranty in the business."
"I thought we were kind of pushing it," said Briasco, "but I consider myself the advocate for the customer so I mailed it back and thought, 'Okay, let's see what they might do for us,'" he explained. 
"And what do you know? They sent us a new suitcase," he said, and both the shop and the manufacturer "got a customer for life."
That's how Briasco has done business in the Castro since he arrived here in 1982, when a friend named Michael convinced him that the Castro needed a luggage shop. Michael, a nurse, backed out of a plan to go into partnership in a luggage store, but Lou was so grateful for the suggestion that he combined his friend's first name with his own middle name, Bruno, to name the store.
Briasco's business plan has remained the same. "Great customer service and great prices ... it's really that simple," he says. While taste and styles have changed over the years (hard-sided attache cases are gone, leather is no longer very popular), Briasco has always emphasized the importance of buying a product with a good warranty, like Briggs & Riley or Eagle Creek.
For customers looking for an "inexpensive" bag, Briasco is happy to show them a wide variety of lower-priced items. "I never steer someone to a more expensive product, unless I feel that's what they're really looking for. I want you to have something that is going to outlive you," he says. 
Of course, he is also an expert at explaining the pros and cons of various sizes and shapes, and what features work best for a customer's travel needs. And while the color of your suitcase may seem to be simply a matter of taste, Briasco explains why black may not be a practical choice. "Easier to steal," he says. "Everyone has black. It doesn't get noticed,"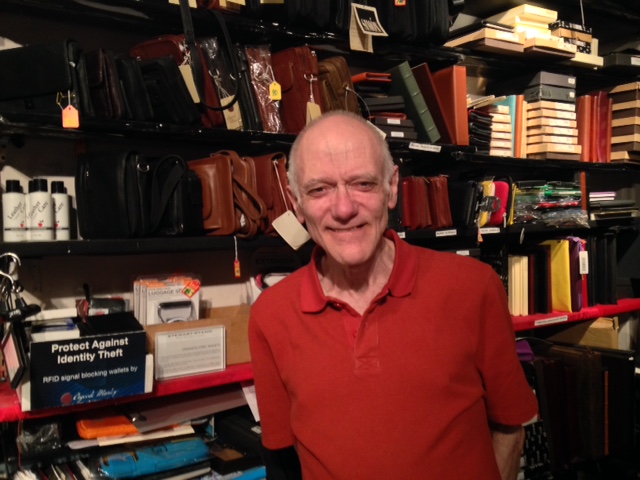 Briasco, 67, grew up in Boston, where his family owned a neighborhood grocery. After earning a bachelor's degree from Bowdoin College,  Briasco got a master's degree from Brown in 19th and 20th century European diplomatic history. For eight years, he worked in the alumni office and lectured in the history department. "I loved teaching and hated the politics" at the school, he said. 
Wanting to take a break from the academic world, Briasco looked for a job in Boston, while he debated his next career move. He applied for work at a luggage shop, where the owner looked at his resume and told him, "This will be a step down for you." But Briasco explained that he saw it as "a step in another direction," a decision he says has paid off many times over.
After two years working in Boston, during which time he made several visits to San Francisco, Briasco decided it was time to move west. The past 30 years have been "up and down," said Briasco, repeatedly praising his late landlord Ron Basemer, who gave him several rent reductions over the years to get him through economic downturns. 
When the economy soured in 2011, there were "tremendous changes" in the business, Briasco said, pointing out that some 60 luggage stores in Northern California went out of business. As it became obvious that an increasing number of customers preferred to shop online, Briasco cut prices to compete—and often beat—their discounts.
He also adjusted his product line, including more cases to accommodate laptops and tablets, while continuing to sell a wide variety of picture frames, including custom framing. He carries a number of gift items, including framed photos of the F-Market line vintage streetcars, which have been particularly popular with tourists. Of these, he donates 20 percent of each sale to the Market Street Railway project, and over the years has donated over $6,000 to the nonprofit.
As he enters his 34th year in the luggage business in San Francisco, Briasco remains "guardedly optimistic" about the future. Lou and his dog Eurydice staff the store six days a week, and try to accommodate customers by appointment as well. Earlier this year, the rent was increased by 30 percent, from $3,700 to $5,000, he said.
The new "technology crowd," as he refers to the new residents of the expensive condominiums in the neighborhood, "aren't used to giving their business to the local guy," he said. For that reason, he is careful to keep his prices competitive with the online sources he knows they use.
"Sometimes, they'll come in to look at something they intend to purchase online," he says. "Then they look at my price and say ... "Hey, you're cheaper than Amazon."
"Yes, we are," he says. "It's still better to make a little something than nothing at all."