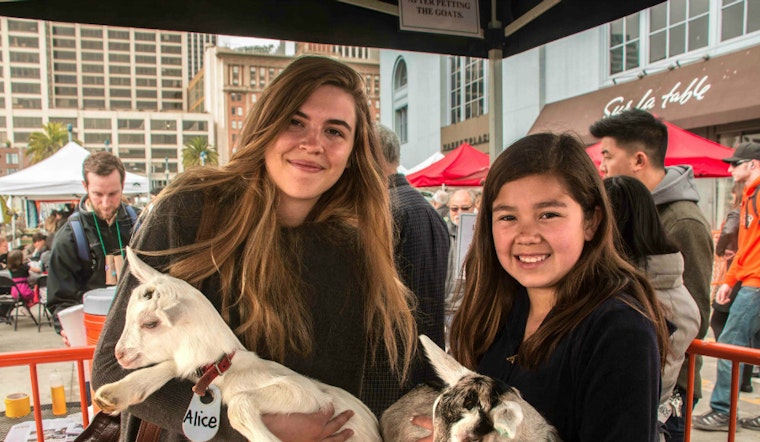 Published on April 16, 2015
In a textbook case of going viral, the seventh annual Goat Festival at the Ferry Plaza Farmers Market, slated for Saturday, unexpectedly became an international Internet sensation dubbed "Goatchella."
Maybe it was because Coachella, running around the same time, was on everyone's mind. Maybe it's because this is the Year of the Goat. Maybe it was spring fever, or a slow news day. For whatever reason, people pounced on the idea, and goat puns—more than anyone probably knew possible—proliferated on the Goat Festival Facebook page.
Graphic: imgflip.com
Before long, people were asking if Goatye, Göatorhead or Hall & Goats would be playing. They created fake polls with questions like, "How many goats need to be at GoatFest 2015?" (Answers: Infinity; 1 BILLION GOATS; None. Goats are in your mind.) They created dozens of memes, including one reading, "Get ready to GOATFESTIVAL," featuring a goat airborne on a motorcycle in a ball of fire.
Marcy Coburn, executive director of the Center for Urban Education about Sustainable Agriculture (CUESA), which runs the market and associated education programs, was flabbergasted. "We were are surprised as everyone else that pretty much overnight, it went from 100 people who had joined the group to over 2,000," she said. By April 1st, 5,000 had joined, and as of April 15th, numbers were up to 16,000.
Local media picked up on the sensation by April 1st, making it appear as though it was an April Fool's Day joke, but it actually began March 30th, Coburn said. And CUESA quickly spotted an opportunity and happily joined the fun. "Our social media person, Brie [Mazurek] started chiming in and contributing," she said. "We put out a call for people to BYOG—bring your own goat—because we thought we wouldn't have enough goats."
Before long, Coburn added, "Someone on our Facebook page named it Goatchella and started using the hash tag." CUESA is printing up T-shirts and buttons that say "#Goatchella" for the event. They also created "Your #Goatchella Survival Guide" on the CUESA website with adorable photos and tips like, "9. Do not kiss the goats. We know they are achingly adorable, but please resist the urge. If you were a mama goat, would you want some stranger kissing your kid? Plus, the Department of Public Health strictly forbids it."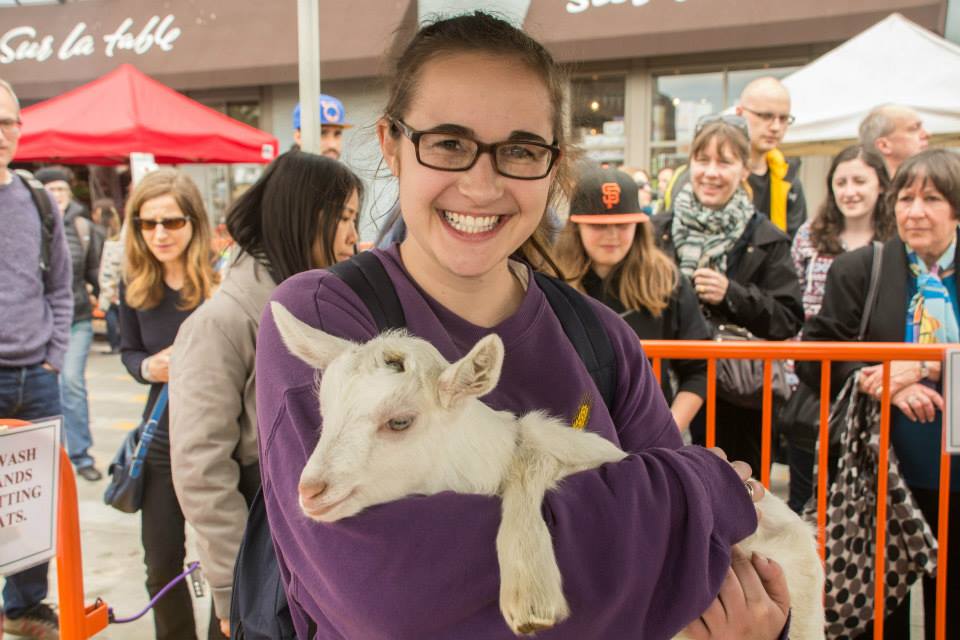 Photo: Jenny Barr
Average attendance at the Saturday farmers market this time of year is about 10,000, Coburn said. "We are anticipating that many people will be coming plus a few thousand people coming for the goats. We are hoping that the 16,000 who have joined our Facebook page will not be coming to see the goats."
They do expect larger than normal crowds, though, and are ready for them. Security will be beefed up, she said, and "CUESA is all hands on deck in terms of having our full team here. We've been having goat festival war room talks. We're ready to handle the crowds."
The festival is free except for a goat cheese tasting that's already sold out. You'll be able to play with baby goats from the San Francisco School and Toluma Farms at the petting stable in the south driveway near Sur La Table, and take pictures with goats in front of idyllic backdrops from 10am–1pm. Meet the the San Francisco Milk Maid, Louella Hill, and learn more about the California Artisan Cheese Guild at the CUESA classroom from 8am–2pm.
Many of the market's artisan food vendors will feature goat-inspired creations, mostly using goat cheese, except for the goat and pepper sausages and goat meat from 4505 Meats and the free goat sausage cooking demo at noon with John Stewart-Streit of Hog's Apothecary. (Sorry, vegetarians—they may be cute as a button, but they're good eatin' for some folks.)