The San Francisco Zanshin Center at 640 Stanyan St. has recently expanded its class offerings to include yoga classes on both Monday and Wednesday mornings. But just what else goes on at the Stanyan Street center?
We talked with Zanshin Center owner Mirko Buchwald and yoga instructor Sydney Leto to learn more about the center's history, classes, and the benefits of a karate or yoga practice.
When the Zanshin Center opened seven years ago, it was primarily a yoga studio with a few karate classes for kids. The space mostly operated as a satellite location for owner Mirko Buchwald's other dojo center in the Inner Richmond.
When that location shut down three or four years ago, the Zanshin Center began transitioning to a martial arts studio focus, and it now offers a wide variety of classes for those ranging in age from 4 to 64. There are programs for youngsters aged 4-7, a kids program for ages 7-12, and an adults program that also includes teenagers.
New members can join for a two-month trial program at $149 (including a uniform) and try out any number of classes offered at the studio, including tai chi, capoeira, circus contortion, judo, and jiu-jitsu. The studio is also a member of the international Okinawa Goju Ryu Karate-do Federation, which means that students can take classes at any other dojo in the federation when they travel.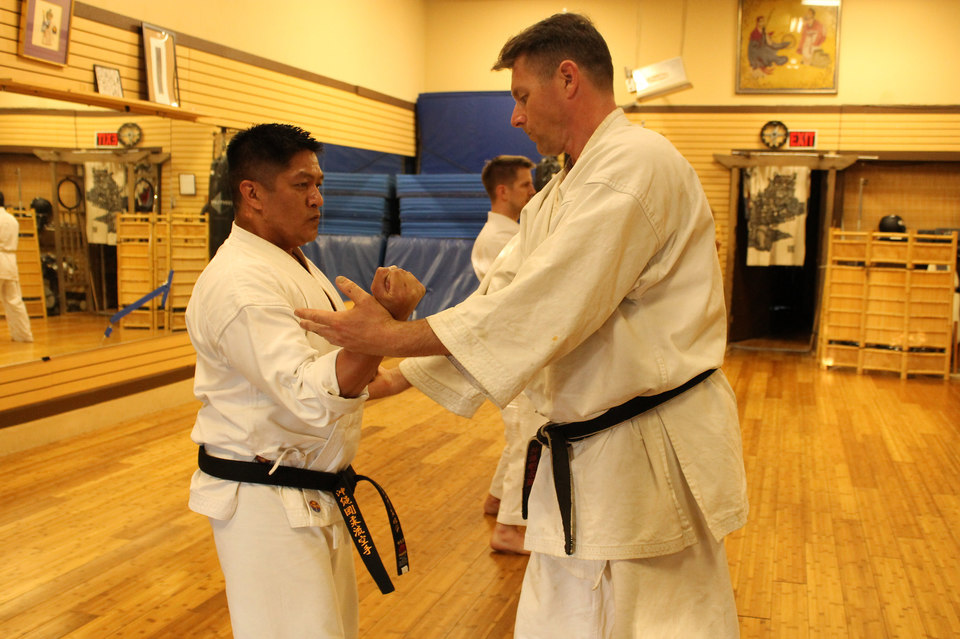 Mirko is an instructor in the goju-ryu style of karate, which translates to hard soft. He began karate classes when he was 10 years ago after watching the David Carradine television series "Kung Fu" (Carradine is better known with the younger generation set as Bill in the Kill Bill movies).  At first his parents disapproved, thinking that karate was violent, and Mirko paid for classes himself with his allowance.
Now that he's been practicing for 30 years and teaching in San Francisco since 1997, he has built a sense of community at the Zanshin Center for both himself and his students, noting that the practice and center "can be a real constant in their lives."
Recently, the Zanshin Center reintroduced yoga classes with Sydney Leto, who recently received her 200 hour training certificate from Yoga Garden on Divisadero. Sydney moved to San Francisco in May 2014 after graduation to work in the wine and restaurant industry, but found that the hours and work made it hard to promote a healthy lifestyle. After taking time off to travel, Sydney returned to the city to focus on yoga.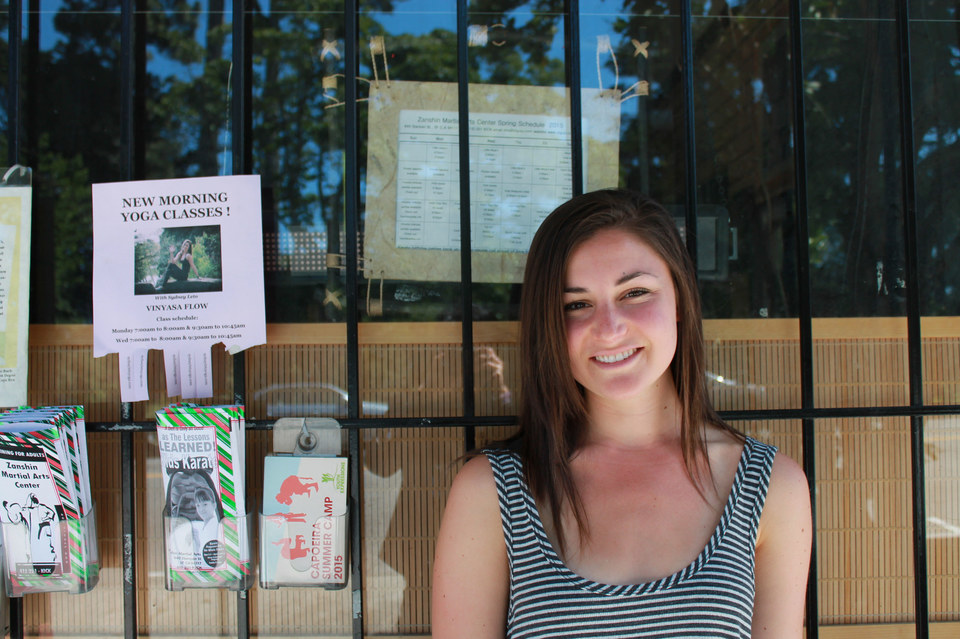 Her 7am-8am classes will focus on a power flow movements, sun salutations, and strengthening movements, she said. The class will be quicker and sweatier than the 9:30am-10:45am Vinyasa classes, which will focus on sequences, increasing flexibility, concentration, and strength. 
Sydney stresses that both the Monday and Wednesday classes are geared toward all levels, including beginners. Meant to be non-intimidating and to offer the benefits of a regular routine, her classes are a way to regularly "weave in mindfulness and intention", but are "not focused on the religious aspects of yoga," she says. In other words, less chanting, om-ing and Sanskrit.
In the future and depending on student request, Sydney hopes to add evening classes by the end of May and June, and possibly a midday classes for the lunch crowd. She's also expanding into classes with musicians, such as an evening class on May 3rd from 7:15 to 8:30 that will feature live acoustic guitar by Aviad Haimi-Cohen.
Drop-in classes are $18 each, and a 3-class pass ($45) and 5-class pass ($75) are also available, as well as private sessions. Sydney recommends bringing a towel, water, and a light sweatshirt for class. 
Both Mirko and Sydney stress the mental benefits that a long-term karate or yoga practice can provide, as well as the physical ones. Mirko notes that the the kids learn many life skills including discipline, confidence, focus, and working with others from karate. For adults, he notes multiple benefits, including the self defense element and physical rewards such as "improving your flexibility and finding your center line." "Ultimately," he says, "it's about finding an intrinsic sense of movement like when you were a kid."
Sydney also notes the mental benefits of yoga. "It can be hard for people to slow down and the classes are a way to create time that is regular and for yourself," she says. In her classes, you should "be prepared to have fun and not take yourself so seriously."