Courtney's Produce isn't your typical corner store. Over the past 45 years, spanning multiple generations, the family-owned store has developed a successful business on the corner of Castro and 14th by providing fresh food options ranging from sandwiches, salads and juice to produce, fruit, dry goods and even fresh-cut flowers.
Started in the Haight in 1969 by Irish immigrant Patrick Courtney (aka Paddy Joe), Courtney Produce is now run on a day-to-day basis by his great-nephew, 31-year-old Andrew Courtney. Hoodline spoke with Andrew Courtney about the history of the store, its importance to the neighborhood and what he's got planned for the future.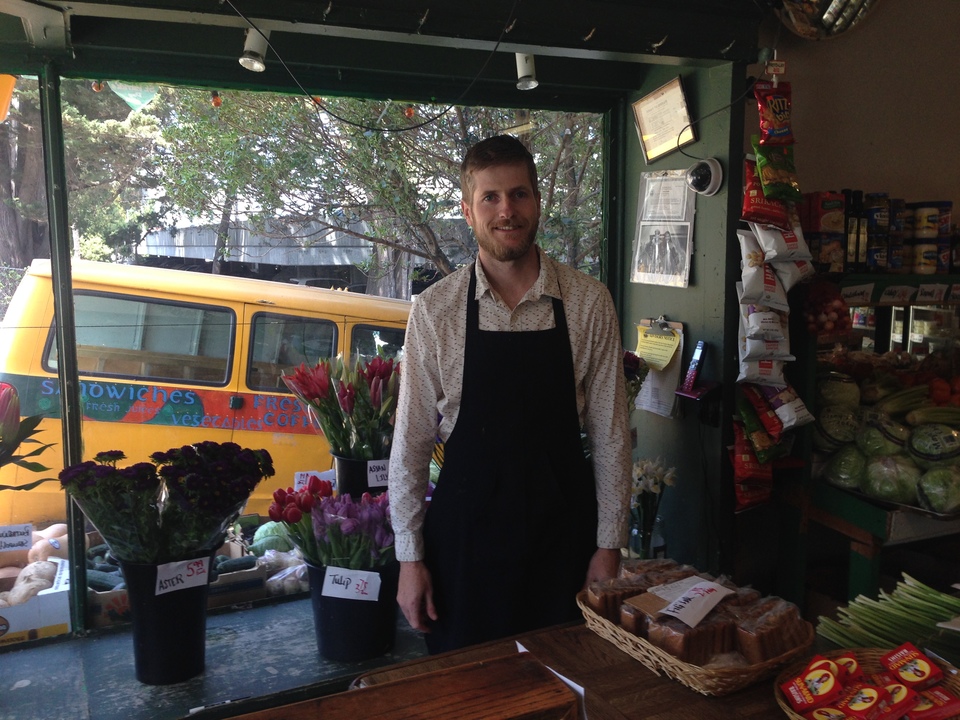 How did Courtney's Produce get started?
"Courtney's Produce was started by Patrick and Lola Courtney. The first iteration was called 'Farmer's Produce' and they opened in the Upper Haight in October of 1969. You can imagine what a produce store in the Haight must have been like during those times—one of the first fliers advertising the store was glow-in-the-dark. The current location at 14th and Castro opened in 1971.
How did your great-uncle and grandfather end up in San Francisco selling produce?
"Patrick was born in County Kerry, Ireland, in a very rural environment. Everything they ate was food they grew as a family. Patrick and my grandfather arrived in New York as young men in the mid 1940s and found jobs working for an Italian grocer. They both have told me that during those initial years they really resented being sent to the US and thought their lives would be better had they not left Ireland.
"As the story goes, some years passed in New York, and one Saturday night after some pints at the Irish Cultural Center, Patrick and my grandfather convinced another Irish lad who had just bought a car that they should drive to California. The next morning they set off. When they landed in Southern California they again found themselves selling produce, this time in better weather. Eventually another brother joined them in LA. Two brothers stayed in the Pasadena area managing produce departments at Ralphs stores while Patrick headed to SF to start this venture."
Courtney's Produce has been in your family since before you were born. Have you always planned on working at the store?
"I grew up in Pasadena where my parents had a bakery inside of a neighborhood market. I've been selling fresh food since I was tall enough to see over the counter. From a young age I came to SF every summer with my grandpa (Patrick's brother) to help with Courtney's while Patrick and Lola spent time in Ireland.
"I graduated from UC San Diego with a B.A. in Political Science in 2006, and worked as an investment analyst (started with real estate acquisitions in 2005 and moved into hedge fund segment in 2007) for four years before moving to SF in 2009 to fulfill my love affair with this city and our store while pursuing my MBA, which I received from SF State in 2012. While Patrick remains responsible for produce buying and Lola controls bookkeeping, Paul Xie and I run the store on a day to day basis with the help of seven other employees. You can find me in the store seven days a week except when the Niners are playing."
Where do you get your produce and flowers from?
"'Local, local, local'. That's what everyone wants to hear. Sure, we buy everything local when it is in season, but I can't help but roll my eyes when someone asks 'Is all your produce local?' when we have bananas, mangoes and pineapples on display. Specifically, we buy all our produce and flowers in San Francisco. We mix organic and conventional produce in our buying to remain nimble and maintain negotiating power as well as to satisfy our spectrum of customers. We have some people who buy only organic from us and others who think that organic is a hoax. All the money we collect from sales is redistributed in some fashion here: Our wholesalers are Bay Area family-owned businesses and all of our current employees live here in SF."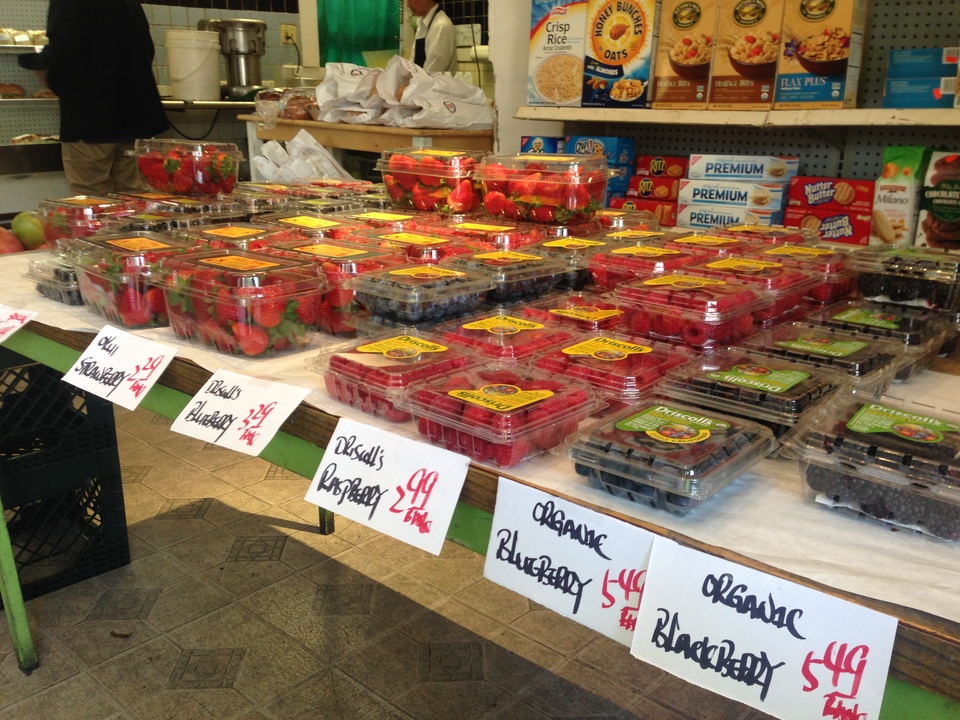 What are some of your more popular items?
"On a Saturday in March we made more than 1,200 sandwiches in one day (more than 900 for the SF nonprofit group Support for Families with Disabilities). We sell a lot of fresh juice—a couple hundred bottles a day. When it gets down to it, in terms of popularity, it is all about the PB&J. We ruin peoples' day when we sell out."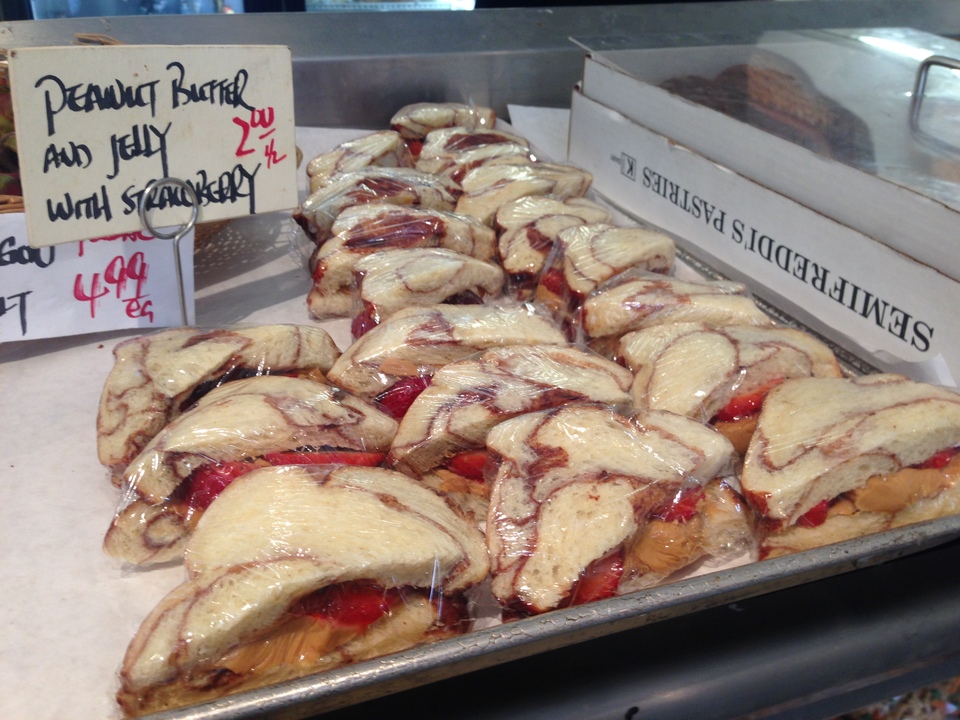 Do you prepare everything daily?
"Everything is made daily. It's the only way. If you ask any of our regular sandwich and juice customers to describe our store, without fail you will hear the adjective 'fresh'. We have fresh bread delivered to the store every day and visit the produce markets for fresh ingredients daily."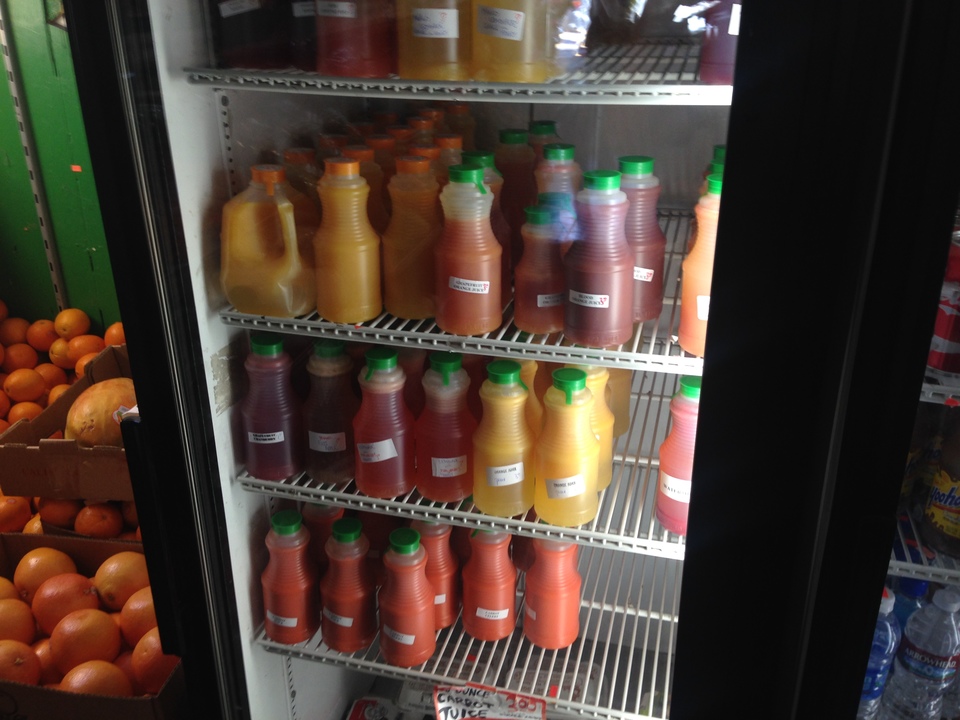 What's kept Courtney's Produce in the Castro/Duboce Triangle neighborhood?
"It has to start with the people. In general I think outsiders have a misconception of cities being bustling and impersonal. Meanwhile, nine out of ten customers on any given day are people we know well. With so many friendly and talented people around it is easy to feel at home and happy here.
"In her book The Death and Life of Great American Cities, Jane Jacobs discusses how residents' and proprietors' activity on the sidewalk contributes to safer neighborhoods. I think busy stores like ours with long business hours selling wholesome goods really do help mitigate some of the disorderly conduct that is prevalent in our society."
There's one item in particular that is noticeably absent from your shelves: alcohol. What's the reason for not selling beer and  wine when pretty much every corner store does?
"Even though beer and wine are generally the profit center for stores like ours we are not interested. We like having windows without iron bars on them. We see the world from a volume perspective while others see it from a perspective of margins. We are willing to let other people sell the high margin goods while we are busy selling staples that everyone needs."
Parked outside your store is the Courtney Produce van. Could you tell us about the paint job and how you got it?
"Paddy Joe bought the van used from a flower grower in Half Moon Bay about 25 years ago and had it painted bright yellow. He had traditional Irish animals painted on the side as a nod to his childhood in his homeland. He tells me the first comment he heard after the van was finished being painted was that it was nice but looked like a child had done the work. He knew that they had got it just right."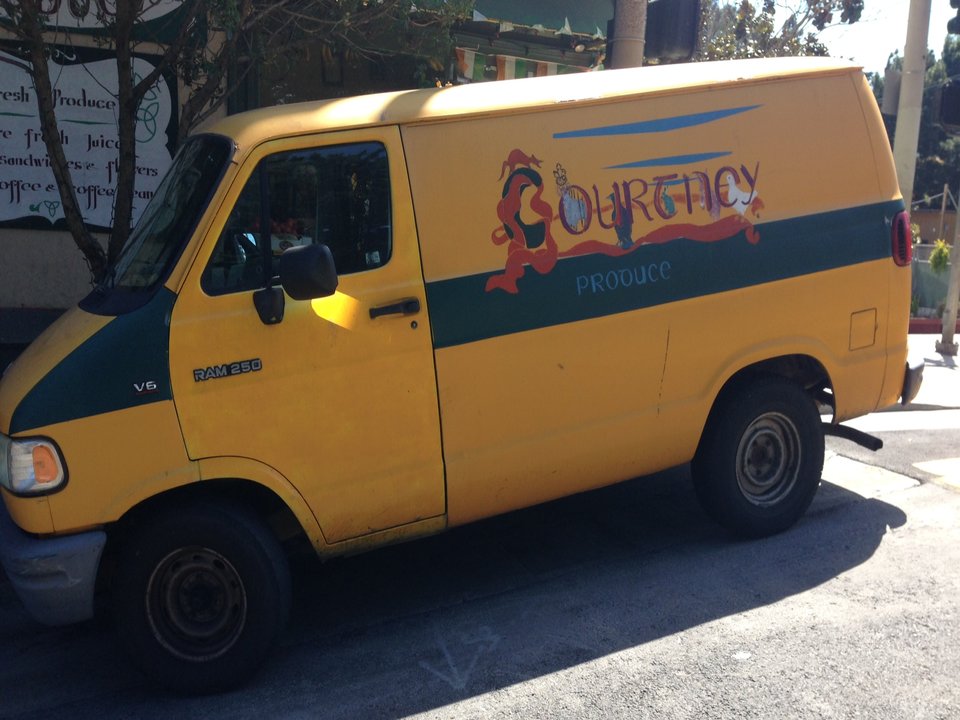 Last year when we spoke with
local crossing guard Howard Johnson
, he told us that both he and your great-uncle are Korean War veterans. What sort of relationship have they developed from working across the street from one another?
"Paddy Joe and Howard served in Korea and now happen to share the same corner during the McKinley school year. Every morning, Howard brings the newspaper over for Lola and picks up a cup of coffee on the house. This corner wouldn't be the same without them. If you see those two walking around doing their job every day it is hard to imagine that they are approaching 90 years of age. In my opinion it shows the value of maintaining interest in a career even late in life; no matter how humble that job might be it's a blessing."
Do you plan on continuing the tradition of running Courtney's Produce and keeping it open long into the future? 
"We feel a great sense of responsibility to make the store go every day. The idea of Courtney's not being at 14th and Castro gets my blood boiling a little bit. With luck we will be here for a long time. We've got a really good team of employees, many of whom have been here 10-20 years. It takes about six or seven shifts per day to make the store run smoothly, which is another thing that makes us different than other corner stores.  Currently we are looking for help in the afternoons. We have a neighbor who's been working in the store while going to high school who's graduating and going to be off to college in the fall, and we're looking to fill his spot. With my wife and I expecting our first child later this month we could really use the extra help at the front desk while I make juice and close the store."
If you're looking to grab a quick snack or are looking to pick up a work shift, stop by the store—but if you have your sights set on a PB&J sandwich, make sure you get there early. Hours are 6am-8pm daily.