Fellow Barber is bringing its masculine cuts — and potentially long lines — to the ever-changing Mid-Market corridor next month with a new location at 973 Market St. in the historic Wilson Building. While construction crews from Dreamt Design have been quietly renovating the ground-floor retail space for months, Fellow Barber recently ended the mystery with "Coming Soon" and "Now Hiring" signs in the window.
According to the company's website, the location is slated to open in mid-June and will join the Mission location, which celebrated its fourth anniversary at 696 Valencia St. earlier this month. Fellow Barber also operates three New York locations and one in Detroit.
Prices at the new spot will be the same as the Mission location, running $45 for a haircut, $18 for a beard trim, $50 for a straight razor shave and $85 for a shave-and-a-haircut. A PR rep also let us know that they're still in the build-out phase, but hope to share more details soon.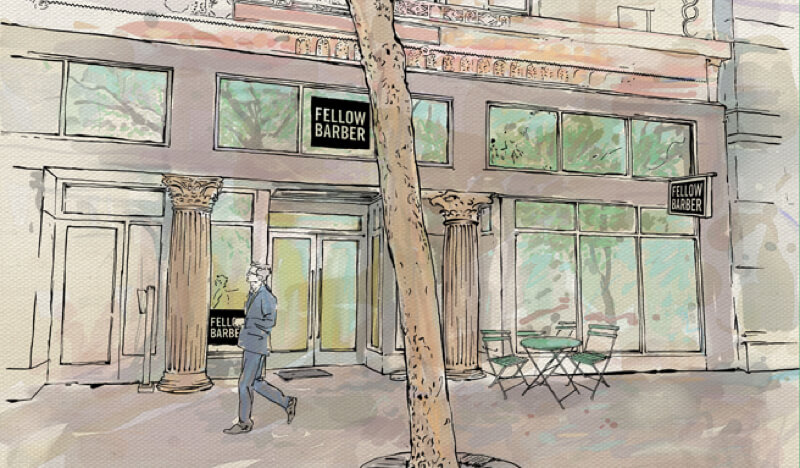 Rendering of Fellow Barber's new Mid-Market location (Image: Fellow Barber)
Fellow Barber will join a handful of new businesses that have set up shop around 6th and Market. The Wilson opened to residents last July after a decade-long effort to revitalize the 100-year-old building. It sits right next-door to the event space The Village, which opened last summer as well, and two doors down from the construction site for Market Street Place, which is expected to open next fall. Equator Cafe is right across the street and the new Chai Bar is less than a block away, between 6th and 7th streets.
June is just around the corner, so we'll keep an eye on the construction and keep you updated on the shop's plans for the space and when the queue for cuts and shaves will officially begin.