A large-scale mural is in the process of being installed on Olive Street at Polk, but the medium is an unusual one: collage. Paper, wheat paste, paint and varnish are all materials being used to cover the 3,000-square-foot wall with art, and the project is getting closer to completion with each passing day.
Artist John Vochatzer describes his work, and in particular this piece, as "juxtaposing world culture and religions." One figure in the new mural is a mashup of the Hindu goddess Saraswati, mixed with the monkey legs of Hanuman. Another is a renaissance-influenced Medusa, and a third resembles Queen Elizabeth I, but with frog eyes and bat wings. Art history majors or enthusiasts may relate his work to that of 15th century artist Hieronymus Bosch, who also worked in a dense fantastical style that referenced animals and religion.
The location is a spot that's particularly familiar to the artist. John is the night manager at the Mitchell Brother's O'Farrell Theatre, a strip club right around the corner. The wall he's using as a canvas is actually the back of the theatre, offered up by the owner for John's artistic use.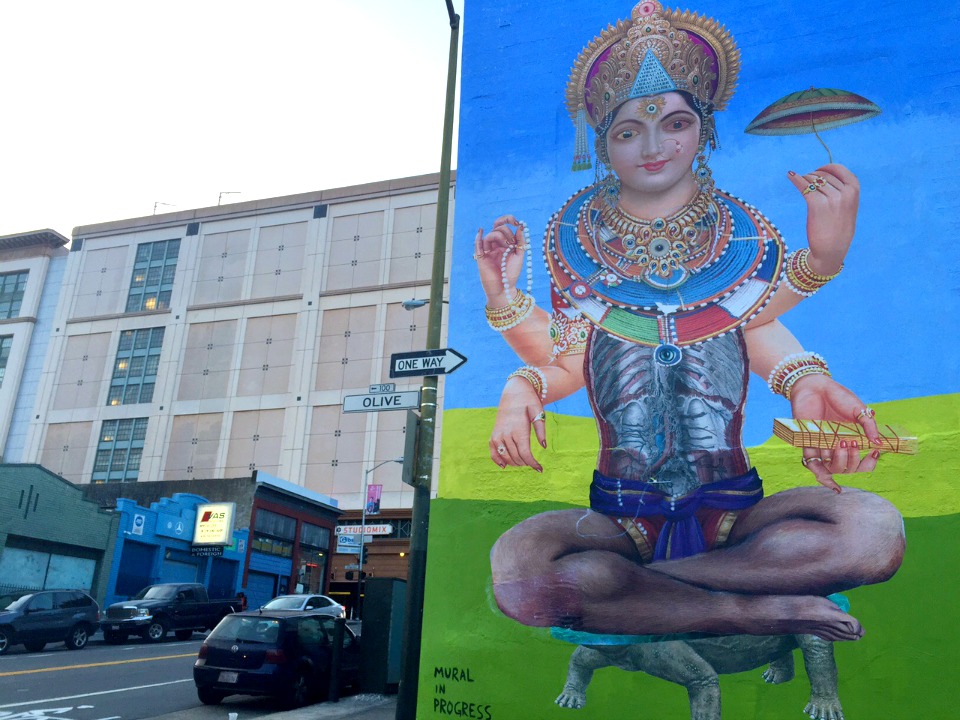 (Photo: Nuala Sawyer / Hoodline)
This mural is by far the largest piece that John has ever worked on: up until now, the biggest artwork he'd created was about five feet long. At first the wall seemed like too big of a project, but John admits that his ambition kicked in and he couldn't resist the challenge. 
And challenge it was (and is). Each collage began as a version about 20 times smaller than the final mural size. High-resolution scans were taken of the pieces, which were then blown up and printed. "I set up a hipster sweatshop in the garage across the street," said John, who invited his friends to come help him cut out each piece and prep it for the wall. (You can see some of the progress on his Instagram.)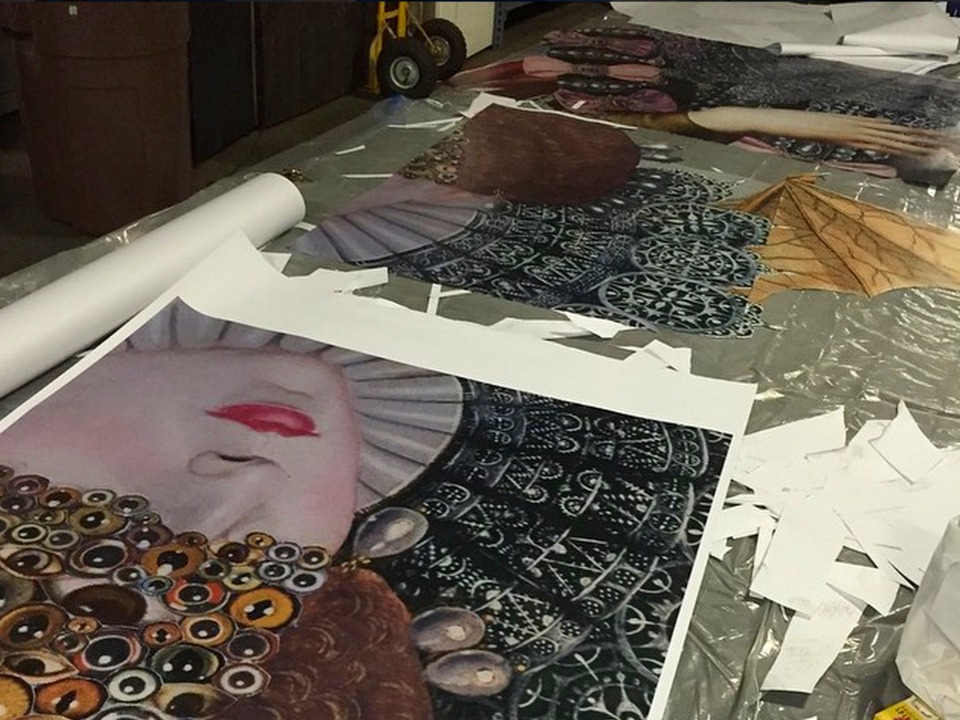 (Photo: John Vochatzer)
Once each piece of the collage was cut out, it was wheat-pasted onto the wall. After the background of the four figures is painted in with butterflies, foliage, fish with wings and UFOs, the whole wall will be treated with a graffiti- resistant UV-protecting varnish (which, just to make things more difficult, has to be applied with a paintbrush). 
As this is John's first large-scale piece, he's recruited the help of street artist D Young V to advise on wheat pasting techniques and process. "He helps me keep calm and find solutions," John says. O'Farrell Theatre has also lent the team an intern, Mark Jr., to help where he can.
Until the final varnish is applied, the mural is particularly vulnerable to vandalism. With that in mind, security has been hired to watch over the wall from 9:30pm to 5:30am—and when security is not around, John is.
If you're interested in seeing the mural being installed, swing by sometime over the next few days to catch John working on it. And if you're curious about his other artwork, stop by The Loin tomorrow during Open Late On Larkin to catch the art show Serial Killer Ketamine Orgy, which John created with friend Galen Rivers while working the late-night box office shift at the club.