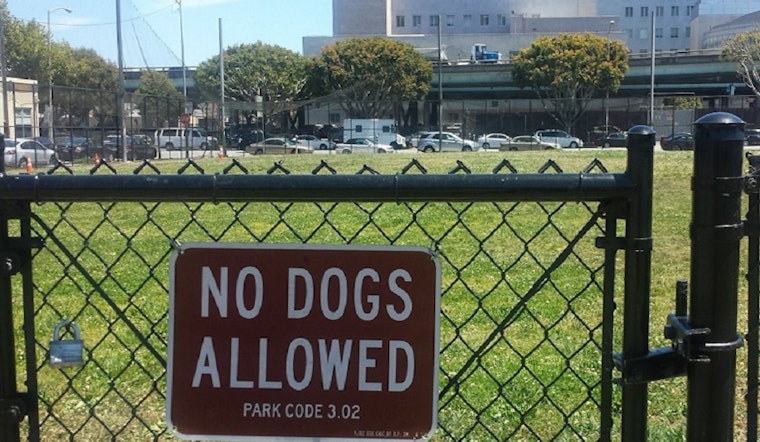 Published on June 22, 2015
Back in January, the San Francisco Recreation and Parks Department fenced off an athletic field at Victoria Manalo Draves Park at Folsom and Sherman Streets, where many locals brought their dogs to play. A group of SoMa dog owners responded by creating a petition to designate an off-leash dog play area at the park. In two months, the petition has garnered 455 signatures, though the official process to designate a dog park has not yet been initiated.
"It's important to dogs to have an off-leash play and run area, for exercise and fun," said local Judith Vorreuter, who created the petition with fellow SoMa neighbor Lili Balfour. Vorreuter takes Opie, her white pitbull/husky mix, to the park five to six days a week. She says some dog owners even take their dogs to the park two or three times a day.
According to Vorreuter, many of the dog owners that frequent the park would rather not drive or walk to another SoMa dog park. The other dog parks in SoMa are located in Mission Creek, Rincon Hill, and SoMa West, all of which are a 20-25 minute walk from Draves Park.

"It would be nicer to have this as a dog park, because I have to walk to two different parks which are really out of the way just to get her out and running around," said SoMa resident Joshua Osburn, who lives two blocks away from Draves Park, and brings his dog, Sasha, for a walk there every day.