With warm sunny days on the horizon, there's no shortage of things going on in SoMa to get you out this weekend. That's especially true for Saturday, which has four outdoor events to choose from: the Yerba Buena Kids Club in Alice Street Plaza, a cannabis bake sale in the SoMa StrEat Park, Latin jazz in Yerba Buena Gardens by artist Dafnis Prieto Sextet and a free showing of Jurassic Park in Victoria Manalo Draves Park.
Read on for a full rundown of this weekend's festivities and let us know in the comments if there's something you'd like to add.
Friday, June 12th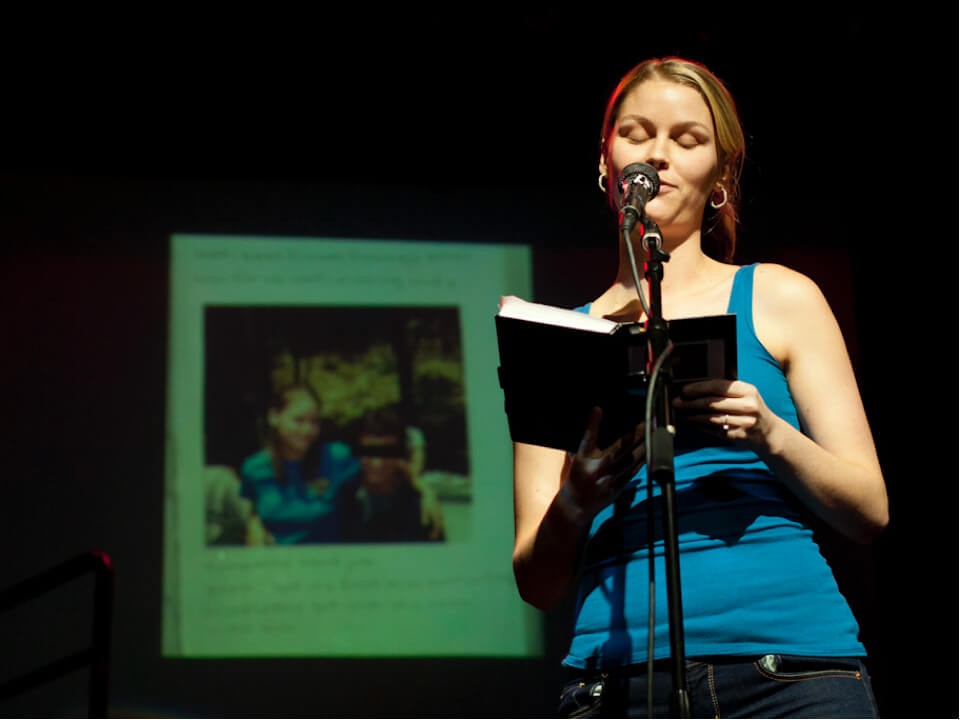 A Mortified reader baring it all for a room full of strangers. (Photo: DNA Lounge)
Radical Presence: Black Performance in Contemporary Art – 7pm, Yerba Buena Center for the Arts (701 Mission St). Debuting for YBCA members only, this exhibition examines the past five decades of performance art by black visual artists from the United States and the Caribbean.
Mortified — 7pm, DNA Lounge. Two hours of gut-wrenching angst straight from the diaries of former teens.
Zero F*cks Presents House of Bass — 9pm, Public Works (161 Erie St.). Dance away a week's worth of worries with modern house and bass music. Free with advance RSVP.
Tighter, Brighter, Prouder —10pm, Mighty. A big gay dance party with seven DJs, hosted by Burning Man camp Mystopia.
Saturday, June 13th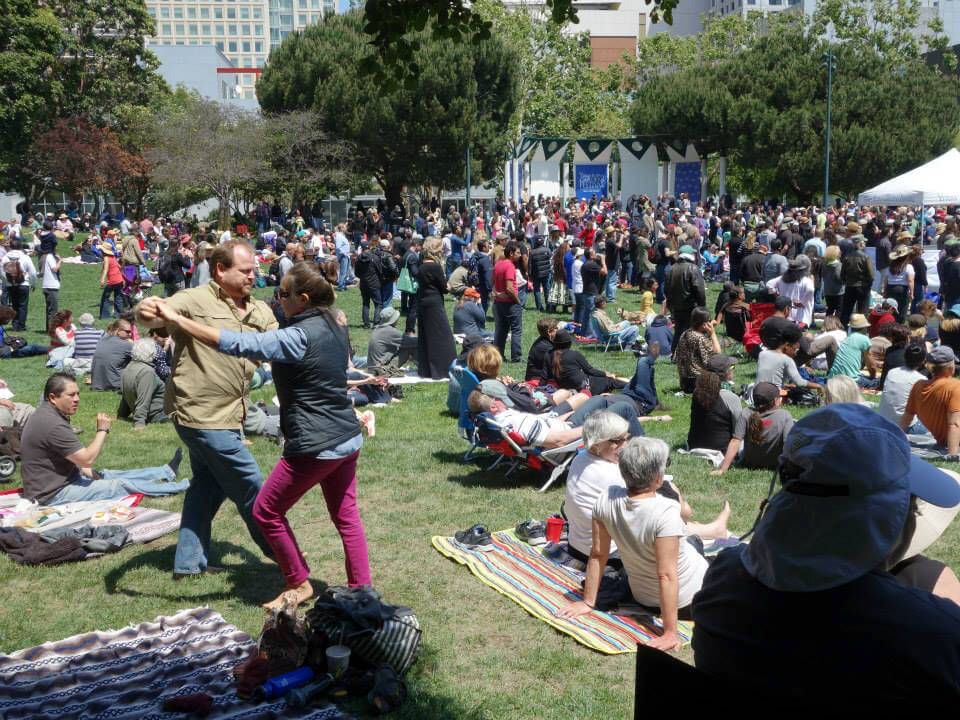 The crowd at a recent Yerba Buena Gardens Festival performance. (Photo: Yerba Buena Gardens Festival / Facebook)
Yerba Buena Kids Club — 10am, Annie Street Plaza (Off Mission Street between 3rd and New Montgomery). Bring the kids down to the plaza for a morning full of bouncing, slime, tree frogs and more.
Get Baked Sale – 11am, SoMa StrEat Food Park (428 11th St). The food truck park's first medical cannabis event. More than 20 vendors will be on site all day, offering "flowers", edibles, cooking demos and more to medical marijuana patients. The park will still be open to the public with the regular lineup of food trucks and beverages.
Yerba Buena Gardens Festival Presents Dafnis Prieto Sextet — 1pm, Yerba Buena Gardens (750 Howard St). Acclaimed Latin jazz composer and band leader Dafnis Prieto Sextet takes the stage for a free hour and a half performance in the park.
Jurassic Park in the Park – 7pm, Victoria Manalo Draves Park (Folsom St btw 6th and 7th). Head down to the baseball diamond for a free showing of Jurassic Park.
Radical Presence: Black Performance in Contemporary Art – 7pm, Yerba Buena Center for the Arts (701 Mission St). The public opening reception for this "comprehensive survey" of performance art by visual artists of African descent.
RDX Games: Extreme Artworld Competition – 7pm, Root Division (1059 Market Street). Root Division's version of the X-Games for local artists, curators, writers and arts enthusiasts.
Sex and the City Live – 7pm, Oasis (298 11th St). The greatest moments from the beloved HBO series comes alive in this drag rendition.
Leela Improv – 8pm, Ninth Street Independent Film Center (145 9th St #250). Improv theater and training program Leela hosts a two-hour improv show every Friday night. Tonight's lineup includes a couples counseling session with an actual therapist.
The Janky Barge Presents Flag Day – 9pm, F8 (1192 Folsom St). Fundraiser for the Burning Man art car features four of the group's DJs plus special guests.
Poor Man's Whiskey Album Release Show – 8pm, Slims (333 11th St). The "high-energy bluegrass quintet that got its start here in the Bay Area is celebrating its 15th anniversary and latest album release with a show at Slims.
Sunday, June 14th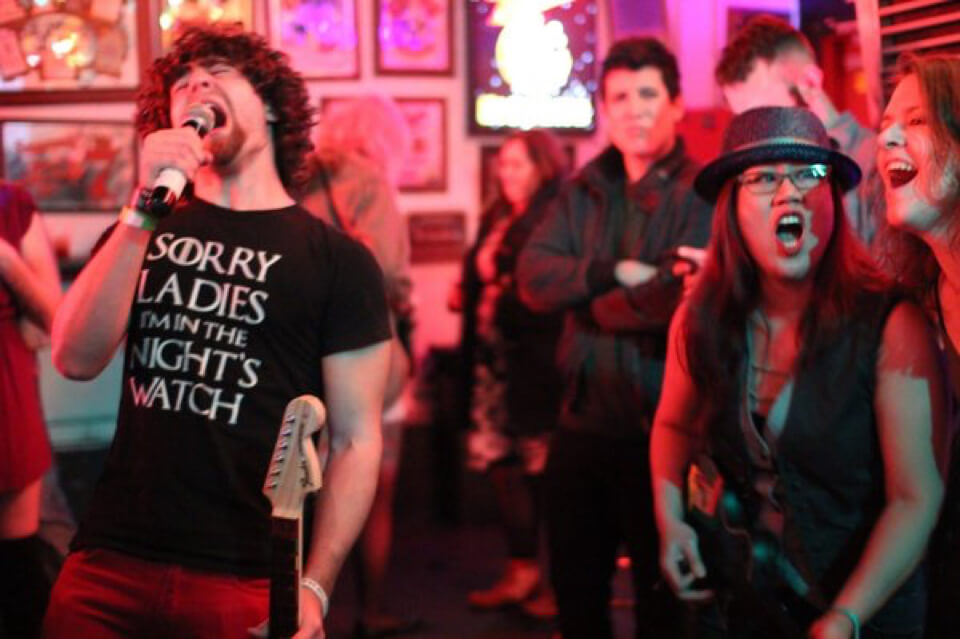 Karaoke night at Butter. (Photo: Yelp)
Free Guided Tour: International Art Museum of America (1025 Market St.) – Haven't perused the mysterious museum between 6th and 7th on Market Street? You know, the one with the fake rainforest on the ground floor. Stop by for a free guided tour.
Beers & Bikes: Cycle for Civics – 2:30pm, SoulCycle SoMa (75 1st St). Get a good sweat then drink a good beer at this fundraiser hosted by the national nonprofit Generation Citizen at SoulCycle SoMa. Proceeds will help the organization continue civic education projects at John O'Connell High School in the Mission.
Sunday Social – 7pm, Audio (316 11th St). End the weekend on a high note with this monthly house dance party. Free before 9pm.
Karaoke Night – 8pm, Butter (354 11th St) – Belt out your favorite hits every Sunday night.
Did we miss anything? Let us know what else is going on in SoMa this weekend.