It was a real estate agent who first told Rossi Mas' mother about the little café up for sale at Fell and Franklin streets. Mas, a lifelong San Francisco resident, says her mother thought the sandwich shop was a terrific business opportunity, and she snapped it up right away, turning it into Nina's Café. For Mas, who was busy studying and working in finance, owning a sandwich shop was the furthest thing from her mind.
But things changed in 2004, shortly after the café opened its doors. Rossi's grandmother became ill, and her mother found it increasingly difficult to both run the café and care for her ailing mother. So she turned to her daughter, and told her: "The shop is yours now, run it."
Thanks to her financial studies, Mas was confident she could run things from a business standpoint, but on a more practical level, she had never spent any time making food in a professional capacity. She says her mother walked her through running the café, from making sandwiches to ordering supplies, then left the rest to her. Sink or swim, she was on her own.
11 years later, thanks to Mas' business acumen and a surprising neighborhood supporter, Nina's Café is one of the longest-surviving and most successful businesses in the neighborhood.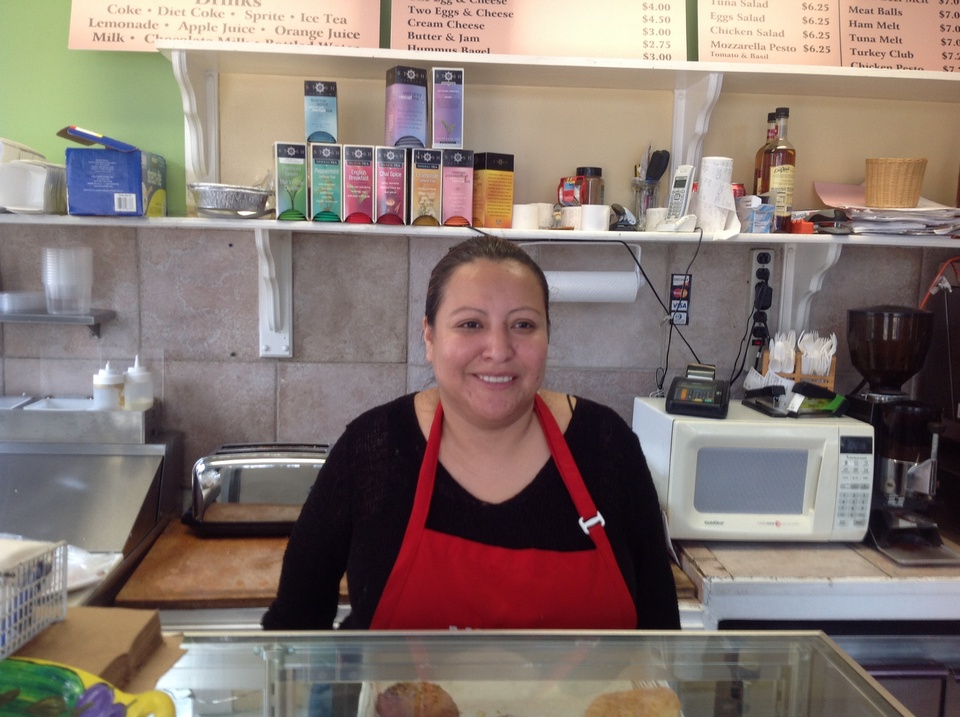 Rossi Mas.
Nina's Café is named after neither Rossi nor her mother. When her mother purchased it in 2004, it was already being operated as Minna's Café. Her mother wanted to change the name, but not so much that it might throw people off. So Minna's became Nina's.
Originally, the shop's patrons were Hayes Valley residents and nearby workers, most notably the mechanics from Chris's Discount Muffler & Brake, located across the street. Mas was fond of the shop's employees not only for their regular business, but for their repair skills. "Whenever anything needed to be fixed in the cafe, one of the guys was right there offering to fix it," she says.
But the brake shop didn't last forever. In 2011, it closed so that SFJAZZ could break ground. As sad as Mas was to see the brake shop close, she soon had a whole new crop of construction-worker customers from the SFJAZZ site.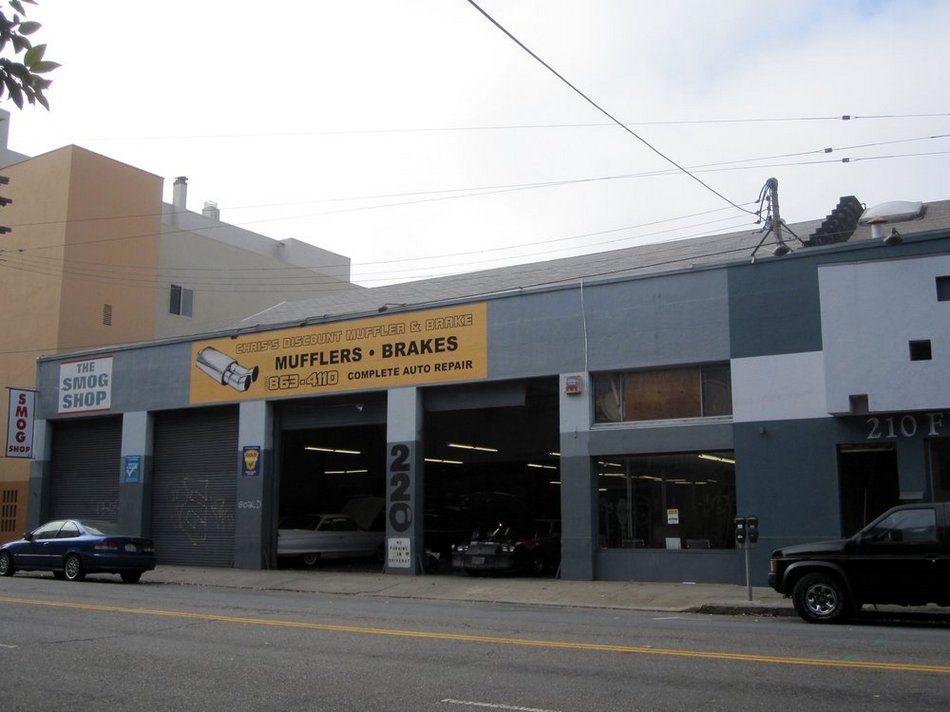 Before it closed, Chris's Discount Muffler & Brake was one of the cafe's best customers.  Photo: Kevin Y./Yelp
That's not the only means by which Nina's Cafe has benefited from Hayes Valley's quiet micro-economy. One of Mas' best customers is the French American International School. In 2004, when the café opened, she was asked to cater lunches for the private school's children, who range from first-graders to high-schoolers. The next year, she took on the same duties for the neighboring Chinese American International School as well.
In the early days of her catering operation, Mas created spreadsheets for parents and kids to choose what they'd like for lunch. The child's name, school campus, date, and time would all be registered. On catering days, Mas loads up her cart and heads over to the school to make lunchtime deliveries. She makes three trips, to accommodate the different grades and lunchtimes of students.
To cope with the growing number of students at the two schools, Mas launched her online ordering service in 2013. Her menu offerings are impressively diverse, with everything from Nutella bagels to lasagna. But unless you're affiliated with the two schools, don't try to order from her online: she only takes Web orders from parents and students.
The catering service is more than enough to keep Mas and her one employee, Mayra, busy. During the school year, Mas says she's on such a tight schedule that any burst of walk-in traffic can disrupt the entire lunchtime catering machine. She says customers usually don't notice the frantic pace.
For non-school diners, the cafe offers a single table. They serve breakfast every morning until 10 am, then lunch until they close at 3 pm. The heart of the menu is a selection of reasonably priced sandwiches, wraps, burgers, and salads. Every Tuesday, Mayra serves a cafe favorite: pupusas, made from scratch.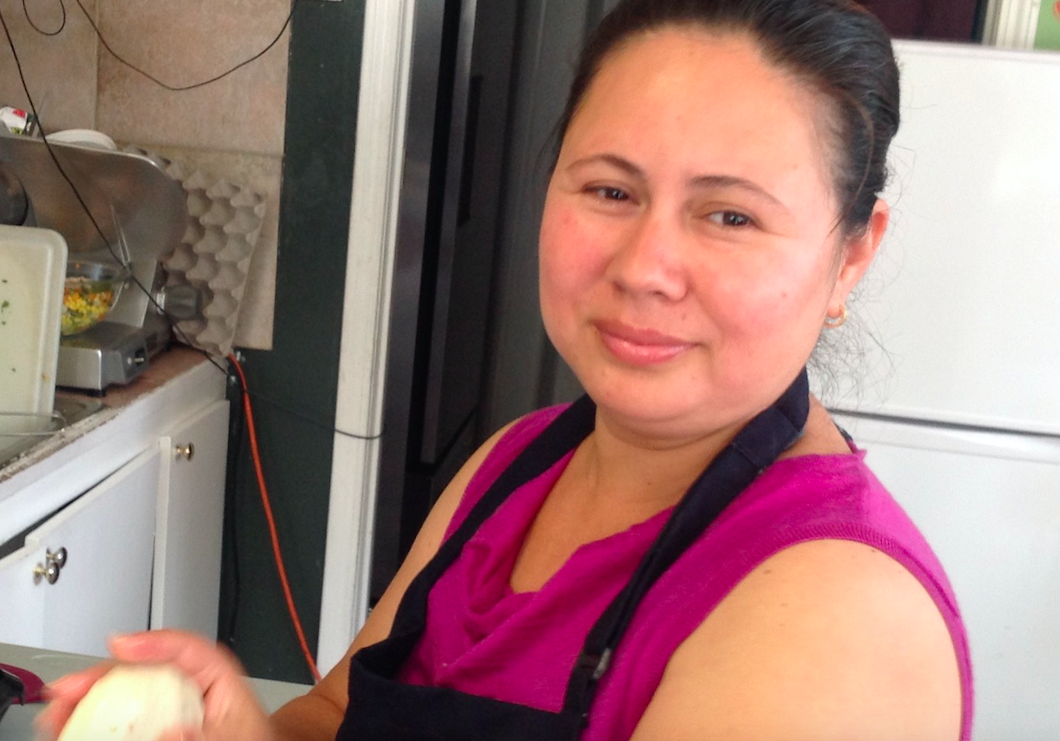 Mayra, making her popular pupusas.
SFJAZZ's opening has been good for Mas, who says the people who work there are friendly and supportive. Her only complaint is that she wishes they'd give her a heads up when they have daytime events. "Every time they have an event, we have an event," she says, noting that they've run out of food and drinks in the past.
Mas didn't get to meet President Obama in 2013 when he visited SFJAZZ for a fundraiser, but she says she did get to meet the Secret Service—when they did a thorough sweep of the café.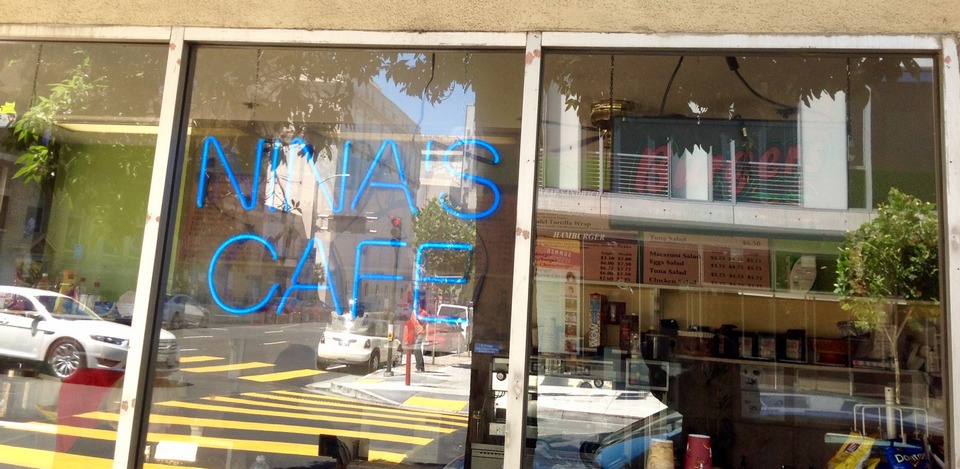 With so much of Mas' business tied to the schools, it's easy to assume that summer vacation can be economically challenging for Nina's. Surprisingly, though, Mas says summer is great. During the school break, she's able to create new menus for the upcoming year and work with Mayra to regroup and organize the shop. 
Around her, the neighborhood's food options have changed drastically. The biggest change she's noticed: patrons now occasionally ask her why she doesn't serve artisanal coffee. She says she likes to keep things simple; if you want a fancy coffee, you can get one down the street. "Just come back for one of our breakfast sandwiches," she says.
Nina's Café is located at 201 Fell St. Hours are Monday-Friday, 7am-3pm.